Raimond Burgman Wins 2016 Dutch 3-Cushion Championship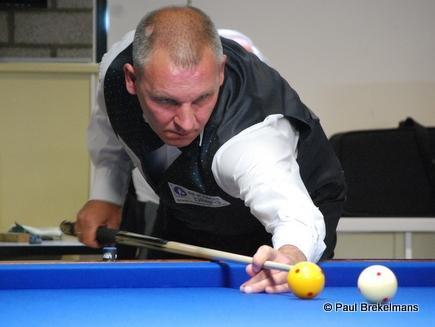 Raimond Burgman, the 51 year-old Dutchman defeated Glenn Hoffman in the final match of the championship to be crowned the title of Master 2016. This was his fourth title and comes thirteen years after he won his third.
Ten times in the past Burgman had made it to the finals, only to see losses on five occasions to Dick Jaspers. But Jaspers had been knocked out early this time around with a surprise draw and unexpected loss in the prelims, thus failing to join the 8-man final section. This was the second year Jaspers missed out, having ceded the crown to Jean van Erp last year.
Burgman played a tremendous tournament going undefeated throughout and finishing with a 1.483 average and a high run of ten. Congratulations to the epitome of character and sportsmanship Raimond Burgman.
Read more on this story from our friends at
Kozoom.
Story and pictures ©Kozoom