Dani Sanchez WIns 3-Cushion National Championship in Spain (2014)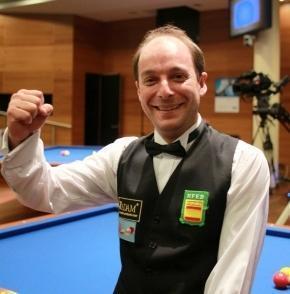 Dani Sanchez, the favorite to win the Spanish 3-cushion championship, proved worthy of that mantle as he won going away against a field of 16. The tournament held in Madrid showcased Dani's skill and dominance where he won his 16th title. This time he performed with a grand average of 2.105 far and away from his nearest rivals.
Read more on this story from our friends at
Kozoom.
Story and pictures ©Kozoom