Torbjorn Blomdahl Wins Swedish National Championship (2014)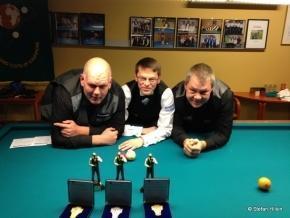 Since 1982 the dominant player in Sweden in the sport of three cushion billiards has been Torbjorn Blomdahl. In January 2014 Blomdahl demonstrated why, winning the national championship for the 24th time in defeating 2013 titleholder Michael Nilsson. The twelve man round robin tournament was held in Malmo, Sweden where Blomdahl achieved an overall average of 1.780 and a high run of 14.
Read more on this story from our friends at
Kozoom.
Story and pictures ©Kozoom