Torbjorn Blomdahl WIns Supercup And Player of the Year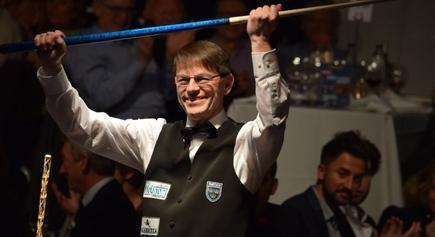 Torbjorn Blomdahl, at 53, has once again reached another milestone at the top of world 3-cushion billiards, winning both the Supercup in Antwerp Belgium and being named Player of the Year. The Swedish champion himself said, "This was my best year ever."
And what a year it was. Beginning with his winning the Swedish National Championship in January, Blomdahl went on to win the European Championship in April, The World Cup in Porto in July and capped the year off with his winning the World Championship in December. Blomdahl finished the year ranked number one in the world. He seems to get stronger as his career rolls on, to the delight of three cushion billiard fans around the world.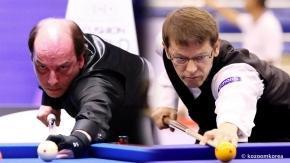 With his World Championship win Blomdahl earned the right to meet the overall 2015 World Cup winner Dani Sanchez of Spain in the Supercup in Antwerp Belgium. This prestigious and much anticipated event is held each year in conjunction with naming the winner in the voting for Player of the Year. This year it was all Blomdahl as he defeated Dani Sanchez 4-1 in the short format race to 7 point best 4 of 7 games. And then came a moment even more rewarding as Blomdahl learned he had been voted Player of the Year by a jury of the 50 best players in the word. Also nominated were Dani Sanchez and Tayfun Tasdemir of Turkey. Being recognized as the best by his peers is an honor he has enjoyed twice before, but Torbjorn acknowledged that it was especially gratifying in this era of such strong play by so many.
In addition to the Supercup match and Player of the Year ceremony, the event had an exhibition match between Blomdahl and Sanchez as they faced former world champions Ludo Dielis and the great Raymond Ceulemans. Both the Supercup match and exhibition match can be seen by premium members on Kozoom. Thanks to Kozoom for the pictures and for their excellent event coverage.