Robinson Morales Three Cushion Champion of Colombia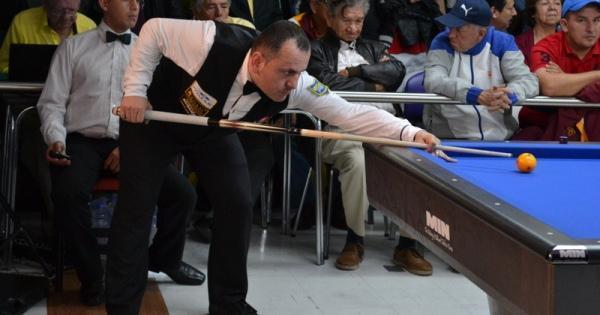 Robinson Morales was crowned 2016 national 3-cushion champion of Colombia in the event held in Bogota in April. Morales defeated Julian Torres 40-25 in 22 innings (1.818 average) in the final match to clinch the title. His grand average of 1.473 also lead the field. Overall the quality of play in the event was very high with several matches at a 2.0 average or better.
This year's national championship drew a very large group of players, including vitually all of Colombia's best. In fact the Colombian Federation received so many entrants for this year's event that there were 64 players in the main tournament itself! The top players from all over Colombia vied for the title in preliminary rounds played to 30 points and with the main tournament for the championship played to 40. Here are the final standings for the top ten:
Robinson Morales 1.473
Julian Torres 1.194
Alexander Salazar 1.242
Pedro Gonzales 1.309
Henry Diaz 1.294
Carlos Villegas 1.185
Luis Martinez 1.240
Julian Morales 1.045
Huberney Catano 1.328
Carlos Campino 1.300
Congratulations to Robinson Morales on his well-deserved victory.
Read more on Kozoom