Ho Chi Minh City to Host Third World Cup of 2016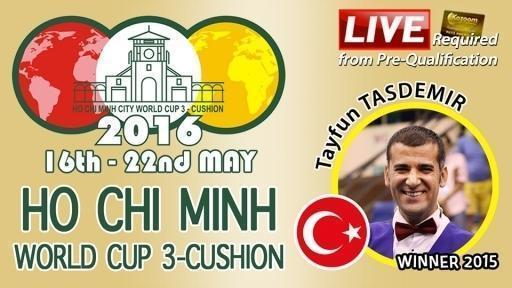 The world's top five three-cushion billiard players will be among 149 players from 19 countries competing in the third World Cup of 2016 to be held in Ho Chi Minh City, Vietnam from May 16 to 22. Torbjörn Blomdahl of Sweden, Daniel Sanchez of Spain, Dick Jaspers of the Netherlands and Frédéric Caudron & Eddy Merckx of Belgium will be joined by 34 players from Vietnam and 54 players from Korea the two largest country contingents.
For the second year in a row Vietnam hosts a World Cup event in hostoric Ho Chi Minh City, a city with a population of 9 million and more than 1,000 billiards clubs. The players list is already filled with many of the world's top ranking players who will make the trip to HCMC. Last year's champion Tayfun Tasdemir of Turkey, ranked sixth, will defend his title at the Nguyen Du Stadium in downtown Ho Chi Minh City, where he beat Torbjörn Blomdahl 40-34 in 17 frames in last year's final.
Vietnam's best player, Quyet Chien Tran, is among those who received an automatic entry since he is ranked in the world's top 12. Two other home players, Duong Anh Vu and Ly The Vinh, were awarded wild cards as is customary for the hosting confederation. Vu, a six times national champion and twice Asian champion (2007 and 2008), owns two billiards clubs himself. "We all look forward to the HCMC World Cup, which was a huge success last year," Vu said.
The semi-finals and the final are scheduled for May 22. Most of the matches will be broadcast live on HTV The Thao in Vietnam and Live-Streamed on Kozoom.com for Premuim Pass members. This year's event will carry prize money worth 40,000 euros (US$45,520), including 5,500 euros for the champion.
Here at 3-Cushion Billiards we like to handicap the events... or at least tip you off on which players to watch. Coming in to this event Frederic Caudron seems to be on top of his game having recently won the Grand Prix in Belgium with a record average of 2.790. Last year's winner Tayfun Tasdemir also comes off a recent win and great performance topping a field of 800 (yes!) in the second Turkish ranking tournament. Nikos Polychronopoulos, a last minute entrant, is now Greek national champion for the third year in a row and is moving up in the International ranking. And finally we once again point to Jeremy Bury who recently defeated Eddy Merckx in a French Championship D1 match. Whoever takes the title this year we know we will all enjoy some incredible matches at the highest level.