Frederic Caudron Wins Ho Chi Minh City World Cup
With dazzling shots and consistent improvement throughout the event Belgium's Frederic Caudron topped the field of 149 players at the third UMB World Cup of 2016. Held in Ho Chi Minh City, Vietnam, Caudron was one of three European players to reach the final four. Only Nguyen Quoc Nguyen of Vietnam remained to represent the large Asian contingent that began the event. With his win Caudron moves past Torbjorn Blomdahl to reclaim the number 1 spot in the UMB World 3-Cushion Billiards Rankings.
The Tournament Begins with 149 Entered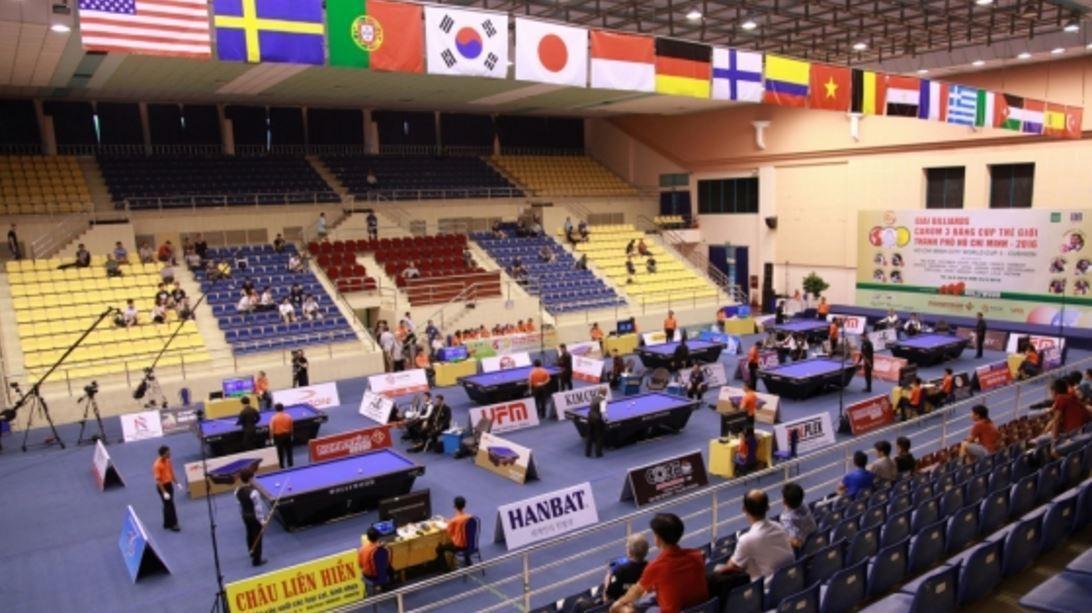 For the second year Ho Chi Minh City was host to a three cushion billiards World Cup event. And with its proximity to all the great billiard nations in Southeast Asia we just knew the players from the Asian federation would dominate the list of entries. With 149 players originally entered more than half were from the ACBC countries. The host country Vietnam was represented by 37, while South Korea sent the largest group of 52. Japan had 12 and Indonesia 2 to round out the ACBC group. In addition players from thirteen other countries sent players to the event: Turkey 12, Netherlands 6, Egypt 6, Spain 4, Belgium 4, Germany 3, Greece 2, France 2, and Finland, Italy, Jordan, Portugal and the United States 1 each.
The top 12 players on the UMB ranking list automatically are seeded in to the main event. Five wild card players from the host country and the other confederations around the world also receive an automatic entry. The tournament itself is run in two phases. Qualification rounds are held in the first three days yielding 15 players to join the 17 seeded. In the second phase known as the main tournament 32 players play in single elimination format to reach the final winner. And as with every World Cup the early rounds contained many surprises and talented play.
Click Here to View the Score Sheets and Results for the Main Tournament. Here are highlights from the event.
On Day Two Local Player Shows World Class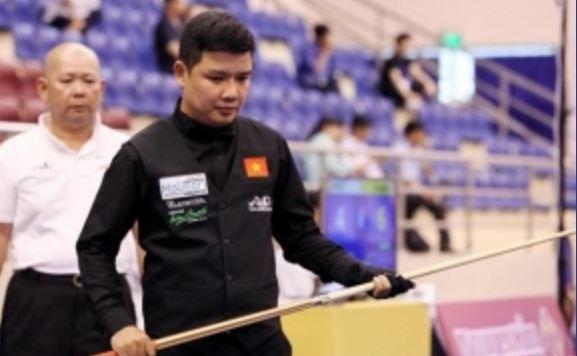 33-year-old Duc Anh Chien Nguyen from Ho Chi Minh City, number 278 of the world ranking, showed why Vietnam may one day soon advance to dominance in the sport. In his second match of the day against his countryman Dinh Phuoc Huynh, Duc Anh Chien went out in only eight innings, winning 30-3, and averaging an incredible 3.750. With the explosive and unexpected quality of such a previously unheralded player, the elite of 3-cushion should be carefully watching every player from this billiard loving country.
The Best Game of the Event Comes in a Pre-Qual Round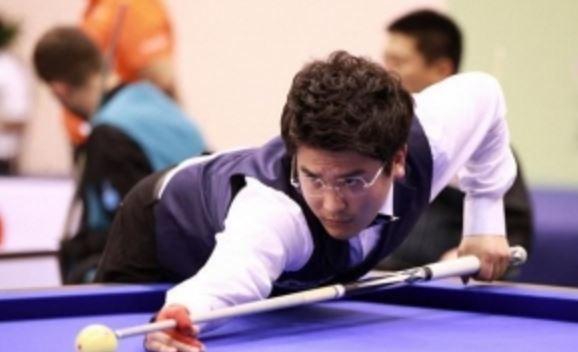 The incredible play during the pre-qualification rounds continued on the following day. 24- year old Korean Tae Jun Oh brought the arena to thundering cheers. The Korean had just treated the spectators to a match of 30 points in 6 innings and joined the group of players in the world who have averaged 5.000 in world class competition. The Vietnamese had won his qualification flight, beating the renowned opponents: young Korean Myung Woo Cho and feared Vietnamese Dinh Nai Ngo. Although he would succumb in later rounds for this moment his star shone brighter than all others.
In the QUALIFICATION Round the High Runs Keep Coming
The Korean champion Haeng-Jik Kim opened a match with an incredible run of 17 in his first inning. Later Korean star Hyun Min Seo topped that with a run of 19 to vie for high run honors. Other highlights in the qualification round included Lütfi Cenet's victory over Semih Saygıner and for US fans Pedro Piedrabuena's win to move on to the main event. The players who got knocked out included Eddy Leppens who was in a heartbreak the 16th man by just 1/10 average, Sayginer as noted, former world champion Sung Won Choi and Jeremy Bury who was not up to the level he showed in a recent French national tournament.
In The Main Event NicK 'Poly' Runs Out With 22 Against Sanchez
The World Cup tournament in Ho Chi Minh had already set records with the two Korean players making super high runs of 19 and 17 in the pre-qual rounds. But the best was yet to come! Nikos Polychronopoulos of Greece in his match against Dani Sánchez of Spain faced a daunting task. The 38-year-old Greek billiard room owner from Athens was down 26-18 when he entered his 11th turn at the table. Then, as play unfolded, the crowd was treated to an exhibition of shot-making and expert position play as Poly finished the match with a spectacular run of 22 to emerge victorious, The final score was 40-30 in 11 innings and his run of 22 would remain to take high run honors for the event.
Other highlights of the opening round included both Marco Zanetti and Lufti Cenet averaging over two, with Zanetti on top. Wins by Torbjörn Blomdahl (14 innings), Jung Han Heo and Quoc Nguyen Nguyen (16), Marco Zanetti and Dick Jaspers (17) also demonstrated some top play to advance. In addition to Sanchez and Cenet, the knockout group included Eddy Merckx, last year's winner Tayfun Tasdemir, Dong Koong Kang and Murat Naci Coklu. US player Pedro Piedrabuena was retired by Blomdahl. Frederic Caudron squeaked by Christian Rudolph in a slow start.
In the round of 16 players that followed Blomdahl posted his best game winning 40-13 in 13 innings over Hyung Kon Kim of Korea (3.076 avg). But Frederic Caudron took it one step further with the best game of the round at 40-24 in 12 against Anh Vu Duong to average 3.333. Others to advance were Marco Zanetti, Jae Ho Cho , Dick Jaspers and Nick Poly. Nguyen Quoc Nguyen began to show his strength beating Roland Forthomme.
The Quarter Final Round Was Pivotal
Torbjörn Blomdahl faced Marco Zanetti and with his worst game of the event Torbjorn was not only out, but he lost his status as world number 1 as well. The last Korean, Jae Ho Cho, was eliminated in that same round, by Frédéric Caudron (40-33 in 21). Dick Jaspers had beaten each Vietnamese player he faced in the earlier rounds: Vinh Ly The and Quang Hao Truong. He did the same here against Minh Cam Ma, but only after Ma equalized and the players when to the shootout from the break.
And Then There Were Four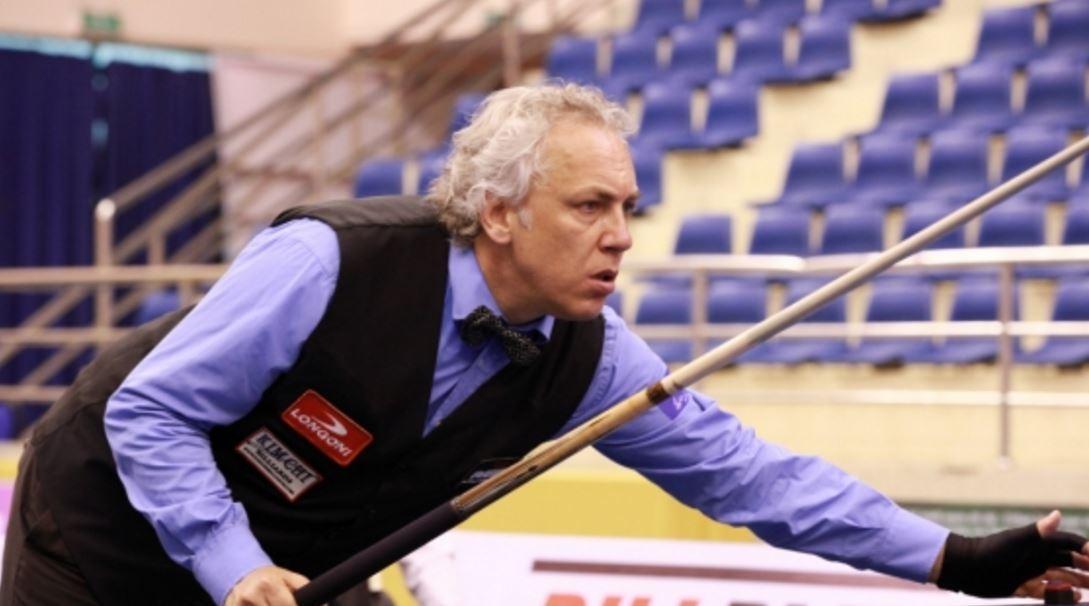 The Semi-Final Round pitted Marco Zanetti of Italy against Frederic Caudron of Belgium. These two have been both teammates and rivals for many years. And both are former World Cup winners and World Champions. As many fans know, Zanetti is an animated and emotional player who has been embroiled in controversy in the past. In the match against Caudron a controversial call by the ref (calling a miss) stunned Zanetti who refused to sit down. Even Caudron agreed the point was good. After minutes of tense discussion Zanetti was awarded the point and continued. From that moment on the tension was even greater, and Caudron seemed to have lost his touch as Zanetti took the lead. But with a stunning late run including shots that brought the crowd to its feet Caudron emerged on top 40-34 in 20.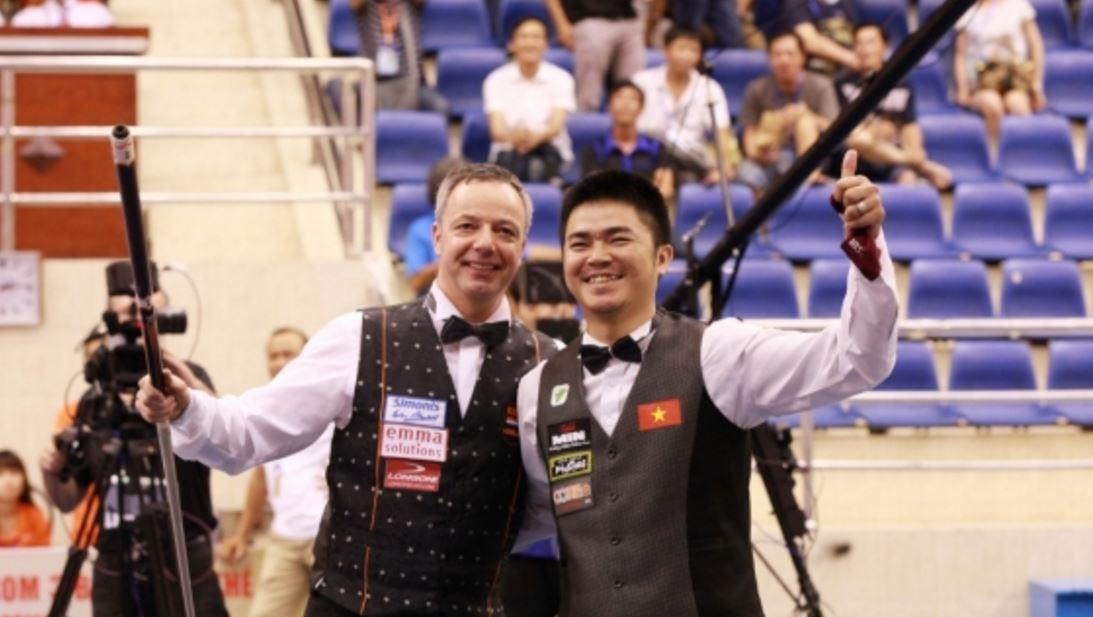 Dick Jaspers playing a quiet and steady event once again faced a Vietnamese player. Nguyen Quoc Nguyen clearly showed why he was one of the top players in Vietnam and why he was such a favorite with the crowd. His personality, exuberance and outgoing manner are quite a change from what many at the top level of 3-Cushion Billiards exhibit during a match. But when he had to he could bear down and play with the best. But even though he had a run of 8. and averaged 2.142 he was no match for Jaspers who had a run of 9 and won 40-30 in 14 innings (2.857) to make the final.
When a player reaches the finals in a World Cup, he must exhibit determination and skill to best his opponents and overcome the whims and fancies of the table and the balls. But all that can change on a billiard table in a moment. That is how Torbjorn Blomdahl lost his match and number 1 ranking in an earlier round. And for Dick Jaspers the final match against Frederic Caudron was to be the same. Caudron shined with a run of 11 and 2.352 average, while Jaspers posted his weakest showing with a run of 7 but only 20 billiards in the 17 innings to average 1.176. And so with a final score of 40-20 in 17 Frederic Caudron won the 2016 UMB World Cup Ho Chi Minh City. By winning the event Caudron also picked up enough ranking points to move him in to the spot as the number 1 player in the world.
The awards ceremony also included the high run award to Nikos Polychronopoulos. Congratulations to Nikos and to the great Belgium champion and now world number 1 Frederic Caudron. Click Here to View the Score Sheets and Results for the Main Tournament.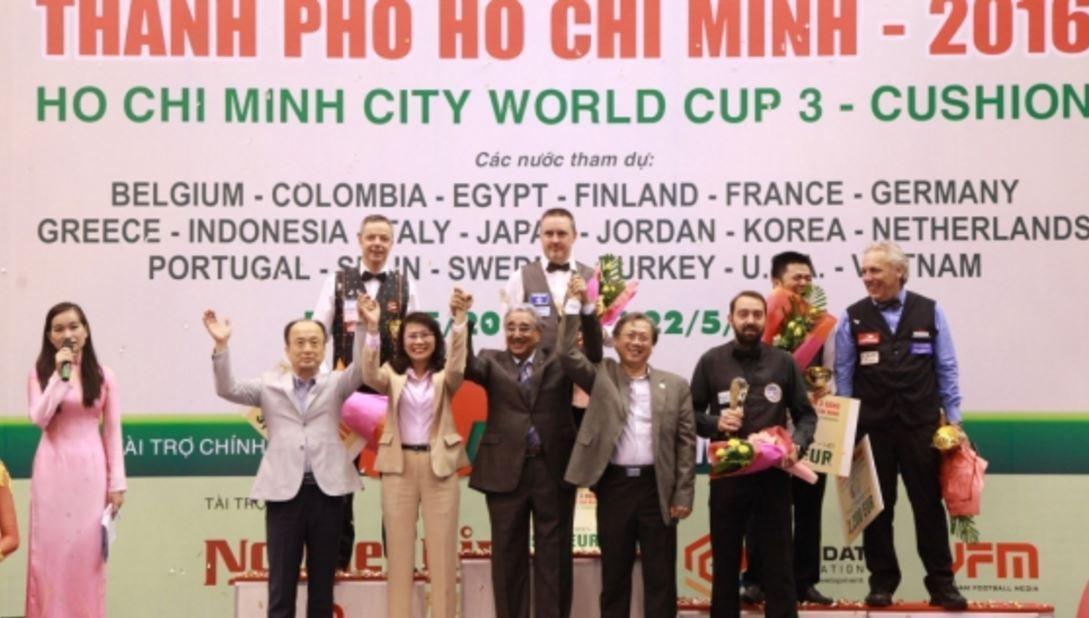 Thanks to Kozoom for video coverage and photographs. Thanks to UMB for score sheets and entry information. All images copyright Kozoom.