Tenth Title For Catalan in Spanish Team Championship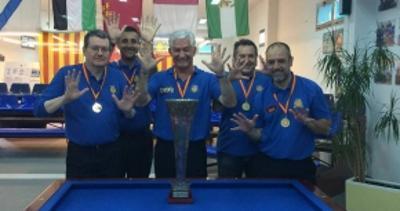 It is truly the season for team championships with events taking place across the Eurpoean continent. In the Spanish three cushion championship for club teams it was title number ten for the Catalan team. In the final Catalan defeated Madrid while Murcia and Valencia took thrid and fourth respectivelhy. The finals for the tournament were held at Los Narejos.
The teams have had great rivalry over the years. Catalan was seeking its tenth title while the team from Madrid was seeking its ninth. On the final day it was all Catalan as Xavier Minguell defeated Ruben Legazpi (40-33 in 24), Ricardo Garcia was the better of Valentin Andaluz 40-33 in 32. Rafael Garrido gave the Madrid team some hope by a win over Jordi Garriga 40-38 in 35, but it was not enough for the overall win, because Xavier Yeste claimed victory against Alfonso Legazpi.
Congratulations to Team Catalan on their tenth well-earned title.
Read more from our friends at Kozoom. (Picture courtesy of Kozoom.)