David Martinez Wins Spanish Grand Prix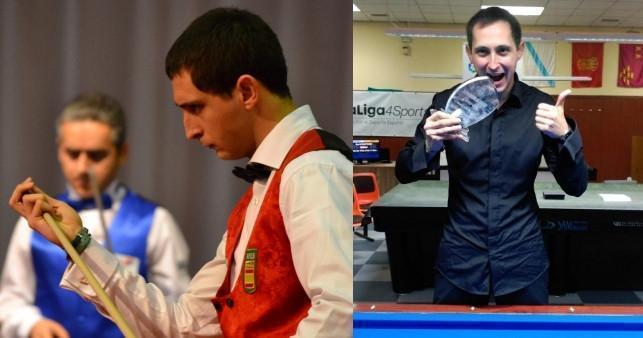 David Martinez of Spain has posted his best result yet in his young billiard career in winning the Spanish Grand Prix. With this victory Martinez moves up in rankings among Spanish players to 3rd position. His tournament showed both his tenacity to overcome a slow start, and his billiard skills to beat Spain's best.
On his way to victory, Martinez had to face multiple world cup and world champion Dani Sanchez in the semi-final round. That match proved the most exciting and pivotal for young David. Martinez took an early lead 12-2 after 7 innings only to see Sanchez battle back to tie and then surge ahead. As the match reached its final stage. and with the score Sanchez 38 Martinez 27, the young Spaniard began a remarkable run of 13 to reach 40. Sanchez playing second had a chance to equalize, which he did. In the shoot-out that followed Martinez could only score two from the spots, but that was enough to beat Sanchez who was only able to make one. For David Martinez a thrilling win against his idol and compatriot to advance to the finals.
The victory over Sanchez moved Martinez into the final round against another young star, David Zapata. Zapata had faced the venerable Javier Palazon in his semi-final match, where he too showed that the upcoming Spanish players will not yield to the experience nor the reputations of the old guard. With the best play among all players up to that point in the event, Zapata fought Palazon head to head and even up to a score of 35-35. With tension in every stroke Zapata finished in inning 31 with a final score of 40-37, and so moved on to the final match for the title.
The final game of the tournament was no less exciting as the two young David's battled for the championship. Martinez jumped out to an early 15-2 lead. But Zapata, undaunted. and trailing for most of the match finally caught Martinez and tied it at 35-35. In the last stage it was all Martinez, as he kept a cool head and finished the match 40-36 in 29 innings. David Martinez had won the Grand Prix of Spain.
Among the top finishers, the champion David Martinez had the high run of 13, while Dani Sanchez and David Zapata shared the best overall average at 1.584. Now, 24-year old David Martinez, who was the 2010 European Junior Champion adds the 2016 Spanish Grand Prix to his list of titles. Congratulations to the winner.