Recap of the Qualification Rounds in the 4th World Cup of 2016 - Porto Portugal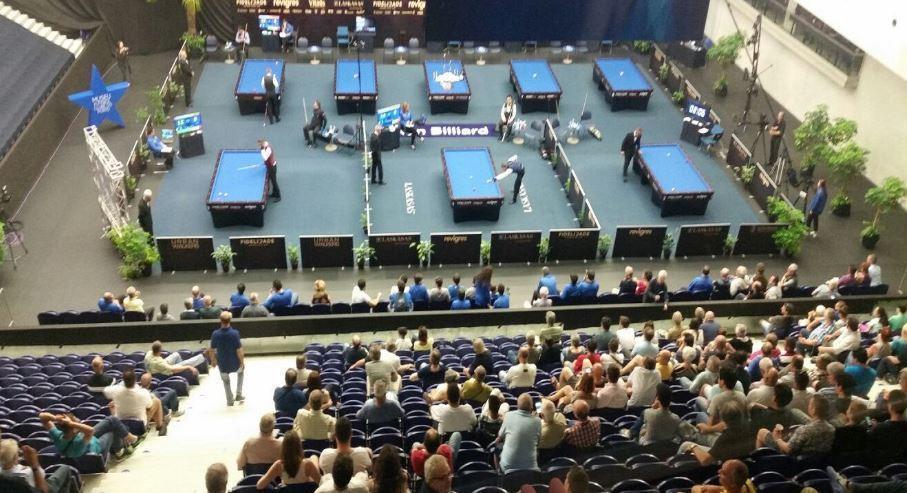 In the fourth installment of the Workd Cup series sponsored by the Union Mondiale de Billard (UMB), 150 players from around the world assembled in Portugal to do battle. Taking place from July 18-24 in the city of Porto and organized by the venerable sports organization FC Porto, the event was attended by the world's best including the honored position of the top twelve on the UMB rankings: Frédéric Caudron, Torbjörn Blomdahl, Eddy Merckx, Dick Jaspers, Dani Sánchez, Marco Zanetti, Tayfun Tasdemir, Roland Forthomme, Sameh Sidhom, Dong Koong Kang, Jae Ho Cho and Nikos Polychronopoulos.
The top 12 ranking position is a coveted honor as it affords the player an automatic entry into the main tournament without having to pass through the qualification stages. In addition to the top 12, five wild card entries into the main event are offered to the confederations and the organizing country, which for the Porto World Cup include: Victor Tenorio (Peru), Ma Xuan Cuong (Vietnam), Ragay Henry (Egypt), Rui Costa and Joao Ferreira (Portugal).
The tournament is held in multiple stages. Beginning on Day One with the first round of Pre-Pre-Pre-Qualification, round robin groups of three are played to advance one player to the next round. The same format applies to the Pre-Pre-Qual, Pre-Qual, and ultimately the Qualfication round. Along the way the stronger players in the world ranking join the aspiring local and other international players brave enough to enter this tough and unforgiving process. The main tournament, where the 17 seeded players and wild cards make their appearance is a 32-man single elimination format where the 15 survivors from the qualfication process join to produce one champion.
Day One (July 18): The quality of play in the early stages is never certain. We like to focus on the players who show their talent and grit early on as they fight their way through the ranks. On the first day former European junior champion Antonio Montes of Spain was the leader. His two wins and average of 1.176 placed him among the only four players of the sixteen who managed to play over 1.000 and advance. The high run (the only run over ten) went to Vincent Lelieve of France who also won both his games and averaged 0.967 placing fifth for the day. He achieved his high run of 11 in what was also the day's best effort with a 1.428 average.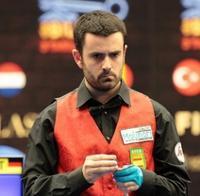 The top sixteen in the PPPQ stage on day one (with country, average and high run): 1 Antonio Montes (ES) 1.176-6; 2 Fernando Cunha (PT) 1.111-5; 3 Paulo Andrade (PT) 1.034-9; 4 Sang Ku Kang (KR) 1.016-8; 5 Vincent Lelievre (FR) 0.967-11; 6 Juan Bouterin Bote (ES) 4-0.909-6; 7 Gil Carlos Cortes (ES) 0.857-9;8 Raul Cuenca (ES) 0.731-5; 9 Jose Escudeiro (PT) 0.722-7; 10 Segura Rafael Soto (ES) 0.681-4; 11 Jose Biscaia (PT) 0.821-5; 12 Ismet Esen (TR) 0.800-4; 13 Vitor Pinto (PT) 0.483-3; 14 Prieto Pedro Camarero (ES) 0.907-6; 15 Jose Miguel Soares (PT) 0.766-5; and 16 Jose Ramon Gonzales Calle (ES) 0.719-6.
Day Two (July 19): The second day in Porto saw the level of play upped a notch as expected. Twelve of the top sixteen competitors played above 1.000 in their effort to move forward. The buzz around the hall was the sparkling play of the day-one leader Antonio Montes (ES), who shined once again as the 2nd day's leader with two wins and the high average of 2.000. He also had the high run of the day at 13 in the best game (30-5 in 13 innings 2.307 average.) Could young Antonio Montes shock the world, continue his amazing effort, and come from the PPPQ ranks to win it all? The world was watching! Besides Montes, players who were in the top 16 the PPPQ stage on the first day, and who also made it through the second round included Paulo Andrade (PT), Sang Ku Kang (KR), Vincent Lelieve (FR) and Gil Carlos Cortes (ES).
The top sixteen in the PPQ stage on day two (with country, average and high run): 1 Antonio Montes (ES) 2.000-13; 2 Alfonso Legazpi (ES) 1.764-9; 3 David Martinez (ES) 1.714-6; 4 Manuel Santos Oliveira (PT) 1.538-7; 5 Omer Karakurt (TR) 1.333-8; 6 Sang Ku Kang (KR) 1.304-6; 7 Juan David Zapata (ES) 1.224-4; 8 Paulo Andrade (PT) 1.176-6; 9 Jung Wan Lim (KR) 1.132-10; 10 José Maria Mas (ES) 1.132-9; 11 Vincent Lelievre (FR) 1.090-6; 12 Gil Carlos Cortes (ES) 1.034-8; 13 In Seok Kang (KR) 0.937-7; 14 Akif Guvenmez (TR) 0.869-7; 15 Levent Oczi (TR) 0.810-4; and 16 Fernando Tomás (PT) 0.714-5.
Day Three (July 20): On the third day of the 2016 World Cup Porto the crowd was treated to a dazzling display of 3-cushion artistry in the Pre-Qualification round with some of the best games of the event, followed by the fall of some of the very same players. In the PQ stage the best game of the day went to Ahmet Alp of Turkey who demolished Women's World Champion Therese Klompenhouwer 30-4 in 9 innings for a 3.333 average. High run of the day went to another Turk Gokhan Salman who beat his countryman Akif Guvenmez 30-13 in 10 to average 3.000 and post a run of 13. Yet both these 3.0 players were eliminated from the event in later round losses. The early sensation Antionio Montes of Spain saw his hopes dashed as he could only muster a win and a tie in his match and lost on average to Murat Tuzul of Turkey who moved on. From the very early PPPQ stage only Sang Ku Kang (KR) placing seventh overall continued his quest. Some of the names are beginning to sound more familiar as the best of the world begin to enter the event.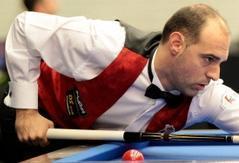 The top sixteen in the PQ stage on day three (with country, average and high run): 1 Ruben Legazpi (ES) 1.764-12; 2 Vinh Ly The (VN) 1.621-12; 3 Can Capak (TR) 1.621-7; 4 José-Maria Mas (ES) 1.463-7; 5 David Martinez (ES) 1.428-7; 6 Minh Cam Ma VN 1.363-7; 7 Sang Ku Kang (KR) 1.333-10; 8 Dinh Nai Ngo (VN) 1.333-7; 9 Trung Hau Do Nguyen (VN) 1.276-10; 10 Jin Pyo Hong (KR) 1.250-8; 11 Savas Bulut (TR) 1.132-6; 12 Hakan Incekara (TR) 0.923-5; 13 Carlos Crespo (ES) 1.333-7; 14 Murat Tuzul (TR) 1.224-6; 15 Akif Guvenmez (TR) 1.653-7; and 16 Javier Palazon (ES) 1.461-5.
Day Four (July 21): Day four - the beginning of the Qualification rounds of World Cup Porto for 2016 - brought more of the top ranked players into the event to meet the survivors from the Pre-Qualification stages. The format remained the same, round robin in groups of three, winner moves on. In addition to the top 12 from the 36 players, the next best 3 second-place finishers also advanced to the 32-man single elimination main event. Here the quality of play moved into high gear and fighting for a high overall average was doubly important in order to ensure that second chance. For US-based fans Pedro Piedrabuena entered the event. The 8-time USBA National Champion was the lone entry from the USA.
As expected all of the players winning their groups played at world class level (1.400 and higher!) The best overall average and day winner was Hyung Kon Kim of Korea with 2.666. He also posted the best game beating fellow Korean Jin Pyo Hong 40-8 in 12 innings (3.333 average.) High run of 13 for the day went to Spaniard Ruben Legazpi in what would prove a losing effort to move on as he had dropped his opening match to the group leader Dinh Nai Ngo (VN). Lufti Cenet (TR) managed a needed draw to take his group, joining Fellow Turks Murat Tuzul and Murat Naci Coklu. Korean players Haeng-Jik Kim and Jung Han Heo advanced based on average in spite of losing one game.
The sole remaining player from the PPPQ stage, Sang Ku Kang finally succumbed in his group that was won by Quyet Chien Tran of Vietnam. US hopeful Pedro Piedrabuena, after a great first match against Anh Vu Duong (VN) 40-23 in 21 innings (1.904) had a disastrous game losing to Hakan Incekara (TR) 40-20 in 20 innings. Piedrabuena thus had an overall average of 1.463, placing him 5th among the runner-ups and out of the tournament. The heartbreak award went to Spanish Grand Prix winner David Martinez who finished as the fourth best runner-up with a 1.500 average just .011 behind Minh Cam Ma (VN) who filled the last spot. And finally Semih Sayginer advanced with an exciting and tense game against former World Champion Sung-Won Choi finishing the 40-37 effort in inning 23 with an incredible round-the table shot that had just enough speed and spin to make the final billiard. Though Choi lost he made it through on average in the runner up group.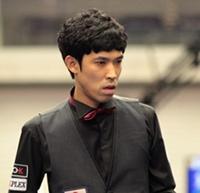 The top twelve in the Qualification round on day four (with country, average and high run): 1 Hyung Kon Kim (KR) 2.666-9; 2 Hakan Incekara (TR) 1.904-12; 3 Quyet Chien Tran (VN) 1.739-4; 4 Dinh Nai Ngo (VN) 1.666-10; 5 Semih Sayginer (TR) 1.7632-7; 6 Murat Naci Coklu (TR) 1.568-7; 7 Murat Tüzül (TR) 1.481-12; 8 Jérémy Bury (FR) 1.481-11; 9 Lütfi Cenet (TR) 1.212-7; 10 Javier Palazón (ES) 1.948-11; 11 Haeng Jik Kim (KR) 1.795-12; 12 Jung Han Heo (KR) 1.400-10. In addition, the best 3 runners-up also advanced: 13 Chong-Bok Lee (KR) 1.690-7; 14 Sung-Won Choi (KR) 1.571-10; and 15 Minh Cam Ma (VN).
Click here to continue reading the complete Porto story with the final results from the main event, a 32-man single elimnation knock-out format crowning Frederic Caudron the champion.