Frederic Caudron Wins World Cup Porto His 2nd This Year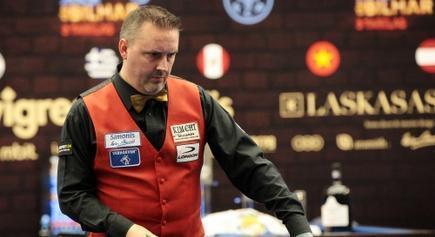 In the fourth installment of the World Cup series sponsored by the Union Mondiale de Billard (UMB), 150 players from around the world assembled in Portugal to do battle. Taking place from July 18-24 in the city of Porto and organized by the venerable sports organization FC Porto, the event was attended by the world's best including the honored position of the top twelve on the UMB rankings: Frédéric Caudron, Torbjörn Blomdahl, Eddy Merckx, Dick Jaspers, Dani Sánchez, Marco Zanetti, Tayfun Tasdemir, Roland Forthomme, Sameh Sidhom, Dong Koong Kang, Jae Ho Cho and Nikos Polychronopoulos. And it was Caudron again who prevailed matching his victory in Ho Chi Minh City earlier this year.
For a recap of the preliminary qualification rounds click here.
The tournament was held in multiple stages. Beginning on Day One with the first round of Pre-Pre-Pre-Qualification, round robin groups of three were played to advance one player to the next round. The same format applied to the Pre-Pre-Qual, Pre-Qual, and ultimately the Qualification round. Along the way the stronger players in the world ranking joined the aspiring local and other international players brave enough to enter this tough and unforgiving process. The main tournament, where the 17 seeded players and wild cards make their appearance is a 32-man single elimination format where the 15 survivors from the qualification process join to produce one champion. Here is how the play progressed in the knock-out phase to choose the ultimate champion.
Day Five (July 22): The main event begins. It is interesting to note that no player from the PPPQ stage made it all the way... nor did any from the PPQ stage. From the PQ stage Minh Cam Ma & Dinh Nai Ngo (VN), Murat Tuzul & Hakan Incekara (TR), and Javier Palazon (ES) joined ten more players who first made their appearance in the Qualification stage. These 15 combined with the five wild cards and twelve seeded players to begin the 32-man single elimination main tournament.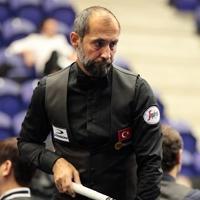 The first round of the 32-man knock-out main event had some expected results and some surprises. World number one Frederic Caudron (BE) won a close one against the great Turkish star Semih Sayginer 40-38 in 23. Sayginer continues to show flashes of brilliance but hasn't regained the consistency that took him to the world championship. He is ranked number 25. Number 11 Jae Ho Cho dispatched France's Jeremy Bury (20). Hakan Incekara bested Portuguese Champion and wild card entry Rui Costa. Number 9 Sameh Sidhom (EG) was never in doubt against a weak game from Lufti Cenet (TR). Murat Tuzul (TR) started strong but then number five Dani Sanchez (ES) took over and finished first at 40-28. Number four Dick Jaspers (NL) easily handled the other Portuguese wild card Victor Tenorio running 15 along the way. Two matches caused the most stir in the early sessions. Minh Cam Ma (VN) who gained entry as the 15th coming out of the Qualification round surprised number 10 Dong-Koong Kang (KR) in a tight match 40-37 in 26 innings. Perhaps the biggest shock was number seven Tayfun Tasdemir (TR) getting to 39 before Sung-Won Choi (KR) and then getting stuck there while the former world champion whittled away at the lead to be the first to reach 40. That forced Tasdemir to equalize and go to a shootout. Number 28 Choi was brilliant in his tie-breaking effort running 9 from the spots. When Tasdemir could only make two his frustration was visible as he realized he had given away the game and the tournament.
In the later two rounds played on the first day of the main event number twelve Nikos Polychronopoulos (GR) ran 13 to jump way ahead of Murat Naci Coklu (TR) and never looked back. Javier Palazon (ES) only ranked number 46 in the world upset number eight Roland Forthomme (BE) 40-28 in 19 with a run of 11. Heang-Jik Kim (KR) prevailed over Dinh Nai Ngo (VN). World number three Eddy Merckx (BE) looked to be in control over number 26 Choong-Bok Lee (KR) but could not close after reaching 39. Lee then went to 40 forcing Merckx to equalize and go to a shootout. Lee shot first and could only muster 1. Merckx nailed his first shot and control returned with good position for an easy second point to seal the win. Number 6 Marco Zanetti (IT) had no problem with Egypt's wild card Ragay Henry (40-15) nor did day four leader Hyung Kon Kim (KR) winning 40-17 over wild card Xuan Cuong Ma (VN). Korean Jung Han Heo bested Quyet Chien Tran (VN). Only Number two in the world and current World Champion Torbjorn Blomdahl got a run for his money in a tough match with Portuguese wild card Joao Pedro Ferreira, but came out on top 40-35.
From the Qualification stage Minh Cam Ma, Javier Palazon and Hakan Incekara remain. No wild cards make it through.
Day Six (July 23): In the 1/8 final round the world's best 3-cushion players showed why they consistently appear in the late stages of international events. Almost up and down the line the results were as you may have predicted. Frederic Caudron had no problem beating Jae Ho Cho as he cruised to a crowd-pleasing victory in 11 innings 40-19 with the round's best average of 3.636. Former World Champion Sung-Won Choi looked back in fine form as he eliminated the lone remaining Turk Hakan Incekara 40-14. In similar fashion another former World Champion Daniel Sanchez topped Egypt's Sameh Sidhom 40-15 in a 17 inning sparkler (2.352). Dick Jaspers had a tougher time with Vietnam's Minh Cam Ma who almost upset the Dutchmen. But Jaspers squeaked by 40-39 in 24. The upset of the round had to be the fall of former World Champion and world number three Eddy Merckx to Nikos Polychronopoulos. With a 40-31 victory Poly eliminated Eddy. Heang-Jik Kim managed to top Javier Palazon in a tight game 40-38. The last two games of the round saw a former and current world champion remain in the fight. Marco Zanetti beat Jung Han Heo 40-38 when Heo could not equalize. And Torbjorn Blomdahl had another tough match and close call just getting by Hyung Kon Kim in a well-played 20 inning match 40-39.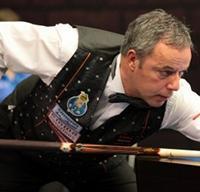 The quarter final round started with six of the 12 seeded players remaining after the first two rounds of the knock-out stage. Caudron, Blomdahl, Jaspers, Sanchez, Zanetti and Polychronopoulos are all in the top 12 of the world. The two Koreans Choi and Kim came from the Qualification stage. Choi had lost one game then, but placed as one of the three top second-place finishers to move forward. In the first matchup between Dick Jaspers and Dani Sanchez it was all Sanchez who seemed invincible with an early high run of 11 to jump out to an insurmountable lead. Jaspers struggled and unlike his earlier run of 15 in the prior round, he could barely string five billiards together. In spite of some late inning lapses in concentration, Sanchez finished 40-18 in 13 innings for a 3.076 average. His final shot was a masterful force follow double the rail shot that brought cheers from his fans in the crowd. In the second quarter final match Frederic Caudron remained steady and consistent in his play against Sung-Won Choi. With Caudron in a postion to finish first, Choi closed the gap with a run of 7. Then both players were passed the 30 mark and the battle see-sawed back and forth. It looked grim for Caudron when Choi went ahead 38-34. Caudron had several chances to score but was frustrated by near misses and kisses. But Choi left the door open by stalling at 38 and Caudron wasted no time with a steel-nerved run of 4 to tie. Then, when Choi missed again, Caudron added one more, just missing on the hill. Choi again had his chance but could only score one making it 39-39. This time Frederic did not falter and made a quiet short angle shot to close out 40-39 in 29 innings.
In the late quarter final games of the day, Nikos Polychronopoulos continued his brilliant tournament play winning against the final Korean to fall in Porto Heang-Jik Kim 40-38 in 17 innings. Both players with averages over 2.2 showed just how tough this level of competition can be.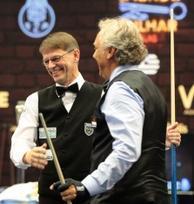 The last match of the day pitted number two in the world and current World Champion Torbjorn Blomdahl against number six Marco Zanetti of Italy. And once again the quality of play was stunning. When Blomdahl playing white reached 38 to Zanetti's 33 both players were averaging above 2.2 in the 16 innings of play. Then Zanetti was only able to make two. Blomdahl with victory at hand had a rare slip and missed. The door was open. Zanetti began his final surge. First one, then two, then three to tie at 38. Playing yellow and needing two Zanetti played a short angle shot that made but left a tough position. After circling several times and with the clock running down he made his choice... but missed by a hair. Trailing 38-39 Blomdahl was still alive. But the position wa very bad and his attempt to drive home a backup shot off the long rail failed. Then Zanetti asked to have his ball tended to and stepped up once more on the hill. The shot was very tough and he missed. Blomdahl was still alive. This time he faced a tough bank shot and nailed it - 39-39. His final shot a double the rail the long way made and he was the first to reach 40. Now Zanetti needed one to equalize and send it to a tie-breaker. No problem. And so the match was to be determined by a shoot-out. Blomdahl playing white stepped up. He made his first shot. But forced to shoot left-handed, playing a long shot off the short rail he missed. Zanetti stepped up. Whoa... he barely made the first. Even Blomdahl smiled as the crowd sighed. And then with one final shot it was over. Zanetti made his second in the shoot-out to take the match.
The semi-final matchups to be held tomorrow on the final day will pit Frederic Caudron against Dani Sanchez, and Nikos Polychronopoulos against Marco Zanetti.
Final Day Seven (July 24): Frederic Caudron (BE) played a superb match against Dani Sanchez (ES) running 13 and winning 40-23 in 12 innings (3.333 average.) Once again Caudron reaches the finals in a World Cup event. In the second semi-final game Nikos Polychronopoulos (GR) led most of the way until Marco Zanetti (IT) caught him at 30. Then the battle of small runs and safety play saw the score move back and forth until 37-37 when Nick Poly ran three and out with yellow.
In the final match Belgium's Frederic Caudron faced Greece's Nikos Polychronopoulos. Once again Frederic Caudron proved why he is the world's number 1 player as he breezed to a final game victory over Nick Poly. The outcome was never in doubt as Caudron was steady, accurate and relentless at each turn at the table. Jumping out to an early lead with a run of 10 put Poly in a hole that he only made worse as he was frustrated by the roll of the balls. The best he could do was string together a small run here and there. When he finally came to life and made a seven it was all but over. Caudron was able to finish comfortably at 40-25 in 16 innings for a 2.500 average. Nikos' average of 1.562 was respectable though not truly indicative of the quality of play that got him to the finals. There will be some shuffling of the UMB rankings after this event, but the number 1 position is now even more secure. Congratulations to Frederic Caudron winner of the 2016 World Cup Porto.