Myung-Woo Cho of Korea wins 2016 World Junior Championship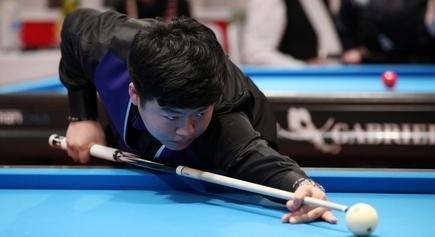 Myung-Woo Cho of Korea caps off a fantastic year of his life by winning the 2016 World Junior Championship in 3-Cushion Billiards at age 18. Cho went undefeated through the entire event winning all his games in the preliminary rounds and continuing his march through the 1/4, semi and final rounds. Last year's winner Tae-Kwan Kim was eliminated in the quarter final round paving the way for Cho to dominate.
Sixteen of the world's best junior 3-cushion players competed in the World Junior Championship in the resort city of El Gouna near Hurghada, Egypt December 8-10. The current title holder 2015 Korean Tae-Kwan Kim came to defend his title, and was joined by fellow Korean sensation Myung-Woo Cho who placed second in the World Cup Guri. And once again the Koreans dominated the event landing three on the podium with only one Spaniard ans the outsider.
The format for the event was four groups of four playing round robin in the preliminary rounds with 2 from each group moving on to an 8-man single elimination finals to determine the champion.
The Players for 2016
Players starred in bold *red topped their group to move on to the final rounds. Players in bold placed second in their group and also moved on.
Group A:
*Tae-Kwan Kim (Korea)
Youssef Ossama (Egypt)
Carlos Anguita (Spain)
Mahmoud Ayman (Egypt)

Group B:
Andres Carrion (Spain)
*Ji-Seung Han (Korea)
Christoper Ramirez (Peru)
Thibaut Espada (France)

Group C:
Caro Nelson (Colombia)
Tom Loewe (Germany)
Patrick Butora (Austria)
*Jung-Ju Shin (Korea)

Group D:
*Myung-Woo Cho (Korea)
Christian Sanchez (Colombia)
Arda Gungor (Turkey)
Ahmed Hatem (Egypt)
The eight players in *red and bold (above) moved to the quarter-final knock-out round. In a big surprise last year's champion Tae-Kwan Kim was eliminated by European Champion Andres Carrion. When Kim managed to tie the match, it took a double shootout for Carrion to spoil what would have been an all-Korean finals. Carrion was next joined by the three remaining Korean players Myung-Woo Cho, Jung-Ju Shin and Ji-Seung Han in the semi-finals.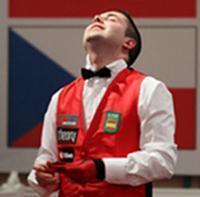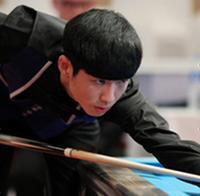 In the first semi-final round game Myung-Woo Cho defeated Andres Carrion, ending Carrion's run at stopping the Korean onslaught. The young players from Korea appear to be the true future of 3-cushion billiards as they bring both discipline and talent to every competition. In the next semi-final game Jung-Ju Shin edged fellow countryman Ji-Seung Han 35-33 to set up the final match.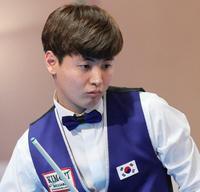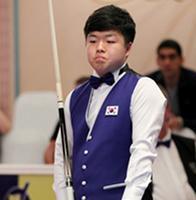 In the end, it was the superior and consistent play of Myung-Woo Cho who took the title in a well-played 35-29 performance in 21 innings. Cho was the favorite after his stellar 2nd place performance in the Guri world cup and did not disappoint. His fans worldwide are surely rooting for his first World Cup win in the coming year... and maybe one day the world championship. Congratulations to our new World Junior Champion Korean Myung-Woo Cho
Results provided by Kozoom, Korea. Replay of key games available on Kozoom for premium pass members. Pictures courtesy of Kozoom.
Final Ranking 2016 World Junior Championship 3-Cushion