Dave Christiani takes his first Grand Prix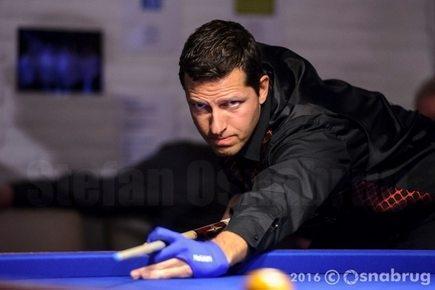 Dave Christiani has won his first three cushion Grand Prix in the Netherlands. The Limburg player defeated Jean Paul de Bruijn, his last rival, in the final match at the Grand Prix in Capelle aan den IJssel: 40-23 in 20 innings. ,,I have been waiting a long time, because I lost three times in a final, now I finally magaged to win'', beamed Christiani, who rose on the national ranking to third place behind Raimond Burgman and Barry Beers. Dick Jaspers, who could not play in this last Grand Prix, finished fourth. These four players are the leaders of the four groups at the Masters in 2017.
Dave Christiani stated that he had not been on his very best, but he played solid and turned to be the best under pressure on the final day. In the semi-finals on Saturday afternoon, against Jerry Hermans, it was a narrow escape, 40-39 won by the Limburg player. The Brabant camping boss, who played a very strong tournament, was eliminated in the last four.