Dick Jaspers Reclaims Dutch Championship and World No. 1 Ranking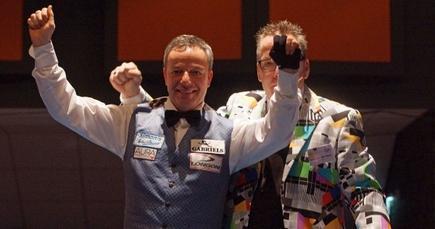 Dick Jaspers of the Netherlands reclaimed the title of Dutch Champion after a two-year drought and thus rose to the top of the UMB International rankings. The Dutch Championship, called the Masters, was held January 19-22 and played to sold out crowds. Jaspers coming off a successful 2016 World Cup season as the title holder rolls into 2017 with multiple titles and expectations that this may his best year ever.
Sixteen players started the event in four flights of four. Dick Jaspers, Glenn Hofman, Raimond Burgman and Jean van Erp were the final four to reach the semifinal round. Therese Klompenhouwer, the ladies world champion, was eliminated in the group stage.
Final standing of the Masters:
1 Dick Jaspers 1.889-13
2 Glenn Hofman 1.428-3
3 Jean van Erp 1.598-11
3 Raimond Burgman 1.372-8
5 Jean Paul de Bruijn 1.560-10
6 Martien van der Spoel 1.389-8
7 Dave Christiani 1.165-6
8 Jerry Hermans 0.808-5
Later this year Dick Jaspers and Jean van Erp will defend their world title for national teams in Viersen, Germany.