Nguyen Quoc Nguyen of Vietnam 2017 Asian 3-Cushion Champion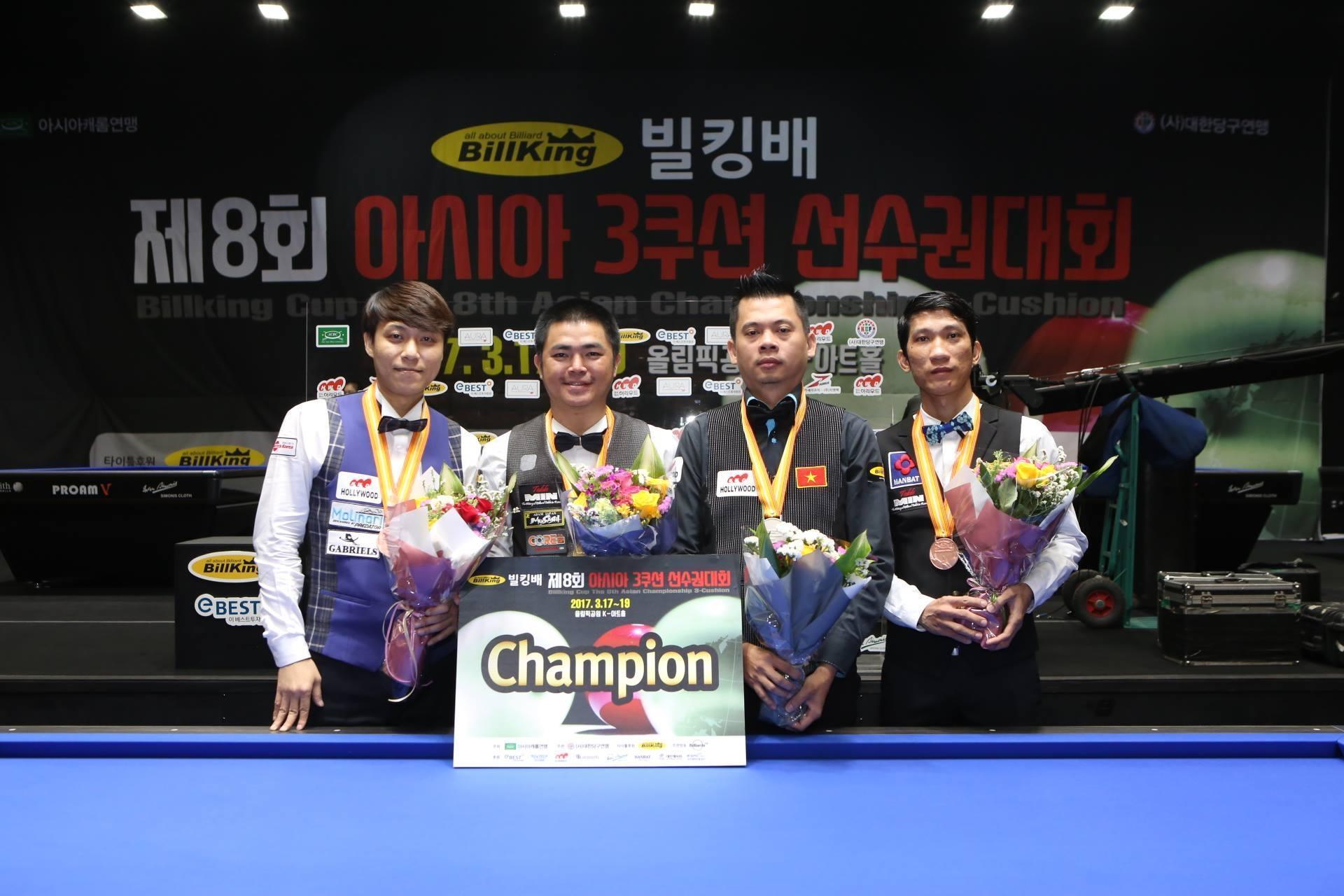 Nguyen Quoc Nguyen has vaulted on to the world stage and cemented the reputation of 3-cushion billiards in Vietnam by winning the 2017 Asian Federation Championship. The final four consisted of three players from Vietnam and only one from the Korean contingent. Pictured above (L to R): Sung-Won Choi (Korea), Champion Nguyen Quoc Nguyen (Vietnam), Runner-up Anh Vu Duong (Vietnam) and Ngo Dinh Nai (Vietnam) who shared equal third place honors with Choi..
Surprisingly the event had little coverage in the International press until the event was over. Kozoom Korea carried the story and later posted a version on the English language site. 3-Cushion Billiards relied heavily on Google translate and the Facebook page of Billiards Vietnam to piece together our story.
Among the surprises in the event was the failure of 2016 Asian Champion Haeng-Jik Kim to advance to the finals. Kim gives up his crown after only one year placing sixteenth in the event. And the top eight finishers were dominated by Vietnam who had seven players to the lone Korean, Choi.
With his victory Nguyen Quoc Nguyen improves his UMB standing to 12th in the world picking up 80 ranking points for his win in the 8th Asian Championship.
The Vietnamese players are advancing fast and challenging the Koreans for 3-cushion billiard supremacy. Of course the great European players led by Dick Jaspers, Frederic Caudron and Dani Sanchez still hold the edge, But the Koreans now have the 2017 Team Championship title and look forward to more success against the Europeans in the ongoing 2017 World Cup cycle. No doubt they will now be facing strong pressure from Vietnam as well led by champion Nguyen Quoc Nguyen.
For now we congratulate Nguyen Qouc Nguyen, 2017 Asian 3-Cushion Champion.
The top twelve finishers at the 2017 Asian Championship:
1 Quoc Nguyen Nguyen 1.436-11 (Vietnam)
2 Anh Vu Duong 1.711-12 (Vietnam)
3 Sung-Won Choi 1.750-13 (South-Korea)
4 Dinh Nai Ngo 1.360-13 (Vietnam)
5 Quyet Chien Tran 1.492-8 (Vietnam)
6 Minh Cam Ma 1.319-10 (Vietnam)
7 Xuan Cuong Ma 1.237-12 (Vietnam)
8 Duy Trung Nguyen 1.000-7 (Vietnam)
9 Hyun Min Seo 1.529-13 (South-Korea)
10 Kouji Funaki 1.623-7 (Japan)
11 Jae-Ho Cho 1.641-11 (South-Korea)
12 Seung Jin Lee 1.254-8 (South Korea).