European Championship 2017 Held in Brandenburg Germany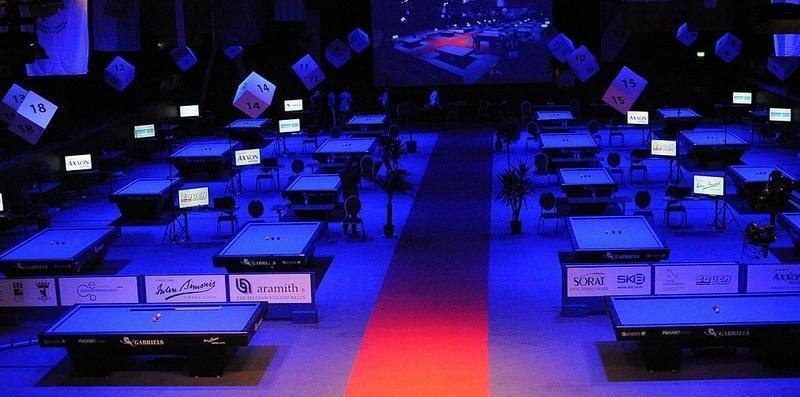 Three cushion billiards may be the most popular of the carom games here at 3CushionBilliards.com but it is only one of many challenging disciplines that will be on display as the 2017 European Championships recently completed in Brandenburg, Germany. The sport of carom billiards continues to remain popular in the European countries as witnessed by the many junior players who have come to test their skills alongside some of the world's must illustrious stars.
The list of players for the European championships in all disciplines, which was played in the Stahlpalast in Brandenburg an der Havel from April 28 to May 7, is now official. The tournament opened with the main discipline, three cushion, where Torbjörn Blomdahl was set to defend his European title from April 28th to 30th. The Dutch team of Dick Jaspers and Raimond Burgman was the title holder in three cushion for national teams. The ladies won't participate in the European championship this year,
CEB sports director Jean-Pierre Guiraud, who has a tough job to managing the mega-event, also published the schedules for the juniors. The juniors under 21 in three cushion play their tournament together with the seniors from April 28-30.
Here are some quick facts about this incredible event:
Tournament takes place over ten days
More than 800 matches will be played
More than 500 players will participate
The participants represent 20 countries
Prize money totals more than 100.000 euros
Twelve match tables and 8 small tables will be used
Twelve individual championships will be decided
Four team championships will be decided
Sixty referees will officiate
Here were the disciplines in order of appearance: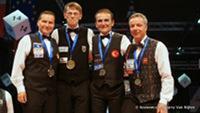 1. Three cushion individually, April 28-30:
The preliminaries start on April 28, the matches up to the quarter-finals on April 29, the semi-finals and finals on April 30.
Participation of 64 players, 48 players and 16 seeded. Match length: 30 points in the groups, 40 in the final round.
Seeded players: Torbjörn Blomdahl, Dick Jaspers, Frédéric Caudron, Dani Sánchez, Roland Forthomme, Eddy Merckx, Nikos Polychronopoulos, Murat Naci Coklu, Marco Zanetti, Christian Rudolph, Eddy Leppens, Tayfun Tasdemir, Adnan Yüksel, Jérémy Bury, Raimond Burgman, Jérôme Barbeillon.
Two wild cards for the qualifying rounds: Therese Klompenhouwer and Gülsen Degener.
2. Three cushion under 21: April 28-30:
Qualifications 28 and April 29, quarterfinals and semi-finals on April 29, final on April 30.
Players, amongst others Carlos Anguita, Tom Löwe, Arda Güngör, Adrien Tachoire, Joey de Kok, Alessio D'Agata, Dylan Parent, Tobias Bouerdick.
3. Free game under 17: April 28-30
4. Free game club teams under 19: April 28-30
5. One cushion: April 29-May 2
6. 5 pins individually: April 30-May 2
7. Free game under 21: April 30-May 2
8. Three cushion under 17: May 1-2:
Groups on May 1st. Quarter, semifinals and finals May 2.
Groups, 25 points, final round 30 points
Players include Maxime Panaia, Alessio D'Agata, Dylan Parent, Enzo Riquart, Jan Gaspari, Milan Ettel, Nikolaus Kogelbauer.
9. Three cushion individual, small table: May 1-4:
Groups May 1-3 Final laps: May 4, 15 groups of 4, 1 and 2 to knockout. Participants include: Kenny Miatton (title holder), Eddy Merckx, Birol Uymaz, Ivo Gazdos, Ramon Hamon, Ahmet Bayatli, Wesley de Jaeger, Joey de Kok, Uwe Werner (wildcard), Omer Karakurt, Thibaut Espada, Alfred Nebuda, Jerry Hermans, Berry Dallinga, Mathy Monnissen, Hamed Mohssen.
10.Balk-line 47/2: May 1-3
11. 5 pins teams: May 2-4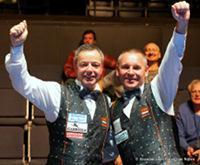 12. Three cushion national teams, May 4-5:
According to Scotch Double system on the match table.
Groups and quarterfinals May 4. Final rounds May 5. Match length 40 points.
Participating teams: Netherlands 1 (Jaspers , Burgman), title holder, Belgium 1 (Frédéric Caudron, Steven van Acker), Turkey 1 (Can Capak, Tayfun Tasdemir), Spain 1 (Javier Palazón, Jose Maria Mas), Germany 1 (Martin Horn, Ronny Lindemann), France 1 (Jérémy Bury, Jérôme Barbeillon), Austria (Arnim Kahofer, Georg Schmied), Denmark (Tonny Carlsen, Allan Schröder), Greece (Nikos Polychronopoulos, Kostas Kokkoris), Portugal (Rui Costa, Joao Ferreira), Sweden (Nalle Olsson, Tran Tai), Czech Republic (Martin Bohac, Radek Novak), Switzerland (Cetin Behzat Xavier Gretillat), Italy (Fabrizio Cortese, Salvatore Vispo), Hungary (Peter Varga, Tamas Szolnoki), Finland (Janne Wiss, Kim Laaksonen), Belgium 2 (Eddy Leppens, Davy van Havere) Netherlands 2 (Jean van Erp, Dave Christiani), Turkey 2 (Semih Saygıner, Murat Celik), Spain 2 (David Martinez, Juan David Zapata), Germany 2 (Christian Rudolph, Dustin Jäschke).
13. Three cushion club teams, small table May 4-7:
Eight groups of four, two top finishers to knockouts. Groups to 25 points, final round to 40. Teams include: Mecidyeköy, titleholder with Birol Uymaz and Ahmet Bayatli, ABA Saint Maur with Louis Edelin, Kevin Vasseur, De Goeie Queue with Jean Paul de Bruijn and Wesley de Jaeger, Andernos with Roland Forthomme, Bernard Baudoin, Apeldoorns Biljartcentrum with Eddy Merckx and Jordy de Kruijf, Mosan with Kenny Miatton and Mathy Monnissen.
Total 32 teams.
14. Artistic: May 4-7
15. Balk-line 71/2: May 5-6
16. 5 pins under 21: May 5-7
All matches were broadcast live on kozoom.com and are available for replay to permium members. Special thanks to Kozoom for the story and pictures.