Marco Zanetti Wins European Championship In Stunning Performance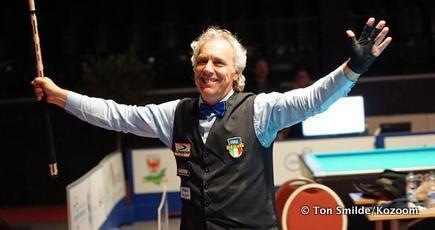 The crowds in the arena in Brandenburg, Germany could not have hoped for more as Marco Zanetti of Italy won the European 3-Cushion Championship in a record-setting performance. In front of stands packed with spectators, 55-year old Zanetti celebrated one of the finest wins in his illustrious career. Overcoming a shaky start in the first round of the main event, Zanetti grew stronger with each game until his ultimate victory in a brilliant final performance.
For Zanetti it was his second European title. Four years before Zanetti had defeated Christian Rudolph of Germany to be crowned European champion. This time it was the great Frederic Caudron who was baffled by the Italian former World Champion in an untypical one-sided affair. Right from the break Zanetti turned the match into a rout literally running and running until he ran away with a 40-14 win in 11 innings averaging 3.636. During the course of the match Zanetti would run 7 no less than four times and at one point lead 29-1 as Caudron struggled to find his footing.
The two combatants reached the finals after two days of knock-out rounds where each had dispatched their opponents with strong play. Zanetti along the way also claimed the high run for the event of 17 in his win against Murat Naci Coklu of Turkey. In the final day of the 3-cushion event the semifinal matches featured Fredieric Caudron versus Dick Jaspers with Caudron on top 40-30 in 19, while Zanetti faced young Spanish player David Martinez who succumbed 40-29 in 23. That setup the face-off of the two former world champions, former teammates and long-time rivals that will be remembered for years to come.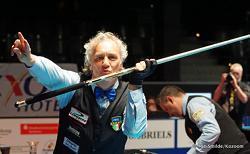 Said Zanetti after the match, "I dedicate the title to my family, my friends and the supporters who always believe in me." Congratulations to Marco Zanetti the 2017 European 3-Cushion Individual Champion.
The final ranking of the individual 3-cushion championship:
1 Marco Zanetti
2 Frédéric Caudron
3 Dick Jaspers
4 David Martinez
5 Javier Palazón
6 Eddy Leppens
7 Adnan Yüksel
8 Nikos Polychronopoulos
9 Torbjörn Blomdahl
10 Christian Rudolph
11 Dani Sánchez
12 Eddy Merckx
13 Tonny Carlsen
14 Murat Naci Coklu
15 Jérémy Bury
16 Raimond Burgman
Pictures courtesy of Kozoom and UMB. A replay of the match is available on Kozoom to premium pass members.