Japan's Orie Hida Wins Her 4th Women's 3-Cushion World Championship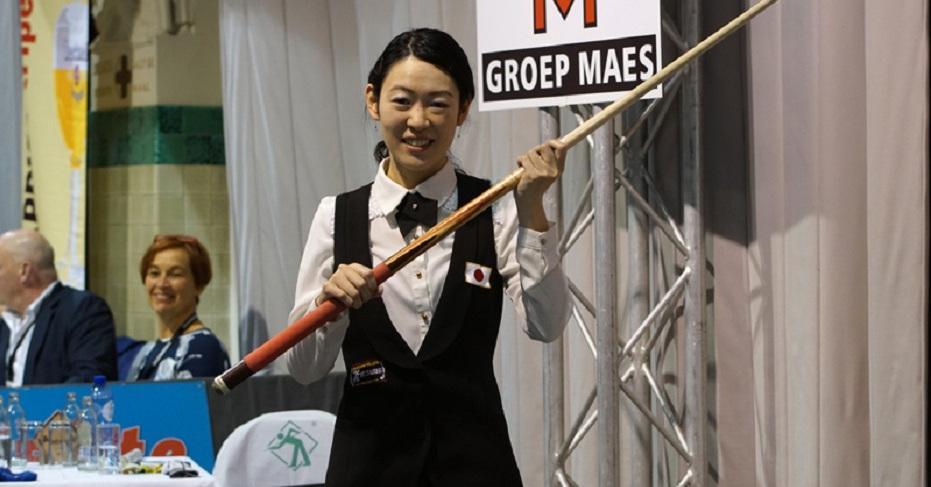 Thirteen years ago Orie Hida of Japan won the very first women's 3-cushion world championship tournament. Over the years she has held the title three times. Now, in the 7th installment of this event she has once again returned to the top of the women's ranks taking her fourth championship title.
The event held in Zoersel Belgium brought 16 of the best women players in the world to compete for the honors. Therese Klompenhouwer, the winner of the 2015 and 2016 events was seeking her third championship in a row. Mi Rae Lee of Korea, the 2016 runner-up was hoping to improve on her excellent second place effort from last year where she lost in a shoot-out against Klompenhouwer. The field included Gulsen Degener of Turkey who has showed a steadily improving game. And a surprising Marianne Mortensen from Denmark who will end up on the podium as the spoiler.
The tournament began with four groups of four in round robin with two players qualifying for the 8-person knockout rounds to follow. Therese Kompenhouwer (Netherlands) led all players going undefeated, averaging 1.086 and posting a high run of 7. Also undefeated were Orie Hida (Japan) and Shin Young Lee (Korea). Namiko Hayashi (Japan) led her group with one loss. Following were the other four qualifiers Mi Rae Lee (Korea), Gulsen Degener (Turkey) Jaimie Buelens (Belgium) and Marianne Mortensen (Denmark).
In the quarter-final round there was a shock that changed the entire nature of the event.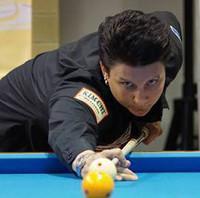 After a strong start, but not quite as strong as in 2016, the reigning world champion faced Marianne Mortensen of Denmark. The two had met many times before, with Therese Klompenhouwer always coming out on top. But on this Saturday in Zoersel, Mortensen played above the moon and Therese had an uncharacteristic collapse. Playing what was surely one of her best games ever Marianne Mortensen knocked out the world champion 30-26 in 34 innings, ending Therese Klompenhouwer's hopes of a 3rd title in a row.
Orie Hida continued her unbeaten streak to reach the semi-finals. Joining her were Mi Rae Lee and Gulsen Degener. And so a former champion, a former runner-up, an up and coming player and the spoiler were down to the final four.
The semi-final match between Mi Rae Lee and Marianne Mortensen was another surprise, only this time it was Mortensen on the losing end. After such a strong performance in the quarter-final round against Therese Klompenhouwer, Mortensen totally lost her way against Mi Rae Lee suffering a crushing defeat 30-8 in 26 innings, settling for a share of 3rd place.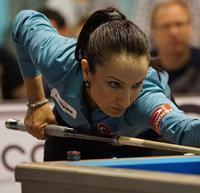 Orie Hida facing Gulsen Degener had the tougher challenge with a match that went down to the wire and ended with a one carom difference 30-29 in a brutal 47 innings. The final match was set: former champion Orie Hida would face young Korean Mi Rae Lee, her second trip to the final round in as many years.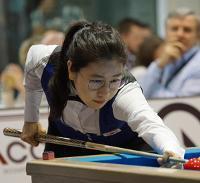 In the final match the result was never in doubt as the elegant Orie Hida slowly but steadily took control. Youthful Mi Rae Lee could not handle the pressure of the title bout. The final score was 30-19 in 37 innings. Orie Hida was once again the world champion in ladies 3-cushion winning her fourth title.
Here are the final results from the group of eight finalists with their average and best runs:
1 Orie Hida (Japan) 0.878-8
2 Mi Rae Lee (South Korea) 0.640-8
3 Gülsen Degener (Turkey) 0.703-6
3 Marianne Mortensen (Denmark) 0.601-6
5 Therese Klompenhouwer (The Netherlands) 0.980-5
6 Shin Young Lee (South Korea) 0.744-5
7 Jaimie Buelens (Belgium) 0.569-4
8 Namiko Hayashi (Japan) 0.545-3
Our congratulations go out to Orie Hida the 2017 Women's 3-Cushion World Champion.
Thanks to Kozoom for statistics and pictures. Replays of key matches are available on Kozoom for premium pass members.