Nick "Poly" Wins His 4th Greek Championship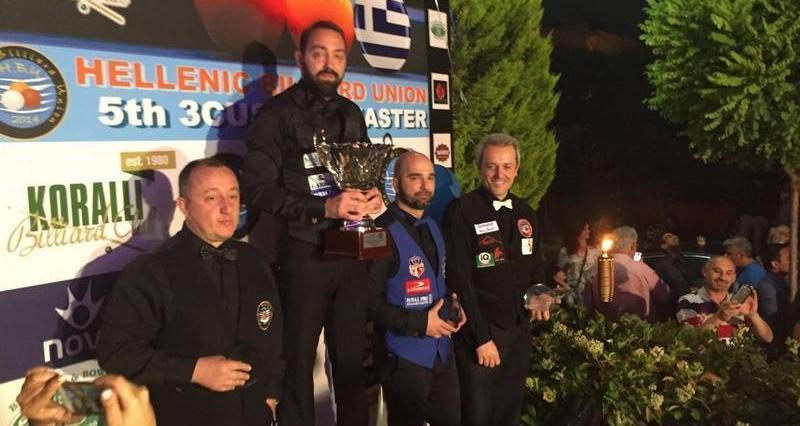 Nikos Polychronopoulos - or Nick Poly which is much easier to say and remember - has won his fourth Greek National 3-Cushion Championship (in a row!) To perform this bit of magic he needed both his great billiard skills and a little bit of luck! Pictured above: Nikos Polychronopoulos (top) with Dionisis Tsokantas (left), Kostas Kokkoris and Apostolos Balogiannis (end).
The championship for 3-cushion in Greece is decided over a series of five Grand Prix tournaments. For all players the best result in four of the five events is used to determine the ultimate champion. Nick only played in four of those events and was the winner in just two. In the fifth and final tournament Nick lost in the quarter-final round and had to watch the remaining games to see where he would end up in the overall ranking. Miraculously the title went to Poly! First, Kostas Kokkoris would have been the new Greek champion if he had won in the semi-finals against Dionisis Tsokantas - Tsokantas won. Then Apostolos Balogiannis had his chance to be the new champion if he had won the final against Tsokantas - but Balogiannis lost 40-33 in 22. So with his two wins and the luck of the balls rolling against all challengers... in the end Nick Poly is the Greek National 3-Cushion Billiards Champion for the fourth time in a row. He surely must thank runner-up Dionisis Tsokantas whose two wins at the end cliched the championship for Poly!
Here is the final ranking after all five tournaments:
1 Nikos Polychronopoulos (1.656)
2 Dionisis Tsokantas (1.237)
3 Kostas Kokkoris (1.310)
4 Apostolos Balogiannis 1.122
5 Kostas Papakonstantinou 1.451
6 Filippos Kasidokostas 1.412
7 Thomas Koukis 1.055
8 Kostas Antontos 1.398
Thanks to Kozoom for picture and stats.