3rd UMB World Cup of 2017 - Ho Chi Minh City Vietnam Qual Rounds (Part 1)
The World Cup returns to Ho Chi Minh City, VIetnam for the third year in a row. A full inscription of 149 players, dominated of course by the Asian contingent from Vietnam, Korea and Japan, do battle from May 22 to May 28 in the 3rd tournament of the 2017 UMB World Cup Series
Playing on eight tables from the Korean manufacturer Min, the 149 participants in the event include 105 from the Asian continent (59 Koreans, 32 Vietnamese and14 Japanese) In addition one American, three Colombians, five Egyptians. and 35 European players have made the arduous journey to Vietnam (the largest group of 16 coming from Turkey.).We will follow the action day by day to see who will shine, who will surprise and ultimately who will prevail. The format of the World Cup events: Multiple qualification rounds in 3-man round robin groups, whittling the field of hopeful challengers down to just 15 who join the top 14 players and 3 wildcard entriants for the 32-man single elimination format that determined the champion. (See the final results in Part Two!)
Day One - PPPQ Round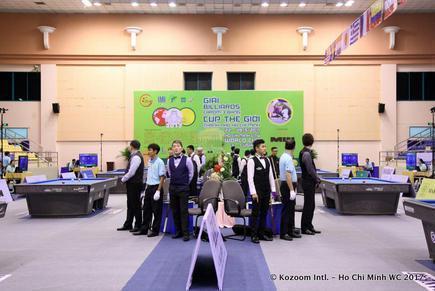 With 105 players in the Asian contingent it is no surprise that the play from Day One deomonstrated the skills and dedication of the many hopefuls who enter in the grueling pre-qualification stages. Yet even with great play no spot is assured. Thanh Loc Phan had the best game of the day (2.500 average) but failed to advance! The high run for the day was 11 from Thanh Luan Duong who also missed the cut. All 16 day leaders advancing to the next round came from either Korea (8) or Vietnam (8). We will see if any can hold on through the stages that follow to the main event.
Best Game: Thanh Loc Phan (VN) 30 in 12 innings for a 2.500 average
High Run: Thanh Luan Duong 11
Games Over 2.0: Thanh Loc Phan (VN) 2.500, Hoang Hung Ho (VN) 2.142, Sung Won Jang (KR) 2.000
The 16 Who Advanced (match points-average-high run): 1 Sung Won Jang 4-1.714-9, 2 Huu Dat Tran 4-1.621-9, 3 Hoang Hung Ho 4-1.538-5, 4 Sung Ha Yoon 4-1.333-8, 5 Young Min Lee 4-1.304-5, 6 Min Soo Goo 4-1.176-4, 7 Quoc Thuan Pham 4-1.153-6, 8 Kien Duc Hua 4-1.071-6, 9 Chang Hoon Seo 4-1.034-7, 10 Van Bien Le 4-1.000-5, 11 Canh Phuc Pham 4-0.857-5, 12 Dinh Quoc Nguyen 4-0.769-6, 13 Hyung Mook Lim 4-0.674-5, 14 Quoc Vinh Tran 3-1.538-7, 15 Kun Hyoung Park 3-1.111-9 and 16 Kap Se Kim 2-0.965-5.
Day Two - PPQ Round
Day Two continued the dominance of the early Asian entrants. This time 9 Koreans and 7 Vietnamese made it through to the next round. Best game honors and high run honors went to Wan Young Choi of Korea entering in this round and posting a 2.500 (30 in 12) with a high run of 12. The high run was matched by Sung Ha Yoon who was 4th best of both Day One and Day Two. It is interesting to note that eight players who advanced from Day One also made it through Day Two. They were: Sung Won Jang, Hoang Hung Ho, Sung Ha Yoon, Chang Hoon Seo, Canh Phuc Pham, Dinh Quoc Nguyen, Hyung Mook Lim and Quoc Vinh Tran. Can they keep it up?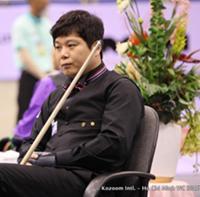 Best Game: Wan Young Choi 30 in 12 innings for a 2.500 average
High Run: Wan Young Choi 12 and Sung Ha Yoon 12
Games Over 2.0: Hyun-Suk Kim 2.000, Wan Young Choi 2.500, Sung Ha Yoon 2.000
The 16 Who Advanced (match points-average-high run): 1 Chang Hoon Seo 1.714-8, 2 Wan Young Choi 1.621-12, 3 Quoc Vinh Tran 1.578-11, 4 Sung Ha Yoon 1.428-12, 5 Only Hyoung Park 1.428-8, 6 Tae Jun Oh 1.428-6, 7 Canh Phuc Pham 1.428-5, 8 Tran Thanh Tu Nguyen 1.395-7, 9 Sung Il Jeong 1.333-7, 10 Minh Thien Vuong 1.250-7, 11 Hyung Mook Lim 1.224-5, 12 Sung Won Jang 1.200-10, 13 Quang Hai Dinh 1.132-6, 14 Hoang Hung Ho 1.132-4, 15 Tae Kwan Kim 1.111-6 and 16 Dinh Quoc Nguyen 1.052-5.
Day Three - PQ Round
Day Three continues with more players from outside the Asian continent first getting into the action. The play from all rivals had truly moved up a notch. Witness three games over 3.0 including best game of the day from Trung Hau Do Nguyen (30/8 3.750) who advanced. Chi Yeon Cho made 30 in 9 innings for a 3.333 average and also advanced, But Quang Hao Truong also made 30 in 9 innings for a 3.333 average then played a catastrophic .640 and missed the cut. No less than 3 players made a run of 15, best in the event so far. Yet Quang Hai Dinh by losing his game to Jean Paul De Bruijn by one carom missed the cut in spite of averaging 2.034 and having high runs of 12 and 15 in his group. The survivors through three rounds who entered on Day One: Hoang Hung Ho, Sung Ha Yoon and Hyung Mook Lim. Players who entered on Day Two and also advanced today: Sung Il Jeong and Tae Kwan Kim,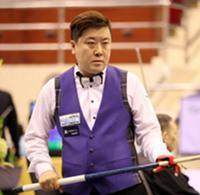 Best Game: Trung Hau Do Nguyen 30 in 8 innings for a 3.750 average (two runs of 10)
High Run: Quang Hai Dinh 15, Chi Yeon Cho 15, Jung Ju Shin 15
Games Over 2.0: Hoang Hung Ho 2.142, Quang Hai Dinh 2.142, Jeam Paul De Bruijn 2.000, Chi Yeon Cho 3.333, Hideaki Kobayashi 2.142 & 2.000, Birol Uymaz in a tie with Hi Hun Ahn 2.142(!), Tae Jun Oh 2.307,
The 16 Who Advanced (match points-average-high run): 1 Chi Yeon Cho 4-2.400-15, 2 Hideaki Kobayashi 4-2.068-7, 3 Jean Paul de Bruijn 4-1.875-9, 4 Tae Kwan Kim 4-1.714-8, 5 Hyun Min Seo 4-1.578-7, 6 Hoang Hung Ho 4-1.538-9, 7 Sung Il Jeong 4-1.395-10, 8 Gökhan Salman 4-1.276-7, 9 Duy Trun Nguyen 4-1.224-7, 10 Sung Ha Yoon 4-1.200-8, 11 Hyun-Suk Kim 4-1.176-5, 12 Ronny Lindemann 4-1.132-8, 13 Birol Uymaz 3-1.818-7, 14 Sang Pil Um 3-1.500-8, 15 Hyung Mook Lim 3-1.200-9 and 16 Trung Hau Do Nguyen 2-1.814-10.
Day Four - The Qualification Round
The Qualification Round is the most challenging and dangerous. Many world-class players (those not in the top 14) enter at this stage. Any group is likely to consist of one or even two world-class players... along with a pre-qual round winner hungry for a chance to move into the main event. And with five (!) players still in from the earliest stages the level of player has never been better. From here on the matches go to 40 points, which favors ever so slightly the stronger player. Players may travel thousands of miles over many hours, step into the arena, and face the prospect that their entire event may be only two games before they head home. The tension is enormous and how the players handle it determines their fate.
Clearly best of the day was the talented Eddy Leppens posting best game, high run and averaging 2.424 to shine as the day's overall leader. The level of play was so high that in our tracking stats we moved the "Games over" needle to 2.5+ which five players achieved, all of whom advanced. Many of his fans will surely welcome Semih Sayginer back into the main event with his fine performance, winning both his games with ending runs of 10! Pre-Qual entrants Hyun Min Seo and Sang Pil Um both averaged better than two, as did former World Champion Sung Won Choi. The revelation for the home town fans has to be the incredible play of Hoang Hung Ho who entered in the very first Pre-Pre-Pre-Qualication matches and continues to astound by winning his group and advancing to the main event. Day Two leader Chi Yeon Cho advances along with the very popular Myung Woo Cho who once again is in a world cup main event.
Lest we forget, many great players were eliminated without much fanfare. Left to watch from the stands are: Adnan Yüksel, Ronny Lindemann, Dinh Nai Ngo, Choong-Bok Lee, Anh Vu Duong and Murat Tüzül. And even eliminated without a win: Roland Forthomme, Gökhan Salman, Birol Uymaz, Javier Palazón, Lütfi Cenet and Jean Paul de Bruijn.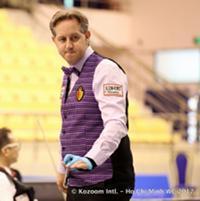 Best Game: Eddy Leppens 40 in 11 innings for a 3.636 average (run of 20!!!)
High Run: Eddy Leppens 20 (Bravo Eddy!)
Games Over 2.5: Um Sang Pil 2.500, Tayfun Tasdemir 2.500, Eddy Leppens 3.636, Semih Sayginer 2.857, Hoang Hung Ho 2.500
The 15 Who Advanced (match points-average-high run): 1 Eddy Leppens 4-2.424-20, 2 Hyun Min Seo 4-2.285-9, 3 Sang Pil Um 4-2.222-10, 4 Sung-Won Choi 4-2.162-13, 5 Semih Sayginer 4-1.904-10, 6 Tayfun Tasdemir 4-1.702-12, 7 Can Capak 4-1.666-13, 8 Jae Guen Kim 4-1.666-7, 9 Myung Woo Cho 4-1.632-8, 10 Hong Hung Ho 4-1.538-10, 11 Chi Yeon Cho 4-1.379-7 and 12 Xuan Cuong Ma 4-1.269-8. The three additional players who qualfied to advance: Tung Hau Do Nguyen 1.900, Hyung Kon Kim 1.888 and Dong Koong Kang 1.743.
Eight Koreans advance to the main draw, along with three each from Turkey and Vietnam, and one from Belgium. The qualification stages are over and the main event is set to begin. Our coverage of the HCM City World Cup continues in part two
Live-stream provided by Kozoom. Selected replays are available on Kozoom for premium members. Pictures courtesy of our friends at Kozoom Intl.