David Martinez Wins Spain's National 3-Cushion Title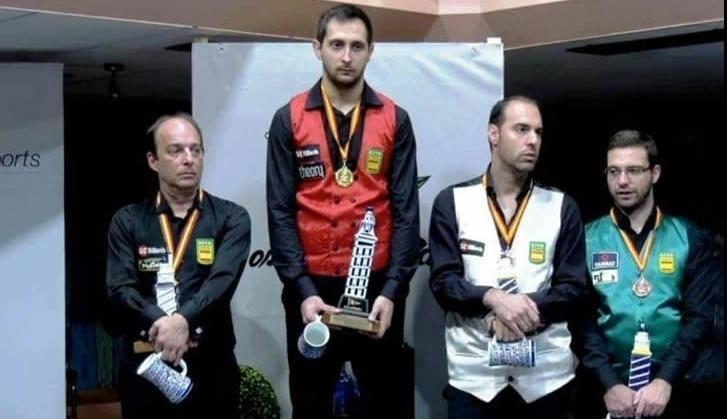 He could hardly believe his eyes, 25-year David Martinez, when he made his last point and crowned himself the new Spanish champion in three cushion. The brilliant last sprint in the final match against Dani Sánchez was rewarded with the title. Pictured above (L to R) Dani Sanchez, Champio David Martinez, Ruben Legazpi and Javier Palazon.
David Martinez was 32-21 down in 19 innings, first passed his opponent with a run of 14 (35-32) and then performed a small miracle: the final run of five in his next inning decided the match: 40-33 in 20 innings.
"When I made my last point, all the emotions went out and I broke into tears. I really can't remember what happened. I couldn't think and couldn't talk when people were hugging me. I even didn't feel my body. I don't know for how long, but it took a long time to be relaxed again'', said the champion one hour after the final match. David Martinez is the successor to Dani Sánchez, who wrote the title to his name in the last five years. The world champion's DS brand is one of the sponsors of the new champion by whom he was dethroned.
Here are the final standings for the 2017 championship:
1 David Martinez 1.399-14
2 Dani Sánchez 1.755-10
3 Ruben Legazpi 1.425-7
4 Javier Palazón 1,472-8
5 Juan Zapata 1.400-12
6 Antonio Montes 1.442-11
7 Armando Moreno 1.154-6
8 Jesus Jimenez 1.070-8
Story and pictures courtesy of our friends at Kozoom. Read the more about David's great victory here.