Marco Zanetti Wins His 26th Italian Title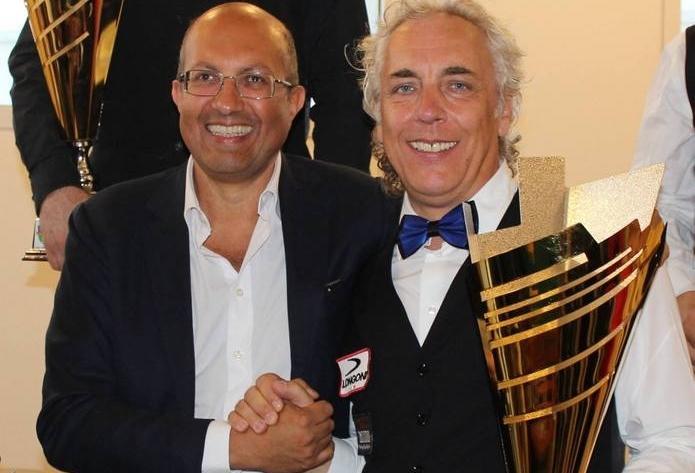 Marco Zanetti has conquered an incredible 26th Italian 3-cushion title. The best Italian billiard player in history defeated Emilio Sciacca in the final match 40-34 in 29 innings. Zanetti's tournament average was 1.786 and his high run for the event was 10. Pictured above Zanetti (right) receiving congratulations and proudly holding his well-earned trophy.
Like his American counterpart, Pedro Piedrabuena, Zanetti sailed through the tournament and reached the final without being in trouble. His final match was more hard fought than the earlier rounds but in the end Zanetti prevailed.
Here are the final standings with averages and high run:
1 Marco Zanetti 1.786-10
2 Emilio Sciaccz 1.104-8
3 Fabrizio Cortese 0.970-7
4 Salvatore Papa 0.729-8
5 Alfio Basile 0.994-8
6 Domenico Giacalone 0.873-7
7 Francesco Orlando 0.773-11
8 Ludovico La Rosa 0.723-6
9 Fabio Gaiotti 0.637-4
10 Alessio D'Agata 0.830-4.
Thanks to our friends at Kozoom for picture and stats.