Pedro Piedrabuena Wins the 2017 Pan American Championship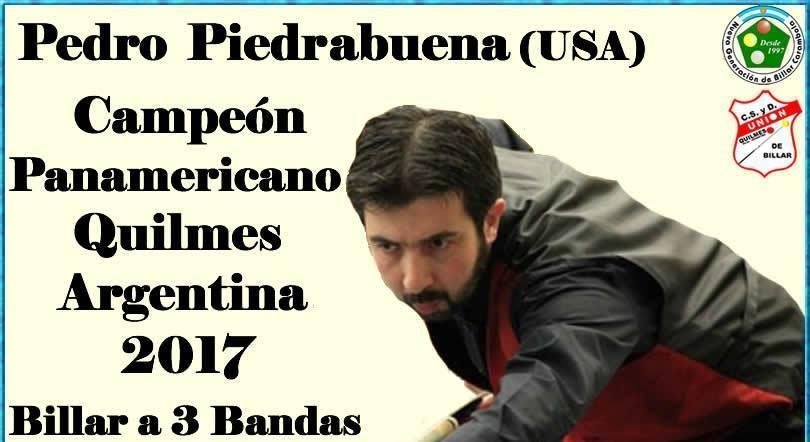 2017 USBA National Champion Pedro Piedrabuena has completed the "double" by defeating Javier Teran of Ecuador 40-36 in 33 innings in the final match to win the 2017 Pan American Championship.
In an undefeated performance, matching his effort earlier in June to win the USBA National title, Pedro duplicated the feat of his fellow countryman Hugo Patino. In 2016 Hugo was also a dual champion winning both the USBA and Pan American titles.
This year the tournament was played in Quilmes, Argentina. The Colombian contingent included Robinson Morales, Alexander Salazar, Huberney Catano, Carlos Campino and Jose Juan Garcia. Many considered them the favorites, but they were all eliminated in the run-up to the semi-finals, as were two of the US players Hugo Patino and Miguel Torres. Only Fernando Diaz of Colombia reached the last four. He was eliminated by Javier Teran in a shootout after a draw in the regular match (40-40 in 34). Pedro Piedrabuena took the other semi-final against Erick Tellez from Costa Rica 40-22 in 26.
The US players continue to dominate the Pan American event for the second year in a row. Next stop for Hugo Patino and champion Pedro Piedrabuena - the World Games in Poland coming up this month.
For now we say congratulations to Pedro Piedrabuena -- 2017 Pan American Champion.
Check out the results charts, brackets and pictures of the key players in our Image Gallery below.