Dani Sanchez Wins World Games Gold For Third Time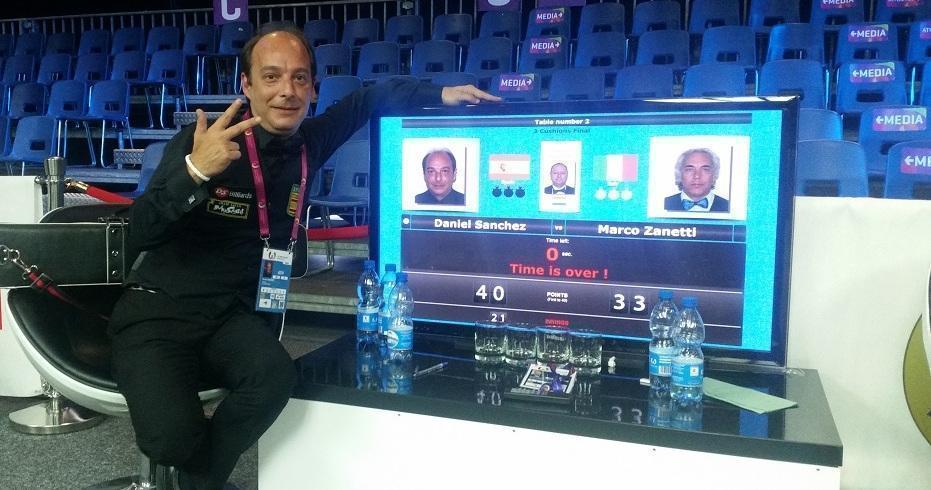 With a stunning come from behind effort in the final match, Dani Sanchez of Spain defeated defending champion Marco Zanetti of Italy to win his third gold medal in the 2017 World Games.
What a year for Sanchez! He is the current (2016) World Champion, won the SuperCup against Dick Jaspers in March, won the World Cup Luxor in April, and reached the number one ranking in the UMB list. Now he adds his 3rd gold medal in the 2017 World Games held in Wroclaw, Poland.
The 43-year old Spaniard shined in the World Games, a mega-event for thirty non-Olympic sports held every four years. His win over former title holder Zanetti in the final 40-33 in 21 innings doesn't reflect the effort he had to make after a slow start trailing 21-10 at the break. His rhythm and scoring capability only strengthened at the end as Zanetti could not hold on.
Sánchez completed his hattrick of winning three World Games gold medals, by first winning in Akita (2001), and then again in Duisburg (2005). Both times in the past he defeated Dutchman Dick Jaspers in the final. This was the fifth time that 3-cushion billiards was part of the World Games. Dick Jaspers won in 2009, in Kaohlsung, Taiwan, and Marco Zanetti won in 2013, in Cali, Colombia.
Sixteen players from the best billiard countries in the world were invited to compete in the World Games. Sameh Sidhom from Egypt won the bronze, giving him a share of the podium with Sánchez and Zanetti.
Americans Pedro Piedrabuena and Hugo Patino also participated, but were both eliminated in the quarter-final round where Piedrabuena lost to Zanetti and Patino fell to the ultimate winner Sanchez.
Congratulations to Dani on his win and his continued accomplishments in his best year ever!