Carlos Anguita of Spain Wins 2017 World Championship for Juniors!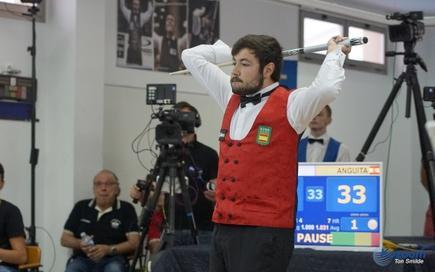 Young Spanish player Carlos Anguita, to the delight of his countrymen (and women!) won the 2017 Three Cushion World Championship for Juniors. Held in the city Los Narejos, Spain the event was filled with drama and excitement.
Sixteen of the world's best juniors assembled for a round robin group stage followed by a single elimination finals to determine the 2017 champion. The 2016 title holder Myung Woo Cho of Korea was set to defend and seemed the favorite. In fact his stunning best-in-tournament performance of 25 points in 6 innings in the group stage, averaging a world-class 4.167, made him look almost unstoppable. But what followed in the 8-man knock-out final phase reflected the tough competitive nature of billiards, even at the junior level. In the first round Cho began to struggle, barely winning his 1/4 final round game. That left an opening for the confident Anguita to take down the former champion.
The clash of the Juniors matched the similar rivalry of the men in major International events. The pressure was intense for the last four as two Koreans faced two from Europe for the title. And once he reached that stage, Anguita stepped up with a shocking win eliminating the former champ in a tough 35-33 semi-final match. With that victory the surprise was that the Korean playing in the final was Beom-Yeol Lee who was little known up until this event.
And so with confidence and skill, Carlos Anguita proved the most steady of all, winning 35-23 in the final match and securing his place in history.
Final results of the Los Narejos World Junior Championship:
1 Carlos Anguita (Spain) 10-1.029-7
2 Beom-Yeol Lee (Korea) 10-1.070-6
3 Myung-Woo Cho (Korea) 8-1.265-7
3 Gwendal Marechal (Frankrijk) 8-0.992-9
5 Cristian Sanchez (Colombia) 5-0.872-5
6 Arda Güngör (Turkije) 4-0.876-5
7 Mario Mercader (Spanje) 4-0.812-4
8 Tobias Bouerdick (Duitsland) 4-0.759-5
9 Jung-Ju Shin (Korea) 3-0.833-6
10 Shota Funaki (Japan) 2-0.802-5
11 Joey de Kok (Nederland) 2-0.694-5
12 Mauro Salvador (Argentinië) 2-0.636-5
13 Caro Nelson (Colombia) 0-0.730-5
14 Youssef Ossama (Egypte) 0-0.587-5
15 Brian Peralta (Peru0 0-0.582-4
16 Daniel Peña (Spanje) 0-0.556-4
Bravo Carlos, the pride of Spain and the new World Junior Champion in 3-Cushion.