Frederic Caudron Wins His 3rd UMB World Championship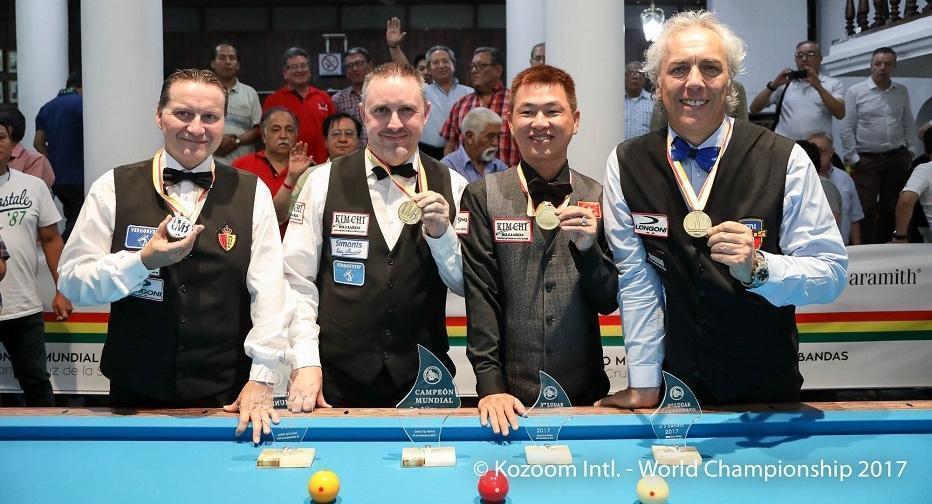 Frederic Caudron of Belgium in a sparkling, record-setting performance has captured his third 3-Cushion World Championship, defeating fellow countryman Eddy Merckx in the final match 40-16 in 9 innings -- a beautiful 4.44 average. The tournament, held in Santa Cruz, Bolivia November 8-12 attracted 48 of the world's best players. In the end it was a rare one-country final match between the two Belgians that confirmed the continued dominance of the European region at the top-level of world 3-cushion with Caudron once again leading the way. (Pictured L to R: Eddy Merckx, Frederic Caudron, Minh Cam Ma and Marco Zanetti)
With his 3rd world championship under his belt, Caudron regained the number 1 spot in the official UMB world ranking. Perhaps the first sign of the changing of the guard came in the quarter-final round when Caudron defeated 2016 champion Dani Sanchez of Spain, knocking him down to the second position in the ranking as he finished 6th in the event.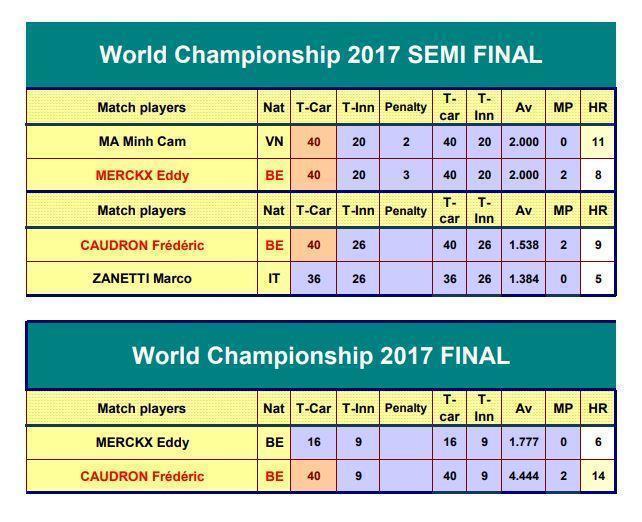 The final four included three former world champions (Caudron, Merckx and Italian Marco Zanetti) and the one Asian player to make it through, Minh Cam Ma of Vietnam. None of the Korean contingent were able to make it past the 1/8 final round. That was surely a surprise to many who were expecting a big tournament from multiple World Cup winner Haeng-Jik Kim (first round loss to Jung Han Heo) and former World Champion Sung-Won Choi (defeated by Sanchez in the 1/8 final round.) The Asian players will one day take their rightful place at the top level as they continue to bring in more and more talented young players, and gain more experience in the tough world of International 3-cushion tournaments. But for now the Europeans still hold eight of the spots on the top ten ranking list (as of November 12, 2017):
1 - Frédéric Caudron (Belgium) 402
2 - Dani Sanchez (Spain) 365
3 - Dick Jaspers (Netherlands) 338
4 - Torbjörn Blomdahl (Sweden) 334
5 - Marco Zanetti (Italy) 317
6 - Haeng Jik Kim (Korea) 292
7 - Murat Naci Coklu (Turkey) 271
8 - Eddy Merckx (Belgium) 269
9 - Sameh Sidhom (Egypt) 230
10 - Nguyen Quoc Nguyen (Vietnam) 219
Vietnam's Minh Cam Ma had a great event... only losing his last match in the semi-final round in a nail-biter against the bulldog Eddy Merckx. After taking a huge lead to the slow-starting Merckx, Ma watched a 21-6 advantage evaporate as Merckx ran 3 consecutive sixes. By the team Ma woke back up he as behind and forced to catch Merckx in the equalizer to force a shootout. The first attempt left both players still even at two. In the second penalty attempt Merckx made 3 and Ma missed after 1... thus ending his miracle hope fot the title. Still, a great performance for Ma with wins over Can Capak of Turkey, Jung Han Heo of Korea and a very strong Javier Vera of Mexico. He will surely be seen again in the late rounds of World Cup and World Championship events.
Zanetti reached the semi's by besting two Vietnamese players Dinh Nai Ngo and Anh Vu Duong before facing rival Jeremy Bury of France in the quarters. There he continued his consistent and accurate play, which only ended in his match against former team-mate Caudron. Zanetti always seems to be there at the very end in International play, consistently demonstrating his great skills and holding him in the very top of the rankings.
The final order of finish for the top 16 players in the 2017 UMB World 3-Cushion Championship:
1 Frédéric Caudron (Belgium) 2.089-14
2 Eddy Merckx (Belgium) 1.828-12
3 Minh Cam Ma (Vietnam) 2.123-15
3 Marco Zanetti (Italy) 1.673-14
5 Jérémy Bury (France) 1.989-13
6 Dani Sánchez (Spain) 1,780-9
7 David Martinez (Spain) 1.413-9
8 Javier Vera (Mexico) 1,684-12
9 Tayfun Tasdemir (Turkey) 2.053-10
10 Torbjörn Blomdahl (Sweden) 1,728-13
11 Sung-Won Choi (South Korea) 1.563-8
12 Anh Vu Duong (Vietnam) 1.453-13
13 Eddy Leppens (Belgium) 1.738-11
14 Jae-Ho Cho (South Korea) 1.600-10
15 Fernando Diaz (Colombia) 1,517-12
16 Jung-Han Heo (South Korea) 1.500-8
Congratulations to the great Frederic Caudron for his wonderful victory in this year's event.
Thanks to Kozoom for stats, pictures and video replays for its members. Thanks to UMB for charts used in analysis.