Dick Jaspers Wins 2017 Lausanne Biiliard Masters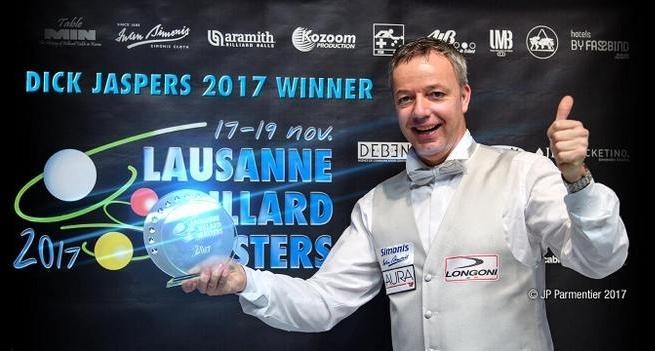 In a real classic match between two European top guns from the low lands, Dick Jaspers took the trophy in the Lausanne Billard Masters. The Dutchman was the best in the final where he defeated Frédéric Caudron 40-24 in sixteen innings. For Jaspers it was his second victory in five years in Lausanne. The world champion, Caudron, couldn't win his first in the prestigious tournament held in the wonderful Swiss capital of the Olympic committee. The podium was completed by Dani Sánchez and Marco Zanetti. Dick Jaspers earned 2000 Swiss francs (1800 euros) with his victory.
The event was held November 17-19 in Lausanne, Switzerland. Here is the field of entrants and the final ranking:
1 Dick Jaspers
2 Frédéric Caudron
3 Dani Sánchez
3 Marco Zanetti
5 Torbjörn Blomdahl
6 Jérémy Bury
7 Jae-Ho Cho
8 Nikos Polychronopoulos
9 Dong-Koong Kang
10 Ten Muy Ma
11 Michael Boulaz
12 Fernando Couto.