Belgian Eddy Merckx Wins El Gouna World Cup in Egypt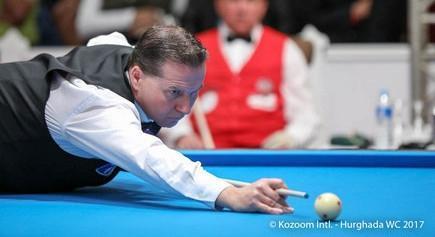 The Belgians rule billiards! Eddy Merckx, one of three Belgians to reach the semi-finals in the El Gouna World Cup, defeated his fellow countryman Roland Forthomme with a high run of 14 followed by a final surge of 8-and-out to take the crown in a 40-25 victory. Merckx had shared the podium as second to fellow Belgian, world champion Frederic Caudron, just weeks before in the 2017 world championship tournament held in in Bolivia.
In this the final world cup of the 2017 season it was Caudron's loss in his semi-final match to Forthomme that set up the dramatic final between Forthomme and Merckx. Three great Belgians on top, with Marco Zanetti of Italy who was also in the top four at the world championship rounding out the field.
We cover the entire event - scroll down through the article to see the day-to-day action all the way to the finals!
UMB World Cup tournaments have proven to be the most competitive and popular events in International 3-cushion play. The final world cup of the 2017 season, held from December 3-9 in the city of El Gouna (Hurghada) Egypt is no exception. Drawing the maximum 149 players and 15 more on the reserve list the 6-day tournament attracted the very best in the world. The first four days of the event are the qualification rounds that kick-off the tournament. Matches are divided into groups of three playing round robin to 30 points with equal innings. The top player from each group (and the best runner-up overall) advances each day with the hope of reaching the main event. Each day more (and better!) players enter the tournament creating a highly competitive environment that requires nerves of steel to match a player's skills. We will post the day's results and more as the excitement unfolds.
Here is our daily leader board where you can follow your favorite hopeful. LIsted are the match points, day's average and high run:
Top 16 on Day One +1 (PPPQ)
Top 16 on Day Two +1 (PPQ)
Top 16 on Day Three (PQ)
Top 15 on Day Four (Q)

1 Andres Carrion 4-1.428-5
2 Carlos Anguita 4-1.276-11
3 Andy de Bondt 4-0.983-5
4 Samer Kamal 4-0.967-7
5 Bernard Baudoin 4-0.967-5
6 Bo Gustavsson 4-0.937-5
7 Ronny Brants 4-0.909-5
8 In Seok Kang 4-0.833-5
9 Roman Bachmaier 4-0.833-5
10 Yasser Shehayeb 4-0.821-4
11 Christian Zöllner 4-0.789-6
12 Ümit Demircan 4-0,697-5
13 Walter Jurdo 4-0.681-4
14 Kevin Vasseur 4-0.666-7
15 Salah Abdin 4-0.625-3
16 Ebrahim Awad 4-0.600-4

Best runner-up:
Chang Hoon Seo 2-1.487-6

1 Chang Hoon Seo 4-1.667-7
2 Omer Karakurt 4-1.500-11
3 William Oh 4-1.500-10
4 Yusuke Mori 4-1,304-11
5 Bernard Baudoin 4-1.250-6
6 Umit Demircan 4-1.132-6
7 Carlos Anguita 4-1.132-4
8 Murat Celik 4-1.111-9
9 Mohamed Abdin 4-1.111-6
10 Sung-Il Jeong 4-1.091-7
11 Manol Minaoglu 4-1.071-6
12 Radek Novak 4-0.952-5
13 In-Seok Kang 4-0,779-5
14 Juan David Zapata 3-1.395-5
15 Glenn Hofman 3-1.363-6
16 Atsushi Kiyota 2-1.023-8

Best runner-up:
1 Dave Christiani 3-1.250-5

1 Jean Paul de Bruijn 4-1.764-12
2 Gökhan Salman 4-1.714-6
3 Juan David Zapata 4-1.621-10
4 Tonny Carlsen 4-1.538-9
5 Murat Celik 4-1.428-10
6 Young Hoon Lee 4-1.395-10
7 Kwang Yeol Park 4-1.395-8
8 Ronny Lindemann 4-1.395-7
9 Birol Uymaz 4-1,304-7
10 Bernard Baudoin 4-1.200-7
11 Omer Karakurt 4-1.176-7
12 Thomas Andersen 4-1.153-5
13 Sung Kyu Oh 4-1.111-5
14 Jan Hudak 4-0.869-6
15 Seung Jin Lee 2-1.230-11
16 Arnim Kahofer 2-1.133-8

1 Javier Palazón 4-3.076-16
2 Birol Uymaz 4-2.000-10
3 Dong-Koong Kang 4-1.904-9
4 Sung-Won Choi 4-1.600-9
5 Seung-Jin Lee 4-1.568-12
6 Xuan Cuong Ma 4-1.481-8
7 Juan David Zapata 4-1.403-9
8 Roland Forthomme 4-1.403-6
9 Dinh Nai Ngo 4-1.250-8
10 Tonny Carlsen 4-1.212-7
11 Adnan Yüksel 3-1.481-7
12 Jae-Ho Cho 2-2.206-9.

Three best runners-up:
1 Eddy Leppens 2-2.108-16
2 Tayfun Tasdemir 2-1.837-9
3 Thomas Andersen 2-1.717-9
Day One Highlights: The Spaniards rule the day (even though there were no games over 2.0 average.) Best game Andres Carrion (ESP) 30 in 19 (1.578 average); High run Carlos Anguita (ESP) 11.
Day Two Highlights: Two games just at 2.0. In-Won Kang (KOR) 30 in 15 but did not advance, and Sung-Kyu Oh (KOR) with the same score who did advance. High run of 11 was shared by Omer Karakurt (TUR) and Yosuke Mori (JPN) both advancing. Chang Hoon Seo who squeaked by the first day as Best Runner-Up lead the pack on Day Two! Day One leader Andres Carrion failed to move on, while fellow Spaniard Carlos Anguita was one of the Day One qualifiers who continued his winning ways. In Seok Kang (KOR), Umit Demircan (TUR) and Bernard Baudoin (FRA) were also advancing Day Two group winners who first entered on Day One. That's five who reached Day Three from the PPPQ stage!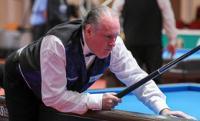 Day Three Highlights: No games at or over 2.0. We're shocked. In the Asian World Cups there were 2.0 games in every round! Best game of the day was 1.875 shared by 6 players. Among those six was our Day Three leader Jean-Paul De Bruijn (NED) who also nailed the high run honors with a 12. Of the five players from Day One who reached Day Three... only Bernard Baudoin of France (pictured left) made it through to the Qualification round on Day Four. And so his World Cup dream continues! The Day Two leader Chang Hoon Seo was among those who were eliminated on the third day. The advancing players who entered on Day Two and who made it through on Day Three included Juan David Zapata Garcia (ESP), Murat Celik (TUR), Omer Karakurt (TUR) and Sung Kyu OH (KOR). One more step forward and another five early round leaders still have a chance to stun the world. And so we reach Day Four - the Qualification round. Here is where the first contingent of the world's big guns enter the event. The five who made it though the Pre-Qual stages have their work cut out for them.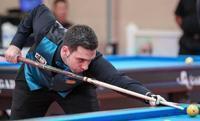 Day Four Highlights: The Qualification round delivered the best game and best run(s) of the event so far. Pictured right is Javier Palazon (ESP) who crushed Jean-Paul De Bruijn's World Cup hopes with a 40-7 performance in just 10 innings - 4.000 average! Along the way he produced the high run of 16 which was matched by #24 in the world Eddy Leppens (BEL). Leppens ended trailing Birol Uymaz (#42) in his group, but was redeemed as best of the runners-up and made it through to the main event. More upsets (at least by their UMB rankings) included: #30 Tonny Carlsen (DEN) over #20 Minh Cam Ma (VIE). Carlsen from the PQ round advances. Adnan Yuksel (#39) over fellow Turk Semih Sayginer (#29). Another from the PQ round, #40 Seung Jin Lee of Korea bested #18 Tayfun Tasdemir (TUR). But once again with a strong performance Tasdemir was among the 3 best runners-up to stay alive and continue the fight in the knock-out rounds. The biggest surprise may have been young Spanish sensation #123 Juan David Zapata Garcia who came from way back in the PPQ round to win both his games against #33 Hyung Kon KIm (KOR) and #19 Anh Vu Duong (VIE). In the matches that delivered real heartbreak, Vietnam's Dinh Nai Ngo (#30) literally knocked out Korea's Myung Woo Cho (#21). Cho finished second in the group with an overall average of 1.714. That was .003 behind #93 Thomas Andersen (DEN) who at 1.717 took the third runner-up spot. And finally #37 Roland Forthomme (BEL) defeated #27 Lufti Cenet (TUR) who's final average put him just behind Cho at 1.705. Cho and Cenet miss by one billiard? Or even one inning? Tough. Oh and what about the miracle run of Bernard Baudoin? Well, that ended with two losses to SJ Lee and Tayfun Tasdemir. Hey... a guy can dream, can't he?
The players advancing after the Day Four Qualification round (see chart above) will join the seeded players and wild card players in the main event - a 32-man knockout format played to 40 points with equal innings. The fourteen seeded players for the main event are: Dani Sánchez, Dick Jaspers, Haeng-Jik Kim, Marco Zanetti, Murat Naci Coklu, Torbjorn Blomdahl, Frédéric Caudron, Jérémy Bury, Nikos Polychronopoulos, Sameh Sidhom, Eddy Merckx, Nguyen Quoc Nguyen, Jung Han Heo, Quyet Chien Tran. The three wildcards in the event are: Luis Aveiga (UMB), Ihab El Messery (org) and Ali Hazen (org).
Day Five - Knock-Out Round of 32
Here are the results for the first round of matches in the main event. We have posted the players UMB ranking as of 11/22/2017 (WC = Wild Card) and the scores. Upset matches, where there was a big disparity in rankings, are highlighted in red.
#4 Dani Sanchez 40 - WC Ali Hares 12
#43 Tonny Carlsen 40 - #11 Jung-Han Heo 30
#8 Eddy Merckx 40 - #18 Tayfun Tasdemir 23
#15 Jérémy Bury 40 - #30 Dinh Nai Ngo 34
#24 Eddy Leppens 40 - #10 Nguyen Quoc Nguyen 33
#7 Murat Naci Coklu 40 - #14 Jae-Ho Cho 31
#9 Sameh Sidhom 40 - WC Ihab El Messery 35
#5 Marco Zanetti - #40 - Seung-Jin Lee 18
#6 Haeng-Jik Kim 40 - #39 Adnan Yüksel 22
#13 Nikos Polychronopoulos 40 - #12 Sung-Won Choi 30
#1 Frédéric Caudron 40 - #23 Xuan Cuong Ma 40 (2-1)
#42 Birol Uymaz 40 - WC Luis Aveiga 33
#37 Roland Forthomme 40 - #3 Torbjörn Blomdahl 32
#20 Dong-Koong Kang 40 - #16 Quyet Chien Tran 36
#123 Juan David Zapata 40 - #38 Javier Palazón 37
#2 Dick Jaspers 40 - #93 Thomas Andersen 36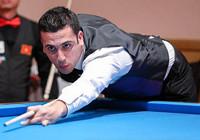 The best game of the day went to Eddy Merckx (40 in 14 for 2.857 average) His high run of 15 in that game was high run of the day. And finally the most refreshing surprise of the day was Juan-David Zapata Garcia (pictured left) of Spain beating fellow countryman Javier Palazon to advance all the way from the PPQ round to the 1/8 finals. Can he go all the way?

Day Six - 1/8 Final Matches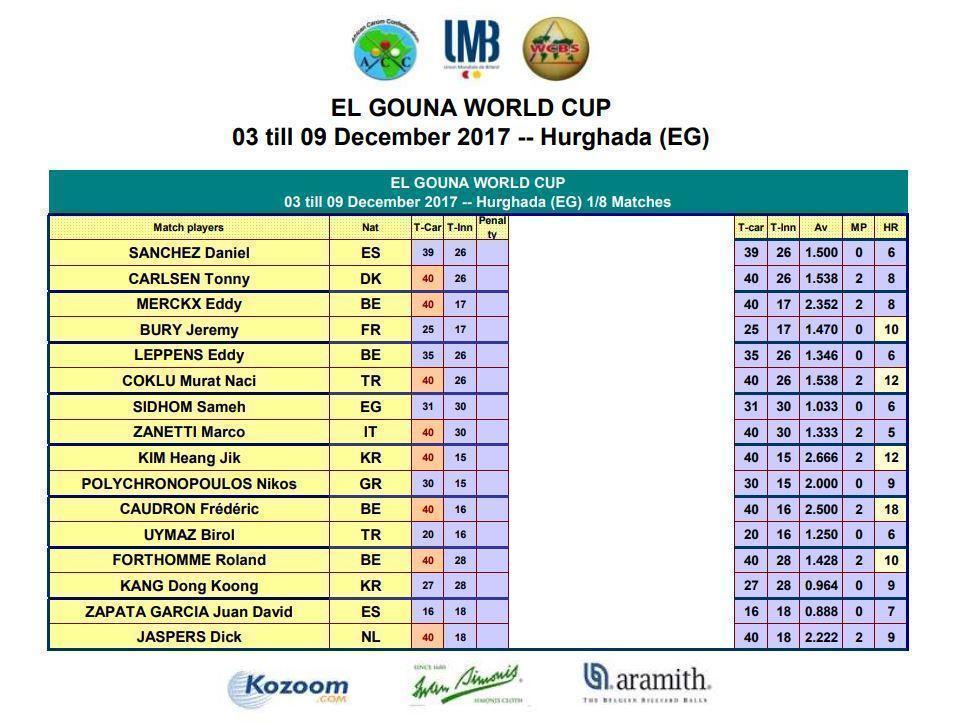 On Day Six - the penultimate moment of the event - the class of the competition showed itself as four of the eight winners in the 1/8-final round posted averages of 2.000 and higher, and five players had runs of 10 or more. Click the image to the right to expand the results chart to see all the games in detail. Frederic Caudron, the world champion and number 1 ranked in the world, won his match against Birol Uymaz 40-20 in 16 innings (2.500 average) delivering the high run for the round of 18. The best game of the day was won by the lone remaining Asian player to make it through, Heang-Jik Kim of Korea who stopped Greek Nikos Polychronopoulos 40-30 in 15 innings averaging 2.666 with a high run of 12. Belgian Roland Forthomme advanced eliminating Korea's Dong Koong Kang, while Eddy Merckx win over France's Jeremy Bury put three Belgians into the quarter finals. Only Belgian Eddy Leppens missed out on that train as Murat Naci Coklu of Turkey won a close one at 40-35. The round was not without a big upset as #4 Dani Sanchez fell to #43 Tonny Carlsen. Tonny has played a beautiful tournament so far, finishing first at 40 leaving Dani stuck trying to equalize, but failing on a difficult off-hand shot, to end just short at 39. With Dick Jaspers win over Juan David Zapata Garcia the young Spaniard's hopes of a miracle win were over. But his performance will certainly move him up the ranking dramatically from #123 where he entered the event. Rounding out the round was Marco Zanetti over the home town favorite, Egypt's Sameh Sidhom. The quarter-final matches followed in the afternoon session.
Day Six - Quarter-Finals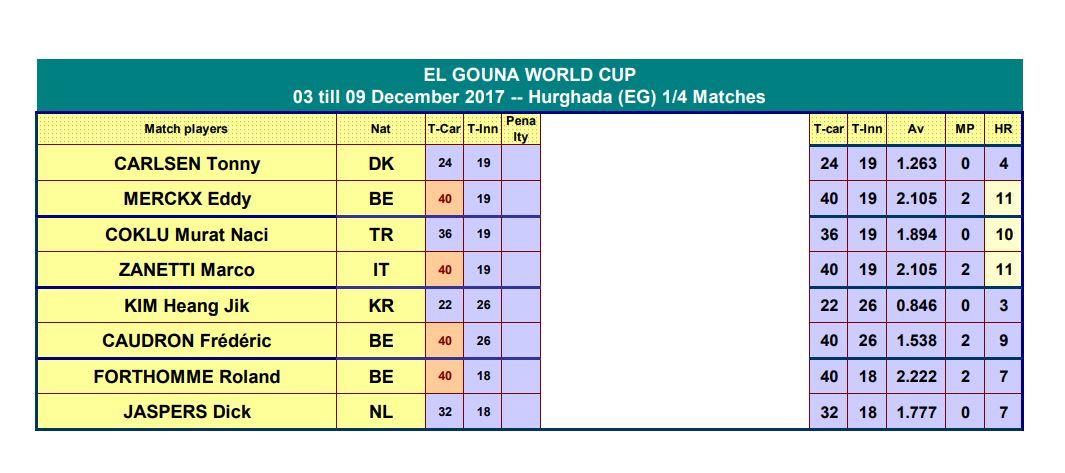 Six seeded players and two players from the Qualification rounds made it through to the Quarter-Finals. Roland Forthomme of Belgian continued his strong performance, showing he has regained the top 20 form that had eluded him in recent world cup events. And the biggest surprise was the resurgence of Tonny Carlsen who reached the Quarters from the PQ stage. The remainder of the field were all the seeded players from the top eight in the world. As it turned out in the first set of games Carlsen was finally eliminated by Belgian Eddy Merckx (2.105, run of 11), Zanetti eliminated the Turk Coklu (2.105, run of 11), and Caudron knocked out the last Asian hopefui besting Kim in a 1.538 performance. The last game was the drama in the round as Forthomme faced world #2 Dick Jaspers, who recently won the prestigous Lausanne Billiard Masters event in Switzerland. But once again Roland rose to the occasion winning in fine fashion 40-32 in 18 innings averaging 2.222. And so it comes to pass that three Belgians and one Italian would face off tomorrow in the semi-final round to open the final day of the 2017 El Gouna World Cup.
Day Seven - The Semi-Finals
Four great players, including the world champion Frederic Caudron, two former world champions Eddy Merckx and Marco Zanetti, and Roland Forthomme, who is one of four players in the wolrld to share the world record of 28 for the highest run in a 3-cushion billiard match, met to determine the championship. In the first match Merckx faced Zanetti. Both men started slow... very slow... missing shots they should have made. By inning 8 the match was tied at 5! Then Merkx woke up with a run of 9, took the lead, and really never looked back. Zanetti answered later with a run of 10, but it was too late to catch Merckx. With the match at 39-31 at the last stage, Zanetti had an insurmountable hill to climb.His run of six got him closer, but Merckx with yellow closed it out for the win.
The second semi-final match got off to a similarly slow start. The score stood at 3-1 in inning 4 and 11-10 in inning 6, Forthomme leading Caudron by the tiniest of margins. Then Forthomme found his footing and surged with multiple runs of 5, 13 and 7 take a commanding 36-12 lead in the ninth inning. Two innings later it was over as Forthomme had defeated the world champion Caudron 40-15 in 11 innings averaging 3.636. It would be Forthomme versus Merckx, another all-Belgian final match in International tournament play.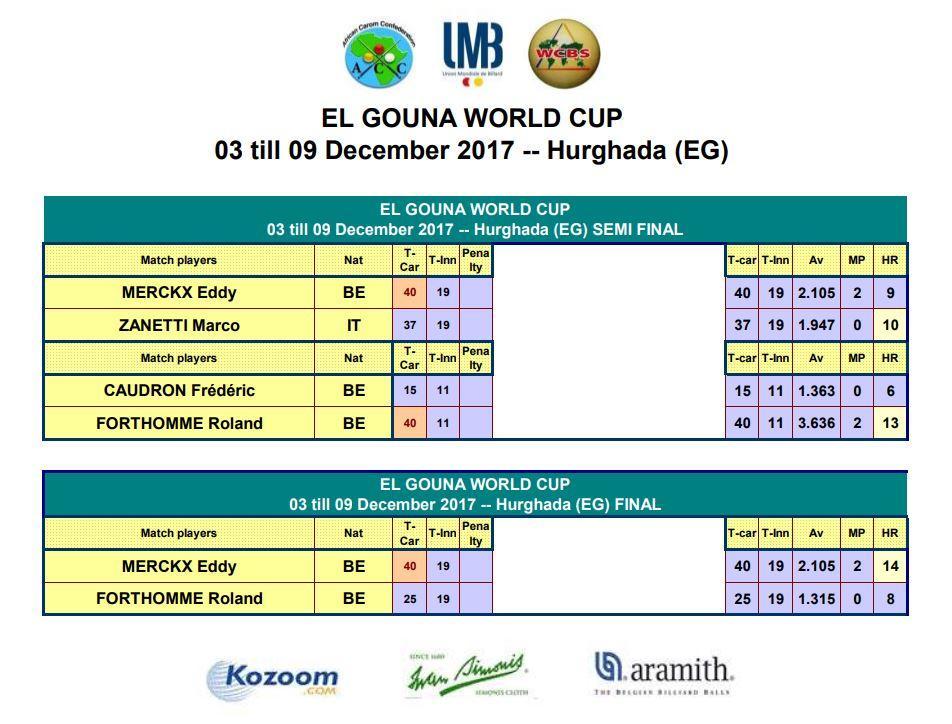 The Final Match
Roland Forthomme had charged through the field, meeting every challenge, and had capped his effort from the Qualification Round to the Semi-Final with a victory over world champion Frederic Caudron. Perhaps it was exhaustion, perhaps nerves, or perhaps just the whims and fancies of the billiard balls. But in the final match against fellow countryman Eddy Merckx Roland got off slow. How slow? He won the lag, then missed the breakshot. Perhaps that was an omen on how the early stage of the match was to go. Merckx on the other hand wasted no time, With runs of 2, 6 and 14 he jumped out to a 22-2 lead at the break. From there Merckx slowed his pace a bit, while Forthomme fought hard to string something together. But the pressure and the table were too much. Although he manged a run of 7, and closed the gap at 32-25, Merckx was merciless in his final run of 8-and-out to take the championship. (Click the image on the right to view the final stage match results.)
Eddy Merckx truly deserved the win in a consistent and top flight performance. He was the only player to maintain an overall average above 2.000... finishing with 2.272, and with a best run of 15. Congratulations to the 2017 El Gouna World Cup winner Eddy Merckx of Belgium.
Thanks to Kozoom for pictures and providing video replay to members. And thanks to UMB for results charts..