Dick Jaspers Smashes World Record Scoring 40 in 4 Innings!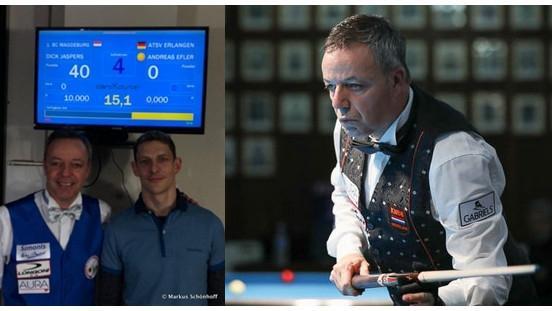 Dick Jaspers of the Netherlands has achieved an incredible milestone in his career, setting a new world record for a single match to 40 points. Playing in Germany on Sunday January 21, 2018, Jaspers met Andreas Efler In a game played in the Bundesliga team competition. The Dutch billiard player scored the 40 caroms in just 4 innings to average an unbelievable 10.00!
The previous world record was 40 in 6 innings and Jaspers achievement obliterated that by two innings! The last carom at the table in Magdeburg was made around two o'clock. Jaspers' opponent, the Austrian Andreas Efler was unable to score even one point as Jaspers demonstrated his incredible skill in both offensive scoring and defensive leaves. The final score: 40-0. Jaspers new world record is comparable to the 50 in 6 innings (8.666 average) played by Eddy Merckx in 2011 coincidentally also achieved in the German league.
Following the match congratulations poured in from players and fans from all over the world. Here are just a few of the reactions as compiled by our friends at Kozoom:
Marco Zanetti: "This record is comparable to Bob Beamon's historical record in long jump in 1968 in Mexico City, improving the former record about 55 cm. We never know, but this 40 in 4 can hold as world record for many decades.''

HaengJik Kim: "I could not believe it when I saw it, amazing... and bravo for Dick.''

Torbjörn Blomdahl: "I'm not surprised. Dick is technically perfect and if the game is not against him, he doesn't miss at all. And of course: congratulations.''

Eddy Merckx: "My congratulations to Dick. He is in my point of view the player you can expect to do this.''

Tayfun Tasdemir: "Fantastic match. ''

Gilbert Najm: "I am speechless.''

And perhaps the funniest comment came from American player Raye Raskin: ,"When I saw 21-01-18 on your wall, I assumed another world record was played, 40 in 3 innings. Then I realized it was the date on which Dick played his record.''
Jaspers himself was truly humbled by the response from his fellow players:
"I was overcome with emotion by all these nice reactions. Yes, also from top players, who usually don't respond to other records. From Blomdahl, Zanetti, Horn, Bury, Forthomme, Leppens and almost all Dutch top players. Furthermore, all major newspapers have called and published about the record. This is something special, apparently, because it is tangible. Just like a run of 30. People say: ten average, how is that possible?"
Well it is possible, and here is how it was done. Four innings with scores of 5-11-2-22. That's 22 and out to finish the match. What would have happened if that run came earlier say in the first or second inning... and Dick did not have to stop at 22. Could he have broken the world record of 28 for a single run as well? Who can be sure?
One thing is for certain... Dick Jaspers is at the prime of his abilities. Don't be surprised when there is even more wonderful billiards to come from World Record Holder Dick Jaspers.
Read more about Jaspers incredible achievement from our friends at Kozoom.
And please don't feel too bad for Andreas.... one week later he won his 6th Austrian Championship! Click here to read our story about his amazing comeback.