Frederic Caudron Unstoppable in Taking Belgian Cup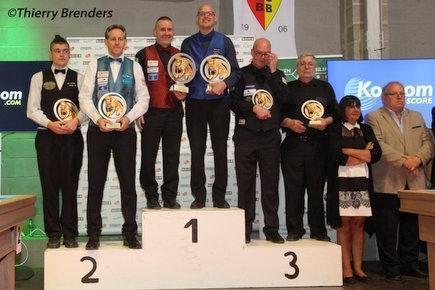 World Champion, world number 1 and recent world cup winner Frederic Caudron has taken the Belgian Cup held in Herstal, Belgium. Pictured above winners of both 3-Cushion and Small Table events. In the 3-cushion event we have Eddy Leppens (2nd) 2nd from left, Frederic Caudron (1st) third from left and Roland Forthomme (3rd) fifth from left.
On the final day the four best Belgians in the world of three cushion came into the arena to battle it out for a place in the final. Frédéric Caudron defeated Eddy Merckx in a five-set match while Eddy Leppens was boss over Roland Forthomme in a match that also ran five sets.
Caudron by no means had an easy time. Twice, on his way to the Belgian Cup title the world champion faced a determined opponent who forced him to fight until the very last point. First Caudron was the better of Eddy Merckx in the semi-finals and later, Eddy Leppens had to bow to the great one in the final match. Caudron beat both his final rivals 3-2 in sets and conquered the Belgian Cup for the eighth time in his career.
Roland Forthomme, former cup holder, came third on the podium after a simple win against Eddy Merckx: 15-3 and 15-5, both sets in five innings (3.000/0.888). Jef Philipoom defeated Bart Leys in two sets and finished fifth, Davy van Havere won the battle for the seventh place vs Ronny Brants 2-1.
Thanks to Kozoom for details on the matches and photo of winners.