Marco Zanetti - Italian National Champion for the 27th Time!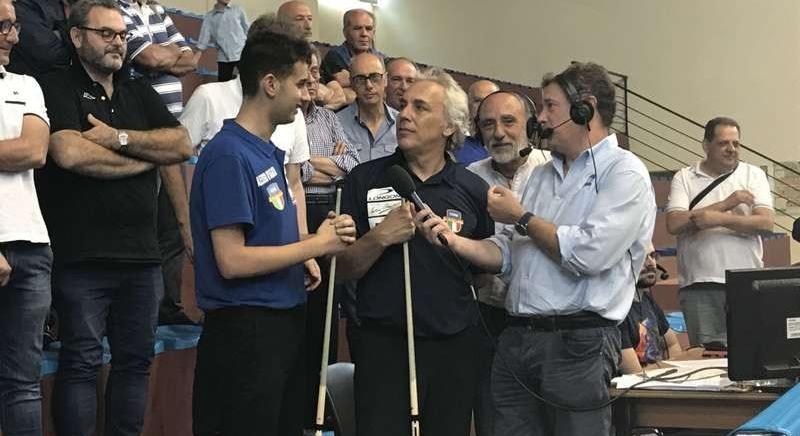 The three-cushion national championship has been held in Italy for forty-five years. The great Marco Zanetti now owns twenty-seven of those titles, having once again dominated the field. Leading in points, average and high run, Zanetti becomes the 2018 Italian national champion.
The multi-disciplined event, played according to the World Cups system, provided a format that favored the experienced 56 year-old champion who took his eleventh title in a row in Canicatti, Sicily. In the final, Zanetti defeated the young talent Alessio d'Agata, who won the under-21 title which was also played in the tournament. A teams championship rounded out the competition.
The individual championship began with 114 participants. The 32 finalists in the preliminary tournament played in eight groups of four players in a semi-final round vying for sixteen places in the knockout. The preliminaries were played with groups of three player, just as in the world cups..
The Italian federation has invested a lot in recent years in young players with Marco Zanetti as mentor and Alessio D'Agata as one of the students.
The individual result:
1 Marco Zanetti 14-1.244-11
2 Alessio d'Agata 9-0.878-7
3 Gabriele Fasciana 10-0.894-10
4 Giuseppe longo 10-0.765-6
5 Stefano Pontillo 7-0.629-6
6 Alfio Basile 6-0.906-7
7 Giuseppe di Emmanuele 6-0.803-5
8 Emanuele Criscino 6-0.788-7
9 Emilio Sciacca 6-1.025-5
10 Alberto Magnano 6-0.722-7
We love Zanetti's style and passion and have followed his triumphs as one of the world's top players. Here are the stories of some of his past titles:
2015 -- Marco Zanetti Celebrates 24th Italian Title
2016 -- Marco Zanetti Dominates Italian 3-Cushion Billiards With 25th Title
2017 -- Marco Zanetti Wins His 26th Italian Title
Thanks goes out to our friends at Kozoom for the results and picture.