Frederic Caudron Wins World Cup in Porto Portugal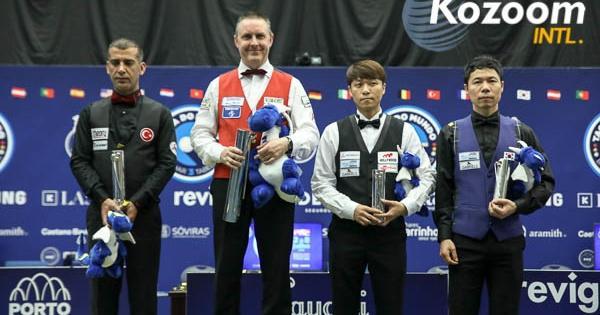 The fourth World Cup of 2018 held in Porto Portugal July 2-8 marked a return to the top for the world's best player. Frédéric Caudron marched almost unchallenged to his second world cup win of the season defeating Tayfun Tasdemir of Turkey for the title. It was his twentieth world cup in his career.
After a surprise defeat in Blankenberge at the hands of young David Zapata, Caudron showed no weakness in Porto with five convincing wins while averaging a solid 2.380. Not so for several of the top players who exited early in the opening round of the main event. Dick Jaspers ran into a superb Tayfun Tasdemir, the eventual second place finisher and Dani Sánchez lost to Chi Yeon Cho. A round later, Torbjorn Blomdahl, Marco Zanetti and Murat Naci Coklu Coklu were also out, beaten by Sung Won Choi, Semih Sayginer and Caudron.
Caudron started his campaign against Korean Dong Koong Kang with a 40-21 win in 11. He then got past Murat Naci Coklu (40-19 in 15) signaling his readiness to go all the way. But in the quarterfinals he faced Cho Chi Yeon and had to use a few more innings to get the win: 40-28 in 26. Tasdemir made his way through the ranks with his win over Jaspers followed by wins against fellow countryman Lufti Cenet and Belgian Eddy Merckx.
On the final day, the Porto event came down to the familiar east vs west battle. Tasdemir met Korean former world champion Sung Won Choi, Caudron took on another great Korean champion Jung Han Heo. Both Europeans played a dominant match: Caudron used 18 innings to beat Heo 40-27 and Tasdemir needed only 14 innings to beat Choi: 40-21. Both the Belgian and the Turk played at a superior level all week, with a general average over 2.3, so it was fitting that the two most consistent players of the event would face off in the final.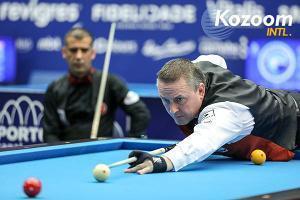 In the last match, Caudron had a bad start with a rare miss of the break shot. Tasdemir ran 5, for an early lead that wouldn't last. Caudron soon found his rhythm, and after a run of 11 jumped ahead 23-14, a lead which Tasdemir would never overcome. After a relaxed second half that enabled Caudron to show off his masterful position play and creative shot-making skills the tournament was over at 40-21 in 14 innings.
One important point about the players should be noted. The entire Vietnamese contingent, including the top three finishers from Ho Chi Minh city Quyet Chien Tran, Dinh Nai Ngo and Nguyen Quoc Nguyen were unable to attend. Because they were traveling with their passports for the Blankenberge World Cup they were unable to apply for and receive a Visa for Portugal in time for the event. This is a logistics problem that must be addressed by the organizers and coaches of all International players so it does not happen in the future.
The high run on Porto was made by Eddie Leppens: 15. The best match was played by Caudron: 40 in 11 (3.636). The tournament average of the main event was 1.620.
Final standing of Porto 2018:
1 Caudron 2.380
2 Tasdemir 2.320
3 Jung Han Heo 1.750
4 Sung Won Choi 1.584
5 Sayginer 1.918
6 Merckx 1.870
7 Chi Yeo Cho 1.714
8 Wan Young Choi 1.471
9 Papakonstantinou 1.666
10 Leppens 1.625
11 Zapata 1.585
12 Blomdahl 1.500
13 Cenet 1.488
14 Coklu 1.372
15 Palazon 1.369
16 Zanetti 1.255
Congratulations to Frederic Caudron, world champion, number 1 ranked and for the twentieth time world cup champion.
Thanks to Kozoom and UMB for pictures and statistics.