Frederic Caudron Is The Champion of Champions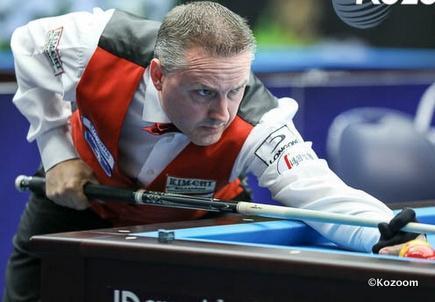 Frederic Caudron of Belgium faced fellow countryman Eddy Merckx in the finals of the inaugural McCreery Champion of Champions Tournament. The two friends and rivals both knew whatever the outcome the match would make history. And once again it was Caudron who proved why he currently sits on top of International 3-cushion billiards as the world ranked number 1 player and reigning world champion. With a demonstration of skill, concentration and determination he powered his way to a 50-35 victory in 23 innings (2.174 average, high run of 9) to take the trophy, the title and the $150,000 first place prize.
Twelve of the world's best 3-cushion billiard players were invited to play. Only one would emerge with the title "Champion of Champions." The inaugural McCreery Champion of Champions Tournament was an event like no other. Held at the private estate of a reclusive US billionaire, the sports complex building on the property was converted into a combination TV studio, private billiard lounge and playing arena. With a prize fund of more than $600,000 funded by the man who organized the tournament, the eyes of billiard players around the world were watching.
Played without a live audience in three separate rooms, the event was live-streamed on both Kozoom and the McCreery web site. Continuous live commentary was provided by two teams: Ted Lerner and Bert Van Manen along with Jeannette Lee and Kurt Ceulemans. The time in-between matches was filled with player interviews hosted by Todd Harris as the event progressed. Referees, score-keepers, electronic scoring systems, an enormous production crew and a unique camera system including in-table corner rail-level views gave the match a unique high-tech feel.
With the $600,000 plus prize fund to be divided up among ALL the players the level of play was intense. Jockeying for position hinged on both a player's won-loss record and grand average. That meant every billiard counted, and the difference of even one inning could mean tens of thousands of dollars. Play too loose and you might give your opponent an opening that could cost the game. Play too defensively and the game could drag on lowering your average. As it turns out the top players found the balance, with the world's number one and two ending up playing for the championship.
The event was by invitation only. Yet every player who was there was himself a champion coming in. Nine world champions, one (4X!) junior world champion and two multiple USBA and Pan-American Champions made this one of the strongest tournaments ever organized.
The Field of Players (left to right)
Raymond Ceulemans (Belgium) 21 time World Three-Cushion Champion
Marco Zanetti (Italy) 2 time World Three-Cushion Champion
Haeng-Jik Kim (South Korea) 4 time World Three-Cushion Junior Champion
Sung-Won Choi (South Korea) 1 time World Three-Cushion Champion
Pedro Piedrabuena (USA) 3 time Panamerican Three-Cushion Champion
Eddy Merckx (Belgium) 2 time World Three-Cushion Champion
Torbjörn Blomdahl (Sweden) 5 time World Three-Cushion Champion
Dick Jaspers (The Netherlands) 3 time World Three-Cushion Champion
Frédéric Caudron (Belgium) 3 time World Three-Cushion Champion
Hugo Patiño (USA) 2 time Panamerican Three-Cushion Champion
Daniel Sánchez (Spain) 4 time World Three-Cushion Champion
Semih Sayginer (Turkey) 1 time World Three-Cushion Champion
The preliminary rounds were played in a 12-man round robin format with games to 40 points.Details of the match results day-by-day in order of play are available on the McCreery Champion of Champions site. Click here! Here is the final order of finish in the preliminary stage, where the top four advance to the knockout finals.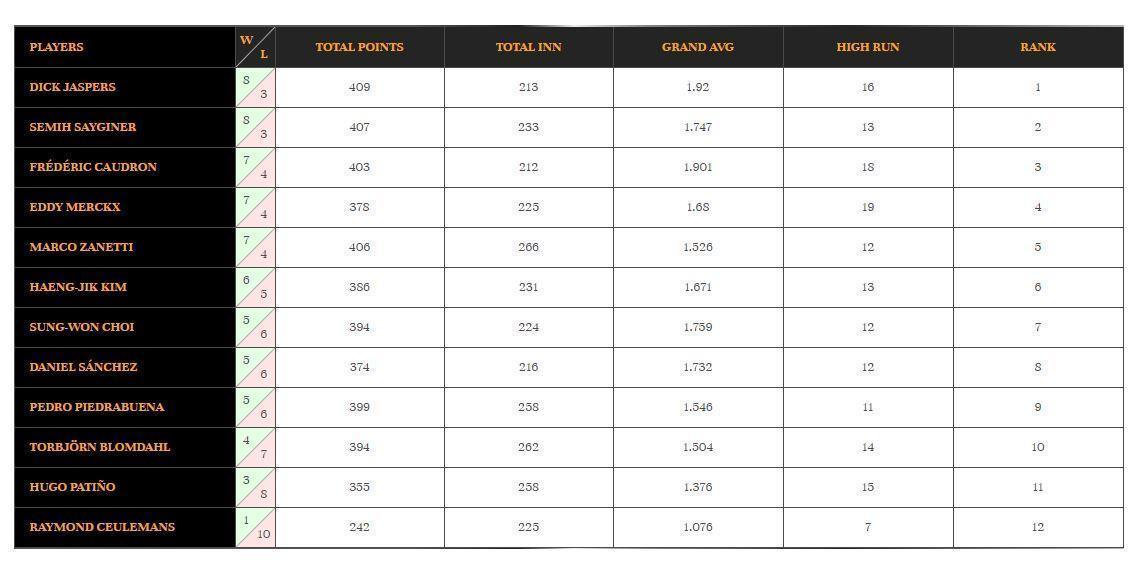 The final four met on Saturday, August 11 to contest the last three rounds head-to-head in two semi-final contests followed by the championship match, all to 50 points. The seeded knockout round began with Jaspers meeting Merckx and Sayginer meeting Caudron in semi-final play.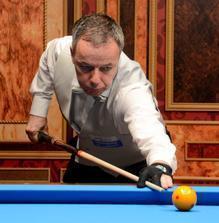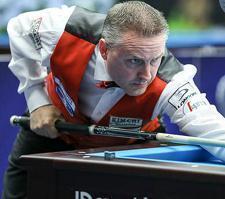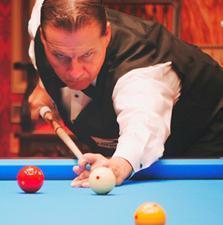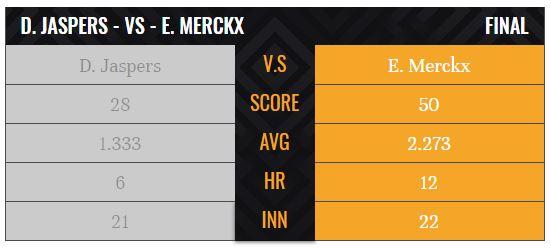 In the first semi-final match DIck Jaspers, who finished at the top of the 12-man preliminaries, faced Eddy Merckx the fourth seed. Merckx had barely made it in with a 7-4 record and 1.68 average. But Merckx is known to be at his most dangerous when he reaches this stage of an event. And the match proved the point. With a high run of 12, very tough defense, and a Dick Jaspers off his 1.92 tournament average to that point, Merckx won in cakewalk to gain the first spot in the finals. Then Merckx sat down to watch the next match to see who he would face.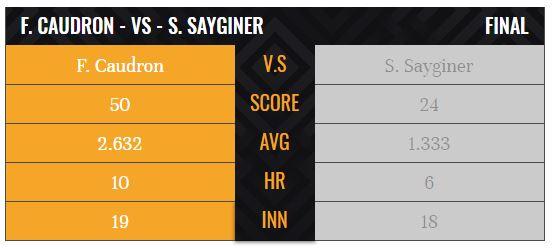 The second semi-final match found number two seed Semih Sayginer up against number three seed Frederic Caudron. The match began like a rocket, with both players scoring relentlessly in the first half. At the break Caudron had already amassed a large lead with an average over 3! Sayginer was not yet out of it with an average over two, but clearly needed to make something happen. After the break both players slowed down a bit, but it was Caudron who continued to pull away. Point-by-point Caudron closed in until the final carom, a beautiful bank shot to finish out the match 50-24 in 19 innings (2.632 average, high run of 10.) That meant an "all-Belgian" finals mirroring the finals of the 2017 World Championship where Caudron defeated Merckx for the title. With his performance Sayginer locked up 3rd place over Dick Jaspers who would place 4th.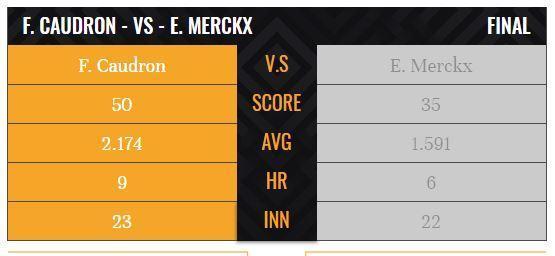 The final match between Frederic Caudron and Eddy Merckx was another epic battle. Both players started out a bit slow... a combination of nerves, getting used to the table, and not wanting to allow the opponent to strike with a high run. Through the mid-point the match remained close, but Caudron was in control. In the second half Caudron began to pull away and then, when he reached 40 points in the race to 50 he unleashed a powerful run of 9 to all but ice the game. Two innings later he closed it out and in typical sportsmanlike fashion he embraced his compatriot and opponent as if to say: "Well played my friend."
The prize fund was the largest ever seen in 140 years of three-cushion events. Here's the breakdown:
Prize fund:
1st - $150,000 Frederic Caudron
2nd - $95,000 Eddy Merckx
3rd - $70,000 Dick Jaspers
4th - $60,000 Semih Sayginer
5th - $45,000 Marco Zanetti
6th - $40,000 Haeng-Jik Kim
7th - $35,000 Sung-Won Choi
8th - $30,000 Daniel Sanchez
9th - $26,000 Pedro Piedrabuena
10th - $23,000 Torbjorn Blomdahl
11th - $19,000 Hugo Patino
12th - $15,000 Raymond Ceulemans
Best Game - $5,000 Haeng-Jik Kim (40 in 10, 4.000 average)
Grand Avg - $5,000 Frederic Caudron (1.980)
High Run - $5,000 Eddy Merckx (19)
TOTAL PRIZES - $623,000
The billiard world must now wait to see if the McCreery Champion of Champions was a one-time shooting star, or if the billionaire benefactor of our beloved sport is willing to step up once again and host a second installment in 2019. We can only hope. For now, the event is in the books, and history has been made. Congratulations to the great Frederic Caudron of Belgium who is truly the Champion of Champions.
Thanks to Kozoom and McCreery for pictures and results.