Quyet Chien Tran Wins 2018 LG U+ Cup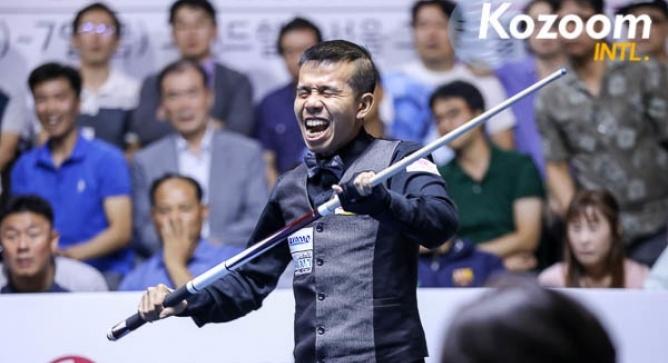 Quyet Chien Tran of Vietnam proved once again to be a thorn in the side of World Champion and World #1 ranked Frederic Caudron by winning their final match 40-39 to take the 2018 LG U+ Cup title. As he did on his way to winning the Ho Chi Minh World Cup earlier this year the young Vietnamese player topped Caudron this time in a match that saw the lead change an incredible ten times. But it was the final point which mattered as Tran raised his cue in victory.
Sixteen players came to the Hilton Hotel in Seoul, Korea looking to write their names in the record book and with hopes of grabbing a piece of the more than 150,000 Euros in prizes. The initial stage pitted the players in 4-man round robin play with two from each group advancing to the single elimination final rounds. The invited players including 7 from Europe (Frédéric Caudron, Eddy Merckx, Dick Jaspers, Marco Zanetti, Dani Sánchez, Torbjörn Blomdahl, Murat Naci Coklu), 1 from Vietnam (Quyet Chien Tran) and 8 from the host country of Korea (Haeng-Jik Kim, Jae-Ho Cho, Dong-Koong Kan, Myung-Woo Cho, Hyung-Kon Kim, Jae-Guen Kim, Sung-Ok Oh, Hyun-Min Su.)
After the preliminary play the eight players to advance were split between "East and West": The Belgians Frédéric Caudron and Eddy Merckx, the top two in the world, continued their winning ways to look like early favorites. Dani Sánchez and Murat Naci Coklu were also in the hunt. From Korea it was Dong-Koong Kang, Haeng-Jik Kim, Hyun Min Seo. And finally Quyet Chien Tran from Vietnam.
Tran had lost once in the early rounds to Marco Zanetti (40-33 in 33), but from that point he never looked back. He advanced to the main event and kicked it into high gear along the way defeating Eddy Merckx (40-19 in 11), Murat Naci Coklu (40-26 in 15), and Dong-Koong Kang (40-37 in 23), which placed him in the finals against Caudron where the rest is now history.
The LG U+ Cup 3-Cushion Masters tournament, up until the McCreery Champion of Champions event held earlier this summer, had for three years been the most lucrative competition on the International 3-cushion circuit. The first prize of 60,000 Euros (about $50,000 USD) is now second only to the top prize of $150,000 at McCreery which incidentally went to Caudron in that inaugural event. For Tran this victory adds to his win in the 2nd World Cup of 2018 cementing his place at the top echelon of this beautiful and challenging game.
Here are the final results and payouts (in Euros):
1: Quyet Chien Tran Winners share - 61,000
2: Frédéric Caudron - 30,000
3 and 4: HaengJik Kim and Dong-Koong Kang - 15,000
5 to 8: Murat Naci Coklu, Dani Sanchez, Hyon Min Seo, Eddy Merckx - 7,500
The event was live-streamed on Kozoom. But for many in the USA and Europe the time difference put the games at difficult hours. Fortunately our friends at Kozoom have placed the key semi-final and final matches in their video replay section for premium pass members. The Tran-Caudron match is not one to miss!
The Vietnamese players are proving to be a formidable force in world class billiards, and young Quyet Chien Tran is sure to remain a major challenge to the dominance of the Europeans and the promise of the Koreans. Today we congratulate the LG U+ Cup Champion Quyet Chien Tran.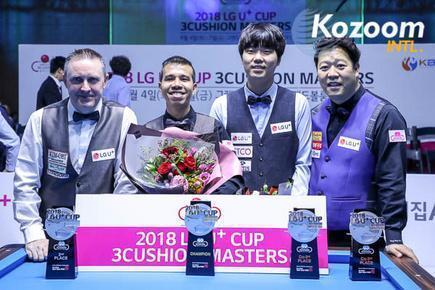 Pictured (L to R) Frederic Caudron (2nd), Quyet Chien Tran (1st), Haeng-Jik Kim and Dong-Koong Kang (3rd-4th)
Thanks to Kozoom for pictures and stats on the event.