Therese Klompenhouwer Regains Women's World Title in 2018
Therese Klompenhouwer of Netherlands fought a tough tournament to regain her Women's World Championship title defeating perennial rival Orie Hida of Japan in the final match. In the eight installments of this event Hida has won four times and now Therese has won three. Only Natsumi Higasiuchi of Japan can boast a women's world championship title.
The two women finalists in the last match of the tournament knew each other well. Japan's Orie Hida was a four times Women's World Champion (2004, 2006, 2008 & 2017). Therese Klompenhouwer of the Netherlands had two under her belt (2014 & 2016) and was hungry for her third. (Natsumi Higasiuchi of Japan won her title in 2012.) But Therese enjoyed the better record, having met Orie in play five times in the past five years and only having lost once. And so, with a relentless and determined game, if not her best average, Therese powered her way to the championship as Hida struggled failing to string together any high runs and failing to avoid dangerous kisses on crucial points. Therese had the title once again.
The Dutch fans showed tremendous support throughout the tournament for their home town favorite. And after the final point Therese burst with emotion on her victory. With both tears of joy, relief and mental exhaustion she stepped up to the number one spot on the podium for the third time in her storied career.
Here are the final rankings for the top eight finishers (record, average and high run):
1 Therese Klompenhouwer (The Netherlands) 12-0.887-7
2 Orie Hida (Japan) 8-1.082-7
3 Sruong Pheavy (Cambodia) 8-0.884-5
4 Gülsen Degener (Turkey) 7-0.729-5
5 Bo Mi Kim (South Korea) 4-813-7
6 Guzin Mujde Karakasli (Turkey) 4-0.738-8
7 Aysegul Fendi (Turkey) 4-0.449-4
8 Claudia Lalinde (Colombia) 3-0.615-4
Noticeably absent this year was 2017 runner-up Mi Rae Lee of Korea. Perhaps we will see her again next year. For now we salute Netherland's Therese Klompenhouwer, 2018 Women's World 3-Cushion Champion.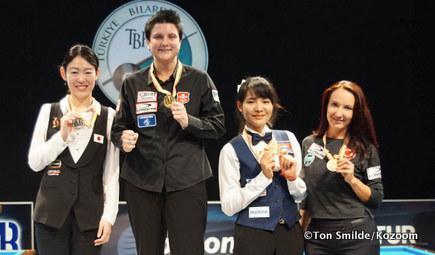 The podium (L to R): Orie Hida (Japan) 2nd, Therese Klompenhouwer (Netherlands) 1st, Sruong Pheavy (Cambodia) 3rd and Gülsen Degener (Turkey) 4th.
Thanks goes to our friends at Kozoom for statistics, livestream, replays and pictures.