Eddy Merckx Wins World Cup in Seoul Korea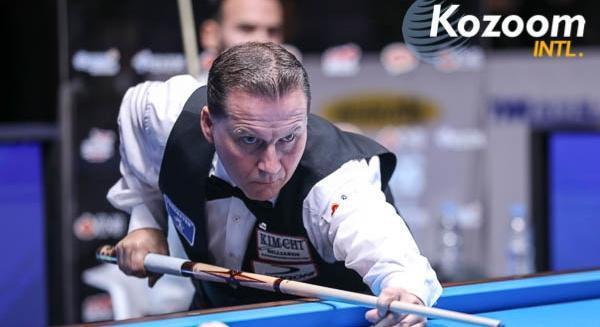 One of the world's best continues to demonstrate his fierce competitive spirit. On the final day of the 2018 Seoul World Cup Belgium's Eddy Merckx defeated world champion Dick Jaspers in his semi-final round and followed that with a win over former world champion Filippos Kasidokostas of Greece to take the title. The event had many exciting and dramatic moments including a high run of 24 by Myung Woo Cho, and the incredible performance of Bong Chul Kim who reached the semi-finals having entered in the pre-pre-qualification round.
A total of 149 players from around the world gathered in Seoul from November 12 to 18 for the sixth stage of the UMB's 2018 World Cup series. As one of the only two World Cup tournaments held in Asia (along with the Ho Chi Minh City World Cup), the week-long event attracted a large number of Vietnamese & Korean participants. With 36 Vietnamese and 39 Koreans in both the qualifying rounds and main draw more than half the field were represented by ACBC players!. With all that Asian talent the event looked like it might be a repeat of the Ho Chi Minh world cup tournaent held earlier this year. In that historic event the Vietnamese dominated, landing three of their own on the podium. In Seoul it was not meant to be...
In the Korean arena Eddy Merckx's killer instinct took control as he shone throughout the event overwhelming all he met. At the start of the main tournament, Pedro Piedrabuena was the first to fall 40-26 in 20. Next Jae-Guen Kim was stunned in the round of sixteen (40-16 in 15, Merckx's best game). Fellow countryman Eddy Leppens gave the ultimate winner his greatest challenge, but eventually yielded to Merckx's strong showing, while current world champion Dick Jaspers started his final sprint too late in the semi-final match. And of cournse the last to feel the sting of Merckx was Kasidokostas who had fired all his guns by the time he arrived at the final confrontation. Merckx now adds another world cup to his list of palmeres and his earlier 2018 victories at the New York Verhoeven and Guri 3C Masters.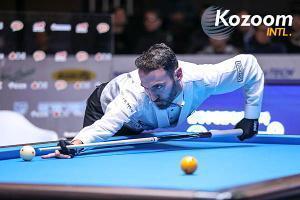 Filippos Kasidokostas (pictured left) had been absent from the world's stage due to a career-threatening issue with his right shooting arm. Rather than quit the game, or submit to risky shoulder surgery, the Greek champion showed his fighting spirit in an unprecedented way. For two years he trained to play 3-cushion by switching to his left hand for shooting. And the world was awed to see his performance once again at such a high level with runs and averages as good as any in the field. Entering in the pre-qualification stage he won four games to reach the main draw where he bested Minh Cam Ma, Hyun Min Seo, Robinson Morales and finally Bong Chuk Kim to reach the final.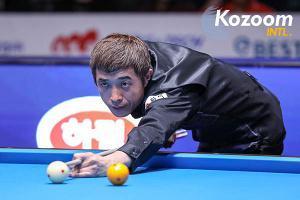 The dramatic play of Bong Chul Kim (pictured right) who shared third place with the world champion DIck Jaspers was a revelation in the event. He started in the early pre-pre-quaiification round and just killed it with high runs and high averages. He battled playing 6 games over three days in the Q rounds to reach the main draw as third runner-up. There he proceeded to knock out the world-ranked players he faced including Torbjörn Blomdahl, Jean Paul de Bruijn and Nguyen Quoc Nguyen. Kim finally succumbed to Kasidokostas in the semi-final round with the crowd (including his wife and daughter) cheering him loudly even in defeat. He and his family should be proud of his unforgettable accomplishment.
Here are some additional highlights from this great event:
The high run of 24 by 20-year old Korean Myung-Woo Cho In his match against Tonny Carlsen. His sensational feat was only four points shy of the world record of 28.
In the first knock-out round, Myung-Woo Cho and Semih Sayginer, played a thriller which was won by Cho 40-38 in 22 innings.
Dong-Koong Kang played the best match of the tournament against Turkey's Murat Naci Coklu 40-24 in 11 innings averaging 3.636.
Besides Cho's run of 24 Eddy Leppens ran 19 and Filippos Kasikostas ran 18.
There is one more world cup to be played in 2018 in Hurghada Egypt in December, but it looks like Frederic Caudron has locked up the overall title with 260 points. No one is close enough to overtake him with Dick Jaspers second at 168 and Semih Sayginer third with 160 points. Caudron also retains his number one ranking on the UMB list with Jaspers second and Merckx third.
Our hearty congratulations go out to Eddy Merckx for his championship performance in Seoul in 2018.
The final ranking for the Seoul World Cup (match points, average and high run):
1 Eddy Merckx 10-2.000-10
2 Filippos Kasidokostas 8-2.057-18
3 Dick Jaspers 6-1.949-12
3 Bong Chul Kim 6-1.888-13
5 Nguyen Quoc Nguyen 4-2.382-11
6 Marco Zanetti 4-1.950-8
7 Robinson Morales 4-1.476-9
8 Eddy Leppens 4-1.468-19
9 Dong-Koong Kang 2-2.162-13
10 Jean Paul de Bruijn 2-1.911-12
11 Hyun Min Seo 2-1.853-13
12 Myung-Woo Cho 2-1.604-24
13 Jae-Guen Kim 2-1.473-9
14 Can Capak 2-1.333-11
15 Anh Vu Duong 2-1.283-10.
Tournament overall average: 1.717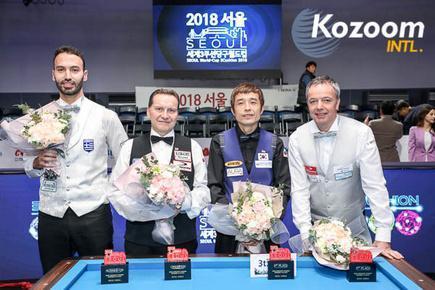 The finalists (L to R): Filippos Kasidokostas (2nd), Eddy Merckx (1st), Bong Chul Kim & Dick Jaspers (sharing 3rd).
Thanks to Kozoom and UMB for statistics and pictures in preparing this report.