Dick Jaspers Tops World Ranking After World Cup Win In Eqypt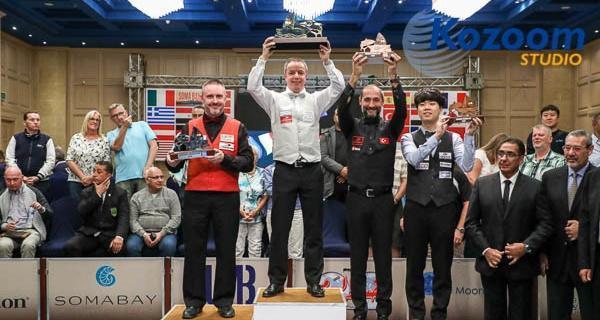 World Champion Dick Jaspers of the Netherlands defeated Frederic Caudron of Belgium to win the final UMB world cup of 2018. The event was held in Hurghada, Egypt December 2-8, 2018. With his defeat Caudron ceded the number one ranking he had held for 13 months. Jaspers joy was unbounded as he finished one of his greatest years ever as a professional 3-cushion billiard player - ending as world champion and world number one!
As is customary for world cup tournaments the players list was full at 149 even more with 32 alternates. The preliminary rounds gave the local players a chance to seek world cup glory, but the level of play day-to-day in the pre-qual stages was not up to some of the events held in the Asian countries. That would change when the top players entered in the qualification rounds where Korean Myung Woo Cho demonstrated his incredible skills with a run of 22 and tournament best average of 4.0
Every day the excitement was undeniable as the crowds filled the arena each day hoping to see one of their local countrymen surprise the world. That surprise came in the form of 63-year old Eqyptian Mohsen Fouda, whose shocking come from behind victory against Eddy Merckx knocked Merckx out in the first round of the main event.
More highlights from the Hurghada World Cup:
High runs by Myung-Woo Cho (22), Dani Sánchez (19) and Jérémy Bury (18) as well as the local hero Mohsen Fouda (16)
HaengJik Kim turned a hopeless score against Bury into a win by two runs of 11
The awesome escape that Caudron showed against Sayginer for his place in the final
Dick Jaspers who came out as the winner in the shoot-out against Eqyptan Sameh Sidhom
The unbelievably high level of the last two preliminary rounds: Dani Sánchez 2.857 of average, Myung-Woo Cho 2.500 and Filippos Kasidokostas 2.400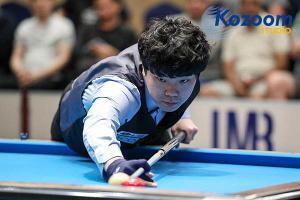 The two semi-final matches were both filled with incredible tension. Dick Jaspers and Frédéric Caudron needed a kind of Houdini-act to repair a precarious position. Dick Jaspers trailed Haeng-Jik Kim (pictured left) who ran out to 36-28 and 39-34. The final phase was breathtaking for both players and spectators. HaengJik Kim missed on four match balls, Jaspers came back slowly and grabbed the win in a sensational final run of six in the 22th inning: 40-39.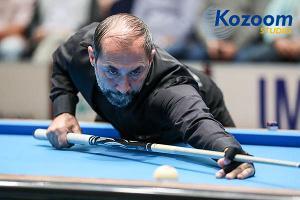 Frédéric Caudron forced his way to the final by a fantastic end rush in his match against Semih Sayginer (pictured right.) The victory was near by for the Turk, who dominated the entire match and led 39-34 after missing his match point in an around the table shot. That is when the Belgian ran out with six (40-39 in 17). The fist already went up before the cue ball touched third, close to the long rail. And Semih, disillusioned on his chair, shook his head, knowing that his last shot was a fatal miss.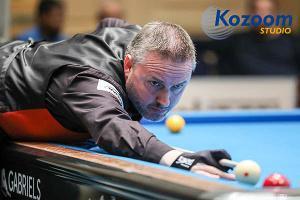 In the final match between the two titans, who have met many times, looked even at 12-12 in inning four, but Jaspers jumped ahead at the break 24-14. Frederic Caudron (pictured left) was never able to overcome that once-established lead even with a run of 10. Jaspers remained steady, Caudron faltered at the end with some unexpected misses, and Jaspers finished with a run of 3 to take the title 40-34.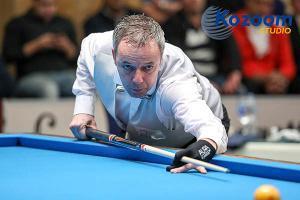 The final ranking of the top 16 finishers in the Hurghada world cup (match points, average, high run)
Dick Jaspers 10-2.040-11
Frédéric Caudron 8-2.086-11
HaengJik Kim 6-2.239-13
Semih Sayginer 6-2.038-12
Torbjörn Blomdahl 4-1.866-9
Jérémy Bury 4-1.815-18
Dion Nelin 4-1.730-10
Roland Forthomme 4-1.515-10
Murat Naci Coklu 2-1.975-11
Adnan Yüksel 2-1.777-9
Nguyen Quoc Nguyen 2-1.756-7
Marco Zanetti 2-1.725-11
Sameh Sidhom 2-1.666-8
Jae-Ho Cho 2-1.400-7
Mohsen Fouda 2-1.320-16
Huberney Cataño 2-1.228-7
Congratulations to Dick Jaspers, World Champion, World Number One and now winner of the 2018 World Cup Hughada.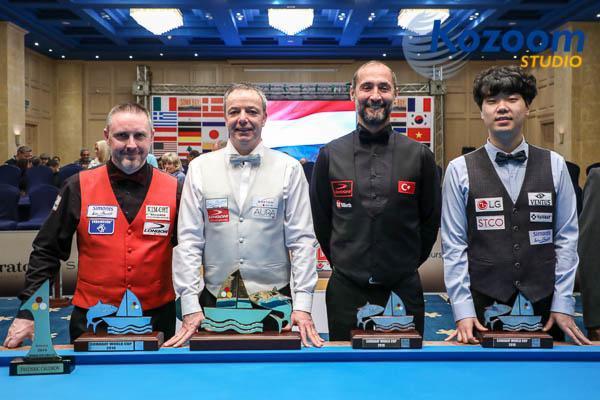 Thanks to Kozoom and UMB for statistics and pictures in preparing this report.
Results for all matches: CLICK HERE!