Frederic Caudron Leads Europeans to Sweep Survival 3-Cushion Masters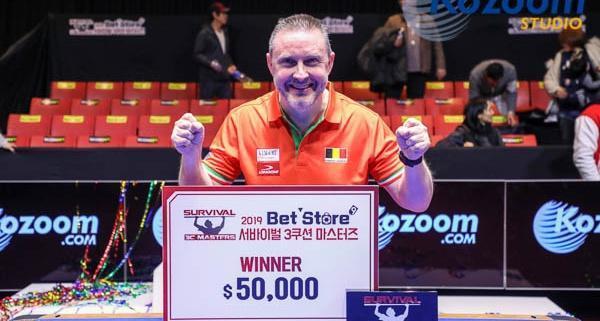 Frederic Caudron, the 51-year old Belgian superstar of 3-cushion billiards has won the first Survival 3C Masters event of 2019 held in Incheon Korea. The unique format provided for exciting play and tension until the end as the invited 24 players vied for one of the largest prize funds in the sport.
Once again the best of the Asian players faced off against the best of the Europeans in the 3-Cushion Challenge series sponsored by UMB and Kozoom. And once again it was the Europeans who dominated, placing four into the final match and ultimately the podium. This time it was Frederic Caudron who survived to win the crown and the huge $50,000 first place prize. Italian Marco Zanetti was second followed by Eddy Merckx of Belgium and Dick Jaspers of Netherlands.
Here is the prize breakdown for the top four:
Frédéric Caudron 50,000 dollars
Marco Zanetti 21,000
Twenty four started the event which saw the field first whittled down to 16 after two days of knock-out play. By the time the field was down to eight there were 5 Europeans and 3 Asians. It seems the great Asian champions can only get close to the final goal but too often seem to fall short. The first 3C Masters event (different format) went to Eddy Merckx (3rd place here) The second event which began the Survival series that continues now went to Dani Sanchez, who was eliminated in the semi-final round here. The last Survival event of 2018 saw Dick Jaspers top the field (here in 4th place.) Only Marco Zanetti on the podium in second place has not yet won a title.
The Survival format is based on a popular game in Korea and so the host country enjoyed fan support with a well-engaged live and broadcast audience. Bet Store was the branded sponsor and was frequently advertised on the live-stream which included Korean language commentary.
The question that is now surely in the minds of the thousands of fans is: "When will we see one of our Korean Champions at the top of the Survival podium."
The answer may come in the next installment scheduled for May 2019. For now we salute Frederic Caudron, the new Survival 3C Master.