Quyet Chien Tran Wins The Asian 3-Cushion Championship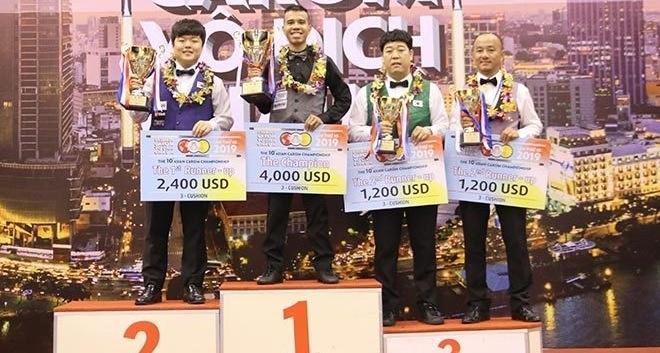 Vietnam's Tran Quyet Chien came from behind to defeat Korean billiards prodigy Cho Myung-woo in the three-cushion carom final at the 10th Asian Carom Billiards Championship 2019 in Ho Chi Minh City, Vietnam. Pictured above L to R this year's top four: Myung-Woo Cho (2nd), Quyet Chien Tran (1st), Dong-Koong Kang (Korea) and Nguyen Trung Hau Do Vietnam sharing 3rd/4th.
The Asian Carom Billiards Championship 2019 kicked off with well-known cueists from Cambodia, Japan, Jordan, Lebanon, South Korea and Vietnam competing in a five-day tournament. Some of the world's best were among the 48 players inscribed, including Cho Jae Ho from South Korea (3rd), Tran Quyet Chien from Vietnam (6th at the start), Nguyen Quoc Nguyen from Vietnam (9th) and Heo Jung Han from South Korea (12th). Competition took place in both one-cushion and three-cushion categories.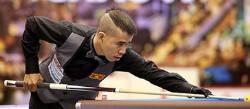 With his defeat of his young Korean opponent 40-38 in 19 innings, Tran cemented his world ranking moving into the top three. His effort was not without struggle as he had to make come-from-behind efforts in the earlier rounds to survive. As the overall champion, Quyet Chien pocketed $4,000 in prize money and 80 bonus points in the world rankings, which placed him behind only Frederic Caudron and current world champion Dick Jaspers in the official UMB ranking.
Earlier in the championships fellow countryman Ma Minh Cam took the one-cushion carom trophy defeating his Korean opponent, Seo Hyun-min, as the Vietnamese players continue to dominate multiple billiards disciplines in their region.
Congratulations to the Vietnamese players who now prepare for the upcoming (May 2019) World Cup tournament (also in Ho Chi Minh City) where they hope to repeat their sweep of the top three positions in last year's installment.