Frederic Caudron Tops Field at Ho Chi Minh World Cup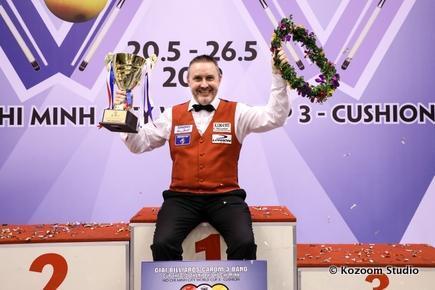 The 2019 edition of the UMB World Cup held in Ho Chi Minh City, Vietnam was akin to a mirror image of the 2018 result. Frederic Caudron won the title with two fellow Belgians - Roland Forthomme and Eddy Merckx joining him on the podium. Marco Zanetti of Italy rounded out the field. In 2018 it was 3 Vietnamese atop the field in this same event, oddly with Caudron as the fourth man.
In the ultra-competitive cauldron of world-class 3-cushion billiards it was not surprising to see many favorites lose in the early stages. World champion Dick Jaspers was beaten by Vietnam's Dinh Nai Ngo, Torbjorn Blomdahl did not make the last 32 (losing to Zapata of Spain) and Korean star Sung Won Choi was beaten by Turkey's Ahmet Alp. Jae Ho Cho, high on the world ranking, could not progress from the group stage. His young countryman Myung Woo Cho, a crowd favorite, made two runs of 17 and averaged 2.666 in that round. Cho was later beaten by Zanetti, in one of the best matches of the week. Dani Sánchez lost in a double shootout to Merckx.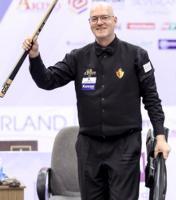 As the final stages progressed it looked like it might be Zanetti's tournament. But he was in a group with three Belgians, any of which could win it. In his semi-final effort Zanetti looked to have it won. But with an amazing come-back Forthomme knocked Zanetti out and it became a Belgian affair with Caudron defeating Merckx to set up the Forthomme-Caudron final. In the end, Forthomme had run out of gas and just could not stop Caudron. With play in the event exemplary to the very end, Caudron proved most consistent. In his well-known fluent style, he overpowered his final opponents Merckx (semi-final) and Forthomme (final) with hardly any drama. With closing runs in the final match of 10, 6 and 6 Caudron was strong to the last billiard, showing why he deserved his 21st World Cup title.
The final ranking at the 2019 Ho Chi Minh World Cup (Match points, average, high run):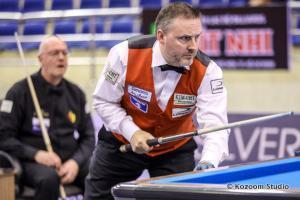 1 Frédéric Caudron 12-2.368-15
2 Roland Fothomme 10-1.717-11
3 Marco Zanetti 8-2.257-13
4 Eddy Merckx 8-1.770-8
5 Myung-Woo Cho 8-2.443-17
6 Tayfun Tasdemir 8-1.820-9
7 Semih Sayginer 7-2.030-13
8 Dinh Nai Ngo 5-2.072-9
9 Dick Jaspers 6-2.181-11
10 Eddy Leppens 6-1.722-15
11 Sameh Sidhom 5-1.408-7
12 Dani Sánchez 4-2.071-9
13 Murat Naci Coklu 4-1.746-13
14 Duc Anh Chien Nguyen 4-1.674-9
15 Erick Tellez 4-1.481-14
16 Birol Uymaz 3-1.773-10
Thanks to Kozoom for live-streaming the event and providing replays to premium members. Pictures, stats and material used in this story courtesy of Kozoom and UMB.