Lather, Rinse, REPEAT! Therese Klompenhouwer and Myung-Woo Cho Both Champions Again!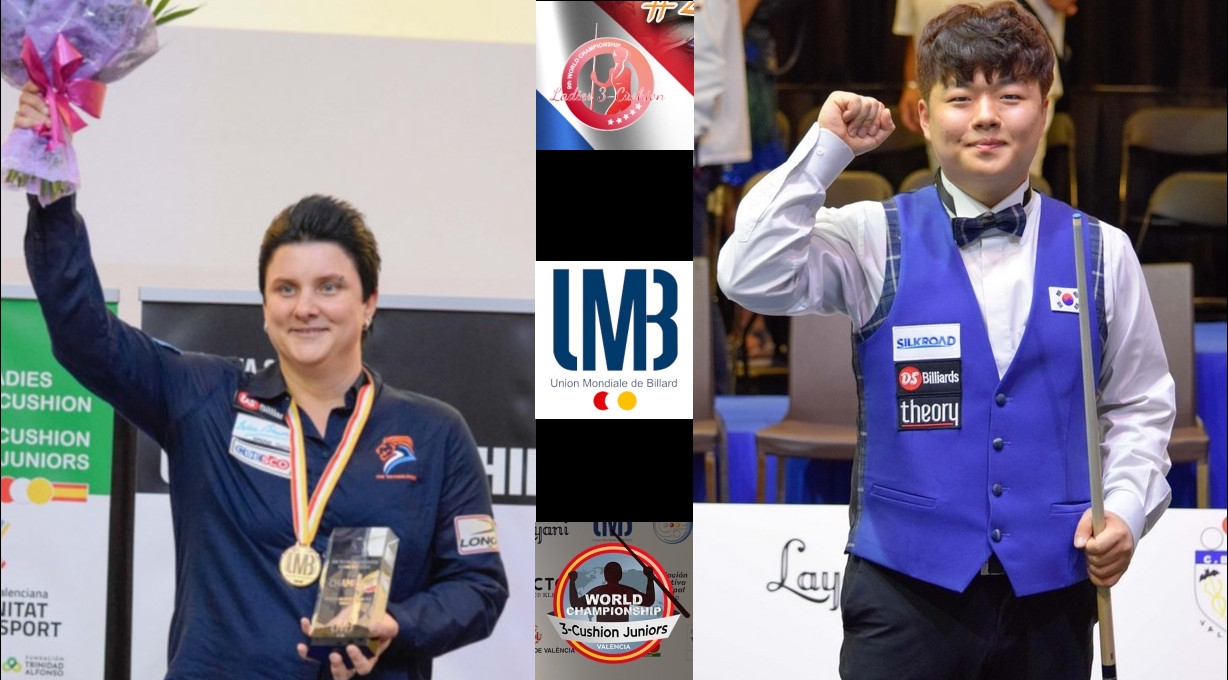 Therese Klompenhouwer of the Netherlands defended her 2018 Ladies World Championship title winning for the fourth time, while in his final year as a junior Korea's Myung-Woo Cho notched his third Junior World Championship trophy. The fabulous repeat winners played in consecutive events held in Valencia, Spain from September 20 through October 5, 2019.
Therese Klompenhouwer Wins Fourth World Championship Equaling Orie Hida
Therese Klompenhouwer from the Netherlands beat her long-time rival Orie Hida from Japan in the final, to complete a dominant world championship performance. She remained unbeaten throughout the event, was consistently over 1.000 average, and no doubt was the best player in a well-deserved and well-earned championship effort. Therese dominated all her matches and was rarely in trouble. And when she did find her self in a tough battle she resorted to tough defense and discipline to take back the match.
With her fourth title Therese has equaled the record held by second place finisher Orie Hida. Only one other woman, Natsumi Higashiuchi from Japan, has held the title in an event that has only been held a total of nine times.
The ranking for the top four with match points, average and high run:
1 Therese Klompenhouwer (Netherlands) 12-1.125-9
2 Orie Hida (Japan) 10-0.981-9
3 Sruong Pheavy (Cambodja) 8-0.696-4
3 Ayako Sakai (Japan) 8-0.664-4
Therese and Orie shared the high run honors each with a 9.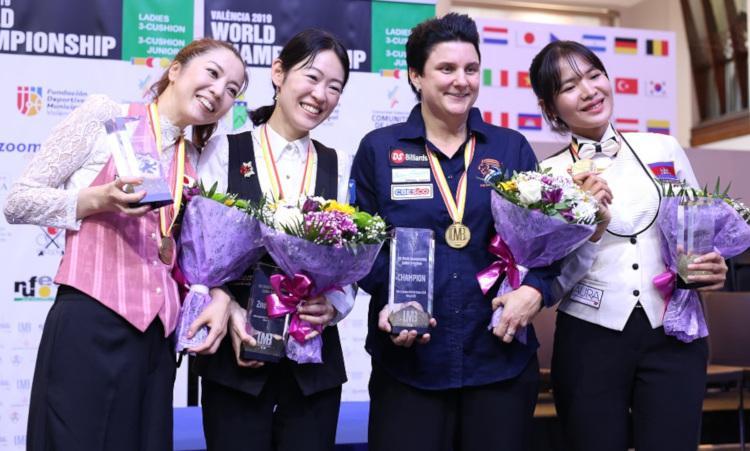 The podium for the Ladies World Championshiop (L to R): Orie Hida, Therese Klompenhouwer, Ayako Sakai and Sruong Pheavy
Congratulations to Therese Klompenhouwer the 2019 Ladies World Champion.
The complete tournament results for the 2019 Ladies can be found on cuesco.net.
Myung-Woo Cho Goes Undefeated to Win His Third and Final World Junior Title
The podium for the World Junior Championship (L to R): Junseo Ko, Myung-Woo Cho, Hwan Woo Cho and Cristian Montoya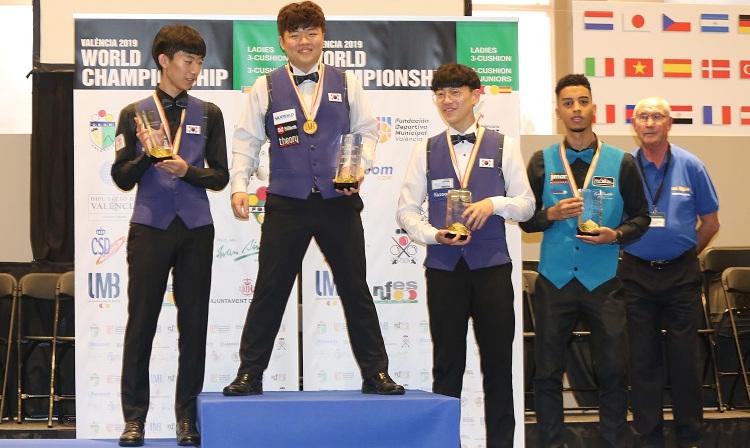 The 22 year old Korean super talent Myung-Woo Cho has closed his junior era with a third world title. On the podium with three Koreans and one Colombian in the stately arena in Valencia, the young star player finished on top after his victory in the final over his countryman Junseo Ko 35-24 in 24 innings. That was his third world gold after Hurghada in 2016 and Izmir in 2018. With the happy smile on his face and the trophy in his hands, one of the greatest young talents ever waved goodbye as a junior player. Only HaengJik Kim, one of his legendary predecessors, was even more successful with four world titles.
Cho had just come off a first in career win in a major tournament against some of the world's best men in the LG U+ Cup. The end of his qualifications as a junior coincides with the next phase in his life - military service. After his mandatory service enlistment is complete we expect a whole lot more victories as this fine young man matures into the 3-cushion billiard star all of Korea and the entire world hopes to he will be.
Congratulations to Myung-Woo Cho the 2019 Junior World Champion.
The complete tournament results for the 2019 Juniors can be found on cuesco.net.
Thanks to Kozoom, the UMB and Cuesco for pictures and stats used in this report.