Haeng-Jik Kim Defeats Lufti Cenet In World Cup Final!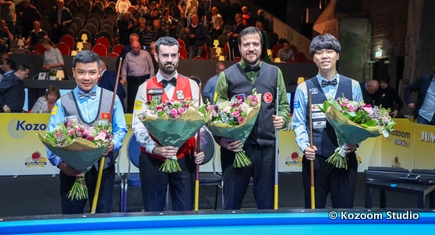 The 27-year-old Korean Haeng-Jik Kim has won his third World Cup in his career in Veghel in the Netherlands. The former four-time junior world champion defeated the Turk Lütfi Cenet in the final in a crowded house after a miraculous come-back, 40-35 in 21 innings. The victory, after trailing 21-1 in three innings, looks even more spectacular, because Kim lost his first two matches in the tournament and returned from a precarious position. "This makes me very happy," said the amiable Korean after the ceremony in the arena. Pictured above (L to R): Duc Anh Chien Nguyen. Antonio Montes, Lütfi Cenet and the winner Haeng-Jik Kim.
South Korea's wunderkind lived up to his name and reputation surviving those two losses in the first round of the main event. From there he moved confidently to ultimately advance and reach the final match against Turkey's Lufti Cenet. Kim had won two previous World Cups as well as multiple World Junior Championships in his short career so far, so he was well experienced with the pressure he faced. Cenet had reached the final four six times in the past in World Cup competition, but had never taken home the top prize. His best result was a second place finish to Frederic Caudron back in 2012. Still he was playing a great tournament having knocked out World Champion and number one ranked Dick Jaspers in the quarter finals. But in the latest clash of East meets West for billiard supremacy it was Kim who prevailed in a tightly fought match to win his third World Cup title 40-35 in 21 innings (1.904 average).
The final ranking in Veghel (position, high run and average):
1 Haeng-Jik Kim 10-1.956-11
2 Lütfi Cenet 10-1.707-17
3 Duc Anh Chien Nguyen 8-1.697-9
3 Antonio Montes 8-1.685-13
5 Dick Jaspers 8-2.065-24
6 Marco Zanetti 8-1.956-10
7 Torbjörn Blomdahl 6-1.857-14
8 Eddy Merckx 6-1.613-10
9 Jae-Ho Cho 6-1.973-10
10 Semih Sayginer 6-1.602-11
11 Dani Sánchez 4-1.835-10
12 Jérémy Bury 4-1.720-9
13 Tayfun Tasdemir 4-1.681-10
14 Gökhan Salman 4-1.659-11
15 Nguyen Quoc Nguyen 4-1.344-14
16 Jun-Tae Kim 3-1.678-14
17 Quyet Chien Tran 4-1.770-19
18 Sung-Won Choi 4-1.677-11
19 Murat Naci Coklu 4-1.450-8
20 Jacob Sörensen 3-1.420-9.Tournament average 1.621
Congratulations to Korea's Haeng-Jik Kim... once again World Cup Champion.
Thanks to Kozoom. Cuesco and UMB for pictures and statistics in preparing this report.
Read more about the event - CLICK HERE.