Torbjorn Blomdahl Wins His Seventh World Championship!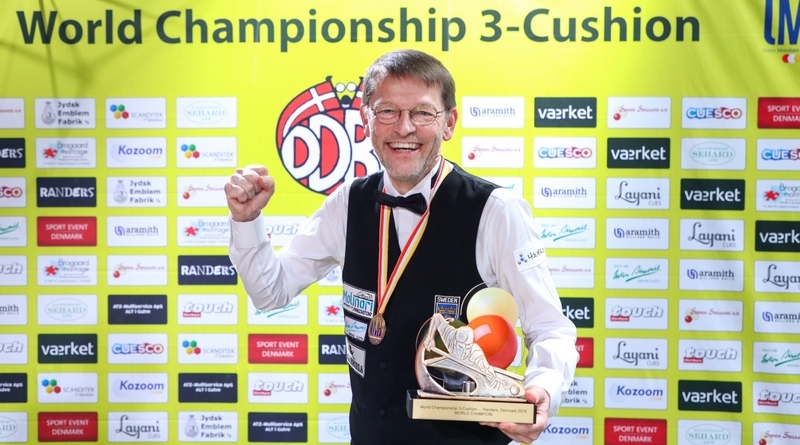 Torbjorn Blomdahl of Sweden is once again king of the three cushion hill winning his seventh world championship title. The tournament held this year in Randers, Denmark was marked with moments of drama, high caliber play and heartbreak. But it was sheer joy for Blomdahl who at 57 has once again stunned the world with his grit and talent.
The World championship in Randers Denmark started with 48 players from 23 countries, 32 of whom qualified after the preliminary rounds. The best player in the early stage was Eddy Merckx with 40-points in 13 innings and a high run of 18. Roland Forthomme played a fantastic 40 in 11 to beat Blomdahl in their group, the only loss in the tournament for the ultimate winner.
The match between Dion Nelin and Jae-Ho Cho was historic. The Dane and the Korean played to a 40-40 tie in 11, which is one of the very best combined-score matches of all time. In that contest Nelin ran 16 and Cho ran 14. The shoot-out ended in a 5-2 win for Nelin to the delight of his home-country fans.
Torbjörn Blomdahl earned his title the hard way - by facing elimination in tie matches that went to a shoot-out. And twice he ran 8 under pressure, first eliminating Turkey's Lütfi Cenet 8-2 and then repeating that magical feat in the round of sixteen against Eddy Merckx. Merckx started with 7, but incredibly Blomdahl replied with 8! Truly a demonstration of his exceptional talent, competitive spirit and nerves of steel. In the quarter-finals, Blomdahl knocked out the last Danish player from the host country beating Dion Nelin 40-19 in 17.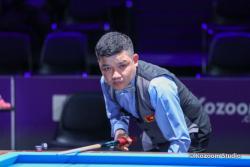 Meanwhile Duc Anh Chien Nguyen (left) was steadily eliminating the competition he faced with wins over top players Spanish former world champion Dani Sanchez and Turkish world cup winner Tayfun Tasdemir. That left the final four players for the last day of competition: Blomdahl, Sidhom, Sayginer and Nguyen.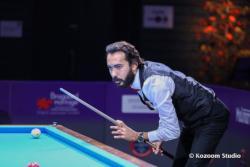 Blomdahl's skyrocketing trajectory reached new heights in his semi-final match against Sameh Sidhom (right). The 32-year-old dentist from Cairo stood in the final group of four for the first time in a major event since the 2017 World Games. But Sidhom was quickly overpowered by Blomdahl who had an opening run of 12, followed by a 6 and later a 5. After four of Sidhom's misses, the score was 23-0 in four innings and Blomdahl easily cruised to a 40-18 win in 10 innings with an incredible 4.0 average.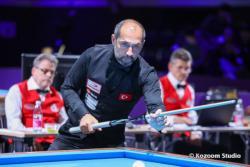 The young and talented Vietnamese Duc Anh Chien Nguyen reached his very first semi-final in a world championship where he once again had to face a former world champion. His opponent Semih Sayginer (left) had won his title back in 2003 and was on a comeback to the top of the game. Sayginer looking strong had reached the semi-final with an earlier win eliminating the defending champ Dick Jaspers. But it was Nguyen who first took the lead and held it at the break 20-13. The Turkish magician then came back with a 9 to take over at 22-20. And then fate smiled on the unassuming Vietnamese young man who after 18 innings was tied at 33-33. Then with runs of three and four Nguyen closed it out 40-36 in 21 dashing Sayginer's hopes of taking his 2nd title.
And so the stage was set for the title match between the venerated old guard Torbjorn Blomdahl and the upstart newcomer Duc Anh Chien Nguyen. And just like that Blomdahl got off to a lightning start leading 14-0 after 5. Nguyen finally scored his first two points in the sixth inning, but found himself with a crushing gap to overcome at the break 22-2. Then things changed.
Returning to the table Nguyen suddenly found form and ball-by-ball, he fought his way back into the match. With each inning Nguyen shortened the gap, inching closer and closer as he outscored Blomdahl in short bursts. And by inning 18 he was behind by just 3 billiards at 30-27.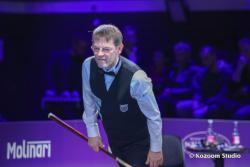 In the 19th inning Blomdahl scored only one point, allowing Nguyen to getting closer still. Suddenly the tension and excitement in the arena signaled that the young player could make history. But then Blomdahl once again dug deep, finding his closing rhythm, and with a run of six and 3 reached the magic number of 40.
Nguyen, who had such a slow start, still had a chance needing 10 to tie the match and force a shoot-out. Stepping up to the table in the equalizer He calmly made the break to start his run. With each shot anticipation grew as the crowd applauded each point he made. In the end Nguyen got oh so close but stopped short at 7 giving Blomdahl the win -- 40-37 in 22 innings.
The final standing in the 2019 UMB World Championship (average and high run):
1 Torbjörn Blomdahl 2.121 – 13
2 Duc Anh Chien Nguyen 1.606 – 14
3 Sameh Sidhom 1.535 – 9
4 Semih Sayginer 1.934 – 13
5 Tayfun Tasdemir 1.949 – 12
6 Quyet Chien Tran 1.824 – 12
7 Nikos Polychronopoulos 1.558 – 15
8 Dion Nelin 1.622 - 16
Congratulations to the new world 3-cushion champion from Sweden - Torbjorn Blomdahl.
Many thanks to UMB and Kozoom for video coverage, pictures and statistics used in preparing this report.
For iInformation, schedules and results from all rounds courtesy of CUESCO - CLICK HERE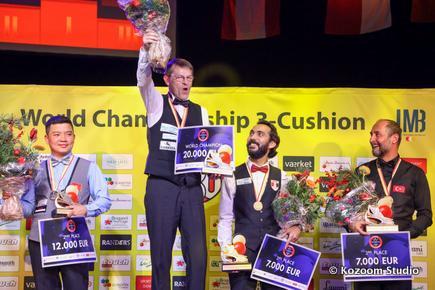 The 2019 UMB World Championship finalists (L to R): Duc Anh Chien Nguyen (2nd), Torbjorn Blomdahl (1st), Sameh Sidhom and Semih Sayginer (3rd-4th).