Marco Zanetti Wins The Final World Cup of 2019!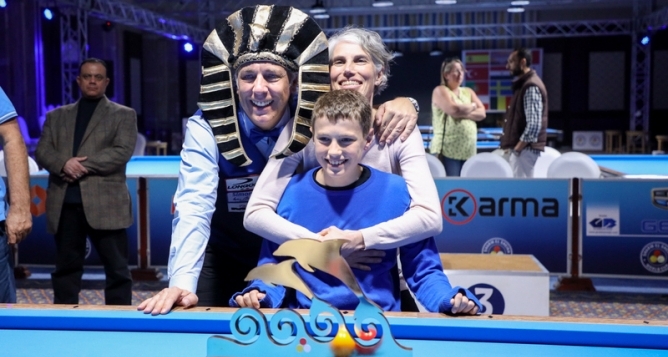 Like a fine wine that gets better with age. Italian Marco Zanetti was the oldest player in the main draw of the Sharm El Sheikh World Cup, and he was also the best. He captured his fourth World Cup gold medal, beating Dick Jaspers in the final: 40 – 29 in 14 innings.
Zanetti was consistent as a metronome in Egypt, playing match after match with an average over 3.000, and ending at a jaw-dropping general average of 2.718 for the tournament. It was his best event ever, and his scoring was only slightly lower than the world record of 2.777, set in Luxor 2017 by Dani Sánchez.
At the end his 11-year-old son Samuel ran into the arena to celebrate the World Cup victory with his father. The 57-year-old winner in the resort near the Red Sea smiled as he pointed at his silver-gray hair and proudly announced that he wanted to share this huge success with his partner and his son. The champion himself sang out loudly the Italian anthem on the high stage celebrating his world cup win five years after his last.
The Italian 3-cushion master played perfectly to win all his games in grand style with no match below a 2.400 average. Twice he made 40 in 13 for a 3.076 average in wins against Turkish players Murat Naci Coklu and Tayfun Tasdemir. His win against Dutchman Dick Jaspers was 40-29 in 14 (2.857). Jaspers had entered the final after a victory against Martin Horn of Germany, which followed his quarter final victory against Sung-Won Choi where he ran a stunning 23. But Zanetti was more accurate and consistent in the sprint to the finish to take the title.
The final results for the top 16 in Sharm El Sheikh (match points, average and high run):
1 Marco Zanetti 14-2,718-15
2 Dick Jaspers 10-2,078-23
3 Martin Horn 10-1,691-10
4 Jérémy Bury 8-1,791-12
5 Sung-Won Choi 8-2,444-18
6 Myung-Woo Cho 8-1,750-10
7 Quyet Chien Tran 8-1,590-10
8 Tayfun Tasdemir 6-1,945-10
9 Jung-Han Heo 6-1,894-11
10 Torbjörn Blomdahl 4-1,780-11
11 Eddy Merckx 4-1,762-10
12 Juntae Kim 4-1,722-12
13 Semih Sayginer 4-1,636-10
14 Peter De Backer 4-1,619-10
15 Murat Naci Coklu 3-1,777-9
16 Trung Hau Do Nguyen 3-1,544-8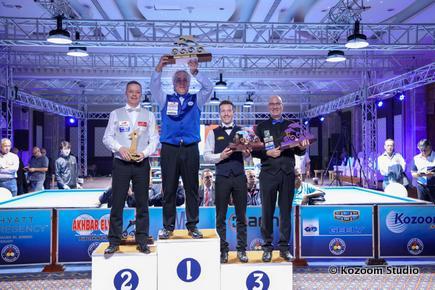 Congratulation to Marco Zanetti, the final world cup champion in 2019. (Pictured on the podium above, left to right: Dick Jaspers, Marco Zanetti, Jeremy Bury and Martin Horn.)
Many thanks to UMB and Kozoom for video coverage, pictures and statistics used in preparing this report.
Information, schedules and results from all rounds for the World Cup in Egypt - CLICK HERE