Dong-koong Kang And Ga-young Kim Win Final PBA Event of 2019!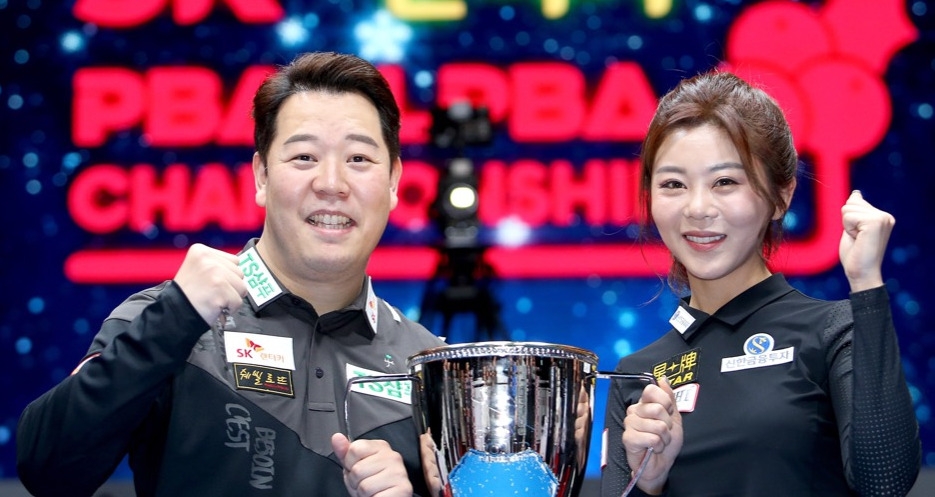 Korean Dong-koong Kang (above left) is the winner of the sixth and final PBA tournament of 2019. Kang defeated Spanish player David Zapata in the final match 4-1 in sets. Ga-young Kim (above right) was the women's winner against Ji-won Ryu by 3-1 in sets in their final match.
With his win Kang jumps up to number 4 in the overall PBA ranking which is based on points/earnings from tournament results. The year closes with three European players and two Korean players in the top 5 in earnings. The leaders at the end of 2019 (with earnings in euros):
1 Filippos Kasidokostas 121,000
2 David Martinez 116,500
3 Frédéric Caudron 112,000
4 Dong Koong Kang 106,000
5 Jung-ju Shin 106,000.
On the women's side Ga-young Kim moved into fifth place overall. Here are the final ranking for the ladies top 5 at the close of the 2019 season:
1 JS Kim 32,050
2 Gap sun Kim 21,750
3 JE Kang 19,150
4 Mi-rae Lee 18,850
5 Ga-young Kim 18,750
The PBA continues in its long-running feud with the UMB who has sanctioned any player who has elected to join the league. Most notably multiple title holder Frederic Caudron was not able to participate in the 2019 World Championship, won this year by Torbjorn Blomdahl.
The PBA events, all held in Korea, are live-streamed on YouTube. Due to the time difference the broadcasts have not drawn a large audience in the US. In addition, the events include commentary and graphics in Korean which makes it difficult to decipher for those who do not speak the language. Nonetheless the level of play and excellent production values make many of the matches worth watching, so do check them out.