Team Asia Over Team Europe in Second Continental Cup!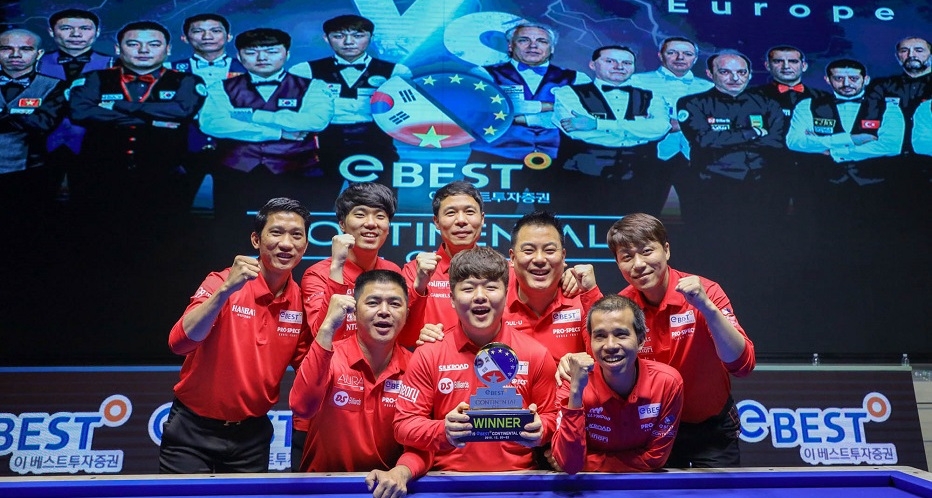 The Asian Team consisting of players from Korea and Vietnam dismantled Team Europe in relentless fashion to win the second installation of the Continental Cup. Team Asia pictured above. Top row: Ngo, Kim, Heo, J.H. Cho and Choi. Bottom row: Nguyen, M.W. Cho, and Tran.
Held this year in Seoul Korea we can't say if this stunning victory was due to "home court" advantage, jet lag or if it in fact finally signals the dawn of a new era in 3-cushion billiards. The Europeans with multiple world champions and world cup winners were a shadow of their 2018 team which had won the first installment in convincing fashion. The 600-451 final score for the Asian team 2019 victory reflected their dominance throughout the event.
The team line-ups:
Team Europe:
Team Asia:

Dick Jaspers (Netherlands)

Eddy Merckx (Belgium)

Marco Zanetti (Italy)

Semih Sayginer (Turkey)

Jérémy Bury (France)

Murat Naci Coklu (Turkey)

Tayfun Tasdemir (Turkey)

Dani Sánchez (Spain)

Jae-Ho Cho (Korea)

Quyet Chien Tran (Vietnam)

Nguyen Quoc Nguyen (Vietnam)

Jung-Han Heo (Korea)

Sung-Won Choi (Korea)

HaengJik Kim (Korea)

Dinh Nai Ngo (Vietnam)

Myung-Woo Cho (Korea)

Team Europe: (Left to right:) Bury, Coklu, Sayginer, Tasdemir, Organizer, Zanetti, Sanchez, Jaspers and Mercks
Recap of the event
Day One: The tone on the opening day was set when Quyet Chien Tran defeated Semih Sayginer thanks to a closing run of 13. It gave Asia the momentum, and they never looked back. A superb Dinh Nai Ngo needed only seven innings for his win, Nguyen Quoc Nguyen made a run of 15, Jung Han Heo couldn't miss. Everything Asia touched turned into gold, and they took a 200 – 135 lead after one day of play, averaging an astonishing 2.400. From there they never looked back.
Day Two: Things slowed down a bit on day two, but Europe could never hit back hard. Only Murat Naci Coklu won some points back for the "old" continent, but those points rapidly disappeared when Myung Woo Cho delivered an almost error-free match in four innings. World number one Dick Jaspers lost to Nguyen, and the day ended with an 108 point deficit: Asia had a 400 – 292 lead.
Day Three: In a change of tactic, Europe made their aces Zanetti and Jaspers play early, but both the Dutchman and the Italian lost. Eddy Merckx, almost invincible during the summer of 2019, lost all three of his matches. Dani Sánchez struggled as well, but he recovered and was the best European on day three.
And so it was. The three Vietnamese players on the Asian team never lost a match: they came home with nine wins from nine encounters. The best of the bunch was Korean Myung Woo Cho, who went undefeated and averaged 2.777. Sung Won Choi was given the honor of making the 600th and winning point. The Continental Cup ended in a sensational 600 – 451 win for Asia, the hosts averaging over 2.0, the Europeans not even reaching 1.6.
Next year the event returns to Europe. But for now we offer our highest congratulations to the mighty Asian team in their stunning victory in the 2019 Continental Cup.
Thanks to UMB and Kozoom for pictures and statistics used in preparing this report.
Information, schedules and results for the entire event from CUESCO - CLICK HERE