Thomas Andersen Repeats As Champion Of Denmark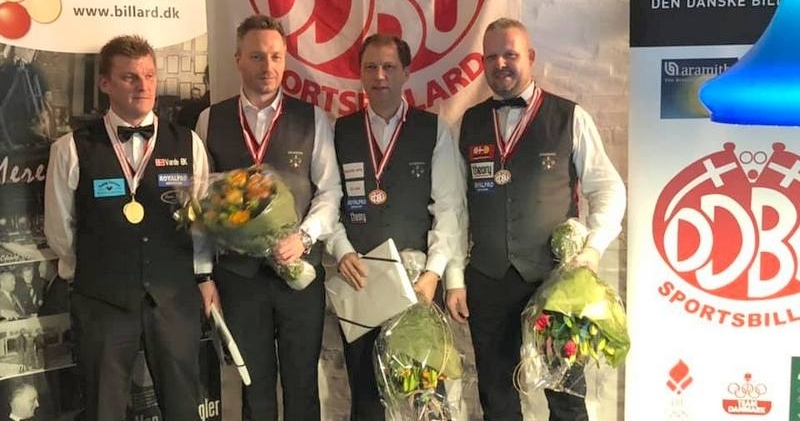 Thomas Andersen of Denmark has won his third national championship and repeats his result from last year as the top player in his country. Pictured above (l to r): Thomas Andersen (1st), Jacob Haack Sörensen (4th), Dion Nelin (3rd) and Brian Knudsen (2nd).
The final match between Andersen and Knudsen ended at 50-31 in 27 innings. The two will be paired in the upcoming World national team championship in Viersen, Germany in March.
The final results of the event for the top 12 players:
1 Thomas Andersen 1,422
2 Brian Knudsen 1,561
3 Dion Nelin 1,353
4 Jacob Haack Sörensen 1,306
5 Allan Keith 1,064
6 Tommy Ebeling 1,033
7 Michael Toudahl 0.990
8 Martin Olesen 0.932
9 Benny Staalboo 1.059
10 Poul Bjerring 0.911
11 Lars Dunch 0.850
12 Tommy Magnussen 0.820
Congratulations to Thomas Andersen 3-cushion champion of Denmark in 2020.
Thanks to Kozoom for pictures and material used in this report. For more about Andersen and the event CLICK HERE.