USBA Qualifier at Doral Billiards Sends Three to Nationals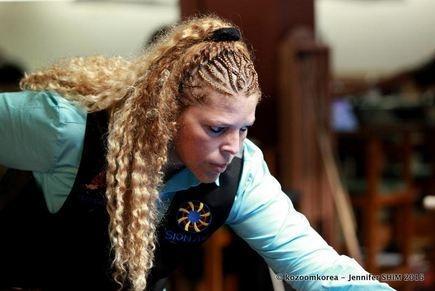 Ten players met at Doral Billiards in Miami Florida to compete in a qualifier tournament for the USBA National 3-Cushion Championship. Three earned their entry into the event. (Pictured above US Women's Champion Mercedes Gonzalez)
Starting in two flights of five the players were:
Flight A
Jairo Lenin
Jim Bishop
Mercedes Gonzalez
Alfonso Torres
Camilo Medina
Flight B
Victor Cuzzi
Carlos Ramos
Ellis Lawrence
Andres Fernandez
Nelson Gonzalez
After the initial round robin play Jairo Lenin and Mercedes Gonzalez from Flight A and Victor Cuzzi and Ellis Lawrence from Flight B advanced. The final group of four played round robin for the three coveted spots. In the end Ellis Lawrence came out on top. Here are the final standings:
1st place Ellis Lawrance
2nd place Mercedez Gonzalez
3th place Victor Cuzzi
4th place Jairo Lenin
The top three places receive a paid entry for the USBA National 3-Cushion Championship to be held March 16-20, 2016. Jairo Lenin who finished 4th received $100.
Doral Billiards, managed by Victor Cuzzi, is the premier place to play three cushion billiards in Florida. Besides their annual USBA qualifying tournament Doral sponsors one of the great International Open events here in the US. This year the event will be held February 5-7 and is expected to attract as many as 50 players from around the world.