Will Lausanne be a warmup for the next world champion again?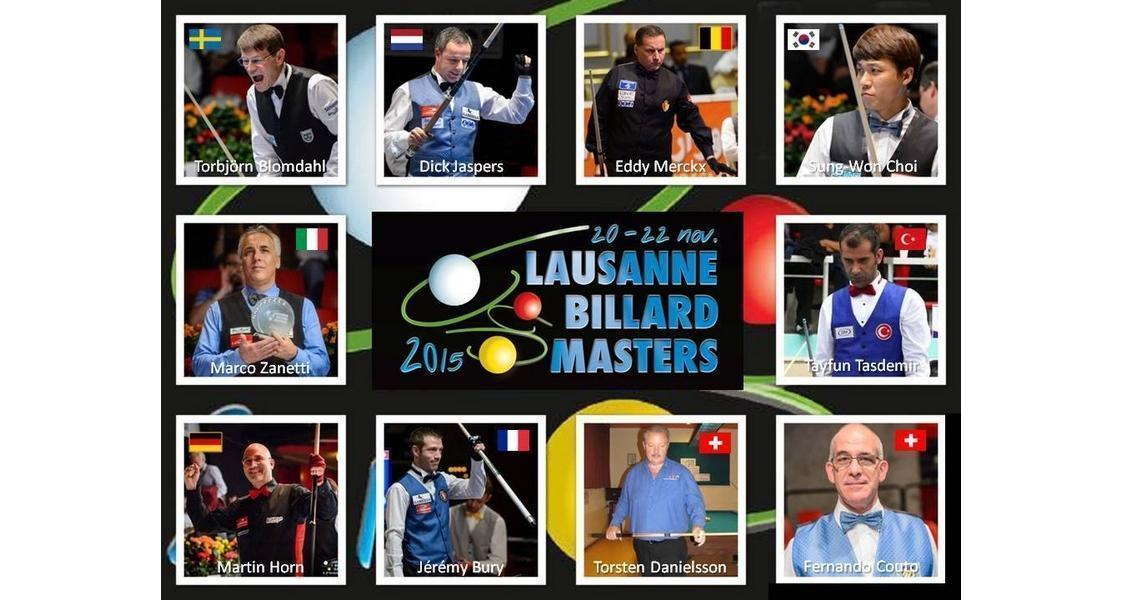 On Friday November 20th through Sunday November 22nd the 3rd Lausanne Billiard Masters (LBM) will take place in Lausanne, Switzerland. If past installments of this prestigious invitational are any indication we just might see a preview of the future winner of the upcoming 2015 World 3-Cushion Championship!
The third installment of LBM, ably managed by President Diane Wild and her team of dedicated professionals, once again promises to be an exciting event. Returning players include two-time Billiard Masters champion Marco Zanetti of Italy who topped the field of 8 in its first meeting, and repeated in the 2014 second edition among a field of 10 . Also returning from 2014 are runner-up Martin Horn of Germany, along with Torbjorn Blomdahl of Sweden, Jeremy Bury of France, Sung-Won Choi of Korea and Dick Jaspers of the Netherlands. Missing for the first time is Frederic Caudron, who will see his countryman Eddie Merckx take the stage for Belgium. Dani Sanchez of Spain who played in 2014 also will not be returning. The final entrant among the top-rated players will be World Cup winner Tayfun Tasdemir of Turkey.
As has been the tradition since its inception, two players from the host country will join the eight International stars in battle. This year the two Swiss players are Torsten Danielsson and Fernando Couto, both well-known and respected club players who round out the field of 10. The competition will consist of splitting the 10 players into two flights of 5 to play in round robin. The top two players from each group will then move on to a semi-final and final round in single elimination play. Matches will be a race to 40 points with no equalizing inning, meaning no drawn matches are possible.
A little history. In 2013, the first year the event was held, Marco Zanetti faced Frederic Caudron in the final match. Zanetti won 40-33 in 17 innings (2.353.) His run of 15 in the preliminaries was high run for the event, and his semi-final match with Torbjorn Blomdahl 40-32 in 15 innings (2.667) was the best game. A great performance for sure. But it was Caudron who went on to win the 2013 UMB World Championship held later that year in Antwerp, Belgium. Did the tough competition in Lausanne help Caudron prepare for his World Championship performance? And was his appearance in the World Championship in his home country another factor that helped him triumph? Take a look at the striking similarity the following year in 2014.
In the second Lausanne Billiard Masters in 2014 it was once again Marco Zanetti on top. This time he faced Martin Horn of Germany in the final match. The close score was 40-36 in 22 innings (1.818.) But the shooting star in that event was Dani Sanchez of Spain who had the high run of 21 in what was also the best game of the event in the preliminary rounds against Torbjorn Blomdahl, 40-16 in 10 innings (4.000!) And once again another player, this time Sung-Won Choi of Korea, though finishing third in his group and missing the final cut, later went on to win the 2014 UMB World Championship in his home country in Seoul. Here's the formula: first, play in the Lausanne Billiard Masters. Then follow up with a World Championship win. Even better, win it in your home country! So what could be in store for us this year?
No doubt the world will be watching with great interest this year's field of 10 players in the 2015 Lausanne Billiard Masters. And with thanks to Kozoom, premium members will be able to watch every carom LIVE! Will Marco Zanetti win for an unprecedented third year in a row? Will one of the players from Lausanne move on to win the upcoming World Championship in December? And finally, will it in fact be France's Jeremy Bury who in Bordeaux will surprise the world as did Frederic Caudron in 2013 and Sung-Won Choi in 2014 by winning the World Championship in his home country? The added drama will surely make for some spectacular play.
Lausanne Billiard Masters home page
3CushionBilliards Event Listing - Lausanne Billiard Masters
3CushionBilliards Event Listing - World 3-Cushion Championship