Hugo Patino Wins 2016 Pan American Championship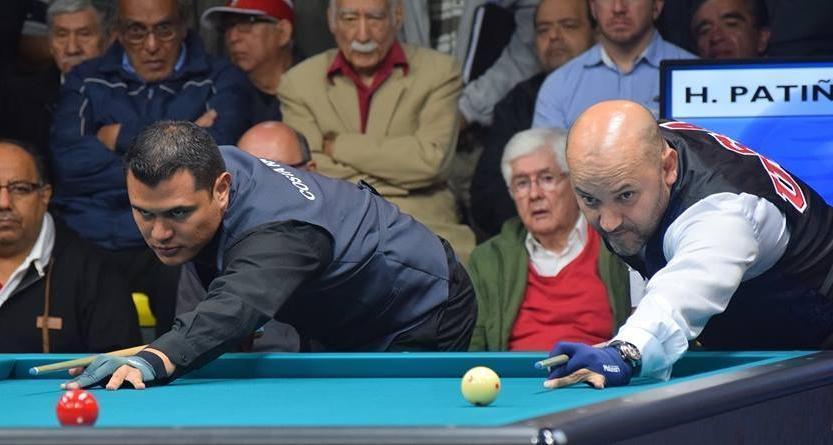 Hugo Patino topped a field of 64 players from the Americas to win the 2016 Pan-American individual 3-cushion championship. The tournament was held this year in Lima, Peru from September 24-26. Patino, a native of Colombia, now living and playing for the USA, had recently won his third USBA National 3-Cushion title. With momentum and confidence from his March USBA championship performance, Patino was able to win all his matches on his way to taking his first individual Pan-American crown. He had previously won the Team Championship title in 2013 with partner Mazin Shooni. Pictured above (L to R) Erick Tellez runner-up and Hugo Patino the champion.
Three players from the USA were sent to the Pan-American Championships this year. Joining Hugo Patino were 8-time USBA National Champion and 2016 USBA runner-up Pedro Piedrabuena and Michael Kang. Michael, as you may know, is not only a top player himself, but is also owner of the famous Carom Cafe Billiards in Flushing, New York, home to the venerable Verhoeven Open Tournament. In addition to competing for the individual championship, Patino and Piedrabuena were set to play together in the team championship event that followed.
The semi-final rounds proved the most dramatic in determining this year's champion. In the first match Hugo Patino faced his rival and compatriot Pedro Piedrabuena. They had last met in the finals of the USBA championship where Patino came out on top to win the 2016 crown. In Lima, Piedrabuena was seeking both revenge for that loss and his third Pan American Championship so he was both focused and determined. With both players playing their hardest, the match was a tight battle. But it was Patino who once again bested his friend and rival. First Patino managed to equalize when Piedrabuena reached 40 points. Then Patino prevailed in the shootout eliminating Pedro and making it to the final round.
In the other semi-final match Erick Tellez of Costa Rica playing a strong tournament met 2015 champion Huberney Catano of Colombia. Catano had made it to the final round three times in the past and was the 2015 winner. But Tellez was unstoppable winning in fine form 40-18 in 19 innings with a high run of 6. Unfortunately Catano was off his game as witnessed by a low high run of only 3 for the match. That set up the final round match-up between Hugo and Erick.
In the final match for the title the tables flipped on Tellez. With steady play and a combination of both offense and defense, it was all Patino who breezed to a 40-21 victory. His 20 inning final match with a solid 2.000 performance earned Hugo the well-deserved championship crown.
Some other notable accomplishments in this year's event:
Pedro Piedrabuena, though finishing third, averaged 1.724, topping his previous Pan-American tournament record for best overall average
Robinson Morales had the best individual game of the tournament reaching 40 in 14 innings to average 2.857
Robinson Morales also had the high run for the tournament with 15 in that same game
Congratulations to Hugo Patino the 2016 Pan-American Individual 3-Cushion Champion. Please enjoy our Image Gallery below which includes pictures of all the players and final results of the tournament with stats. Many thanks to our contributing sources for pictures and results - Kozoom and the Pan-American Confederation of Billiards (CPB).